Sports
Wild's Matt Dumba among trade deadline's top boom/bust assets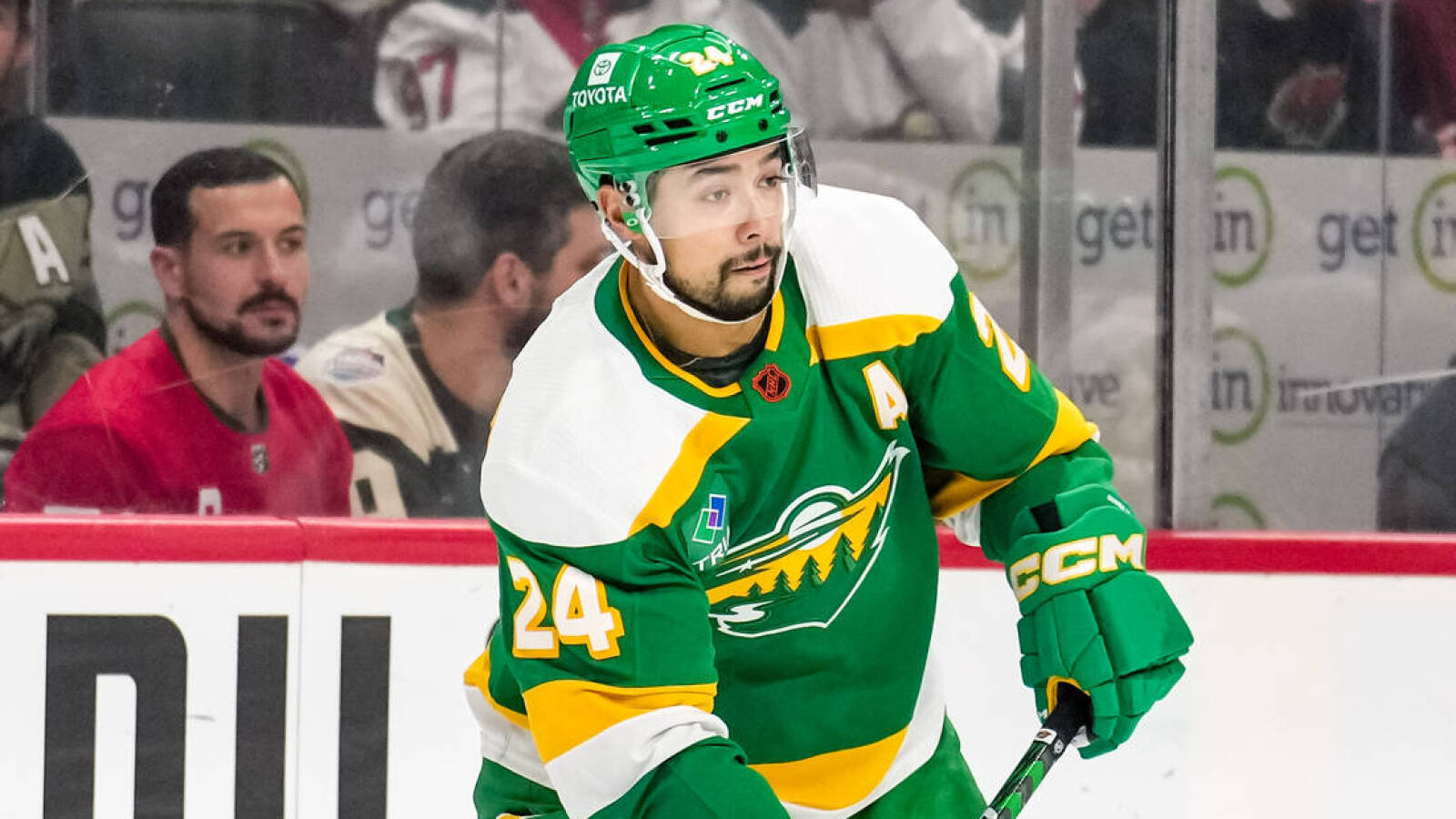 Looking toward the trade deadline, let's focus on Minnesota Wild defenseman Matt Dumba, who moved up to No. 9 on last week's latest Trade Targets board. He's been in the news after coach Dean Evason made him a healthy scratch for two consecutive games last week before returning him to the lineup on Tuesday night in Tampa.
2023 Trade Deadline Countdown: 37 days
Archetype and Ideal Role
Defensive Defenseman, second pair
That looks funny, doesn't it? How does a one-time 50-point defenseman who has averaged two shots on net per game for his career get classified as a 'defensive defenseman'? The answer is a combination of Dumba's game not fitting perfectly into any one box in our Archetype Ranking series, as well as a closer indication of where his game should be heading.
Dumba is not a natural puck mover, and he isn't a shutdown defender. He is physical and provides good enough offense, but he can be inconsistent. Any acquiring team interested in Dumba is sold on his athleticism, his physicality, and the potential to rein in his inconsistency and use his feet to defend north and stick with the opposition's best players. That means ideally, his role is as a defensive defenseman who adds edge to a team's back end and makes teams think twice about coming through the neutral zone.
Scouting Report
Dumba's best asset is his skating. And he loves to be physical. He has elite lateral mobility and uses his feet, athleticism, and aggressive nature to step up and make opposing forwards pay as they collect pucks with their heads down and try to transport them through the neutral zone. His athleticism allows him to recover quickly and close on attacks to disrupt offense – and then finish them with a purpose. Dumba is willing to sacrifice as a defender. He isn't afraid to either make or take a hit to make a play and willfully eats shots when the time calls for it.
He also leverages that skating ability to join the rush and generate opportunities. He isn't a naturally gifted offensive player but can present a threat and open up space for teammates to make plays and is very effective as a decoy.
Buyer Beware
The biggest knock on Dumba's game is that he is wildly inconsistent. At times, he times his gaps exceptionally well, makes contact, stalls offense and is a physically imposing defender that teams shy away from during games. The other side of that coin is the risk profile that comes with that. There are times he darts in and misses, or his timing is off, and that allows the opposition to generate odd-man rushes against or extend offense in the defensive zone. In his own end, Dumba can get locked into puck movement and struggles to anticipate pressure or danger.
Dumba is not really an adept puck mover. With space, he can retrieve the puck and make simple plays, but at times, he tries to do too much and that can lead to turnovers or worse.
Lastly, Dumba is not a defender who consistently makes plays or poses a constant offensive threat. His 50-point season in 2017-18 was a statistical outlier. If you take that season out of the mix, he averages 32 points per 82 games. Teams have a hard time figuring out what exactly he is and how his game can help them with the $6 million salary cap hit he'll bring along for the ride.
Potential Fits
Minnesota Wild: Yep, maybe the most likely option is that Dumba stays in Minnesota as a classic "own rental." The Wild are open to moving him and have been honest with Dumba in that there is a potential for him to be traded. He knows he won't be re-signed. But if the right deal doesn't materialize, the Wild aren't going to damage their own playoff chances just to get something in return. They already have a projected $8 million in cap space, so trading him to improve elsewhere is by no means a necessity.
Vegas Golden Knights: We know Vegas loves to make a big splash and Dumba would be a big name. He's also a product of the WHL and someone GM Kelly McCrimmon would've had his eyes on. Dumba fits as a player, but what about his cap hit? That depends on the severity of Mark Stone's back injury and whether the Golden Knights will have his $9.25 million to play with at the deadline.
Florida Panthers: Dumba could help both now in Florida's playoff push and next season as the Cats attempt to reset the balance of their team between forwards and defense. In addition, one of Sam Bennett or Sam Reinhart could go the other way and fulfill one of Minnesota's needs and make the money work. Could be a win-win and way more of a classic 'hockey trade' than a rental sell-off.
Toronto Maple Leafs: Dumba is a lower-case fit in Toronto. He would add an element on their back end that has been missing without Jake Muzzin. But it's also easy to see his inconsistent play driving coach Sheldon Keefe crazy. Toronto's defense just needs to shuffle the puck to its forward group, not make dive-bombing runs through the neutral zone.
Ottawa Senators: This feels like more of an offseason transaction for Ottawa, but the Sens are looking for a right-shooting defenseman and have been in the market for a while. Given that the playoffs are a long shot, would they be willing to pony up the assets to try out Dumba for the remainder of the season before making a contract call? Probably not when they could just wait until July 1. Interesting to consider the fit, though.
Comparable Trade Returns
The Ask: Chiarot to Florida
March 16, 2022
To Florida: Ben Chiarot
To Montréal: Ty Smilanic, 2023 first-round pick, 2022 fourth-round pick (Cedrick Guindon), 50% retained
Dumba offers better mobility, better puck-moving potential and better upside than Chiarot, so this type of return is not outside the realm of possibility. However, the recent healthy scratches likely depressed his trade value. But it only takes one team.
The More Likely Return: Manson to Colorado
March 14, 2022
To Colorado: Josh Manson
To Anaheim: 2023 second-round pick, Drew Helleson, 50% retained
This is probably a really fair deal for Dumba if Minnesota is interested in moving on and giving themselves added cap room flexibility at the deadline. Both Manson and Dumba are physical and strong enough defensively to warrant the comp. The second-round pick was the price for the player and Helleson, who was considered by teams to be a 'B' prospect playing at Boston College, was the price for the 50 percent salary retention.
Summary
Dumba is physically gifted, but he relies too heavily on his physical gifts to get him by. He is probably best suited going to a situation that will invest in his continued development and try to refine his physical, defensive game rather than expect immediate results in a playoff chase. His focus should be on using his mobility to defend better and contribute as a penalty killer to define the next iteration of his career. His best-case scenario is that he gets traded to a team like Florida, where he can re-sign at a reasonable rate with the term, and settle into a spot where he can dial in his game. They've done the same with Brandon Montour and that's worked out well.

Checkout latest world news below links :
World News || Latest News || U.S. News

Source link