Sports
USWNT vs. Australia live score, updates, highlights from 2021 Olympic women's soccer tournament Group G game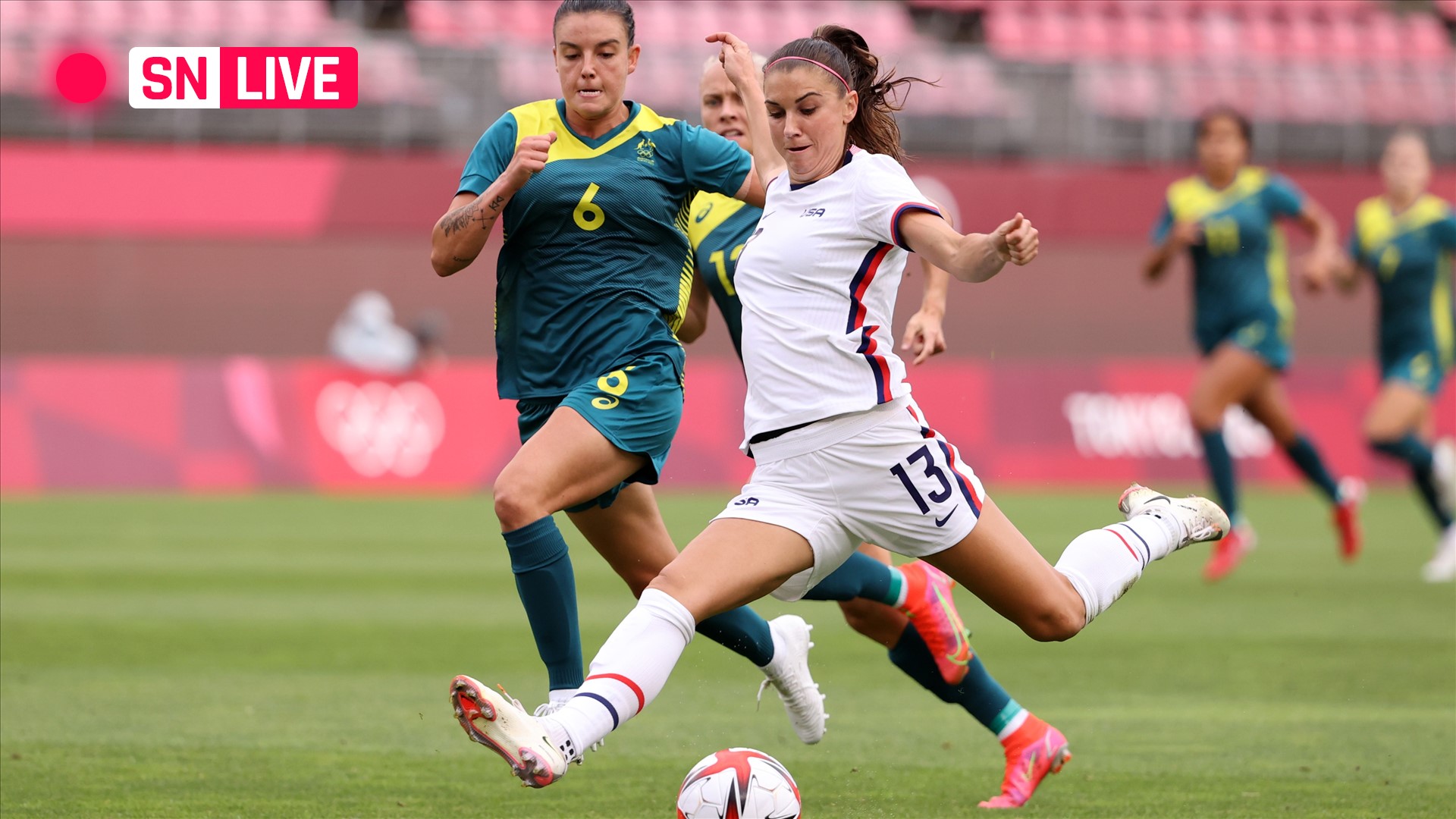 The scenario is straightforward for the U.S. women's national soccer team: Win or draw against Australia in the final Group G match and it will secure second place in the group, an automatic quarterfinal berth, and a likely matchup against the Netherlands. Australia needs a win to accomplish the same thing.
If there is a loser in the game, that team will finish third and will have to wait for the conclusion of the other groups later in the day to see if it has one of the two best third-place records. If not, that team is eliminated. If one of Australia or the USA qualifies as the third-place team, that team would face Canada or Great Britain in the quarterfinals.
The USWNT is coming off a 6-1 trouncing of New Zealand, which followed the shock of a 3-0 loss to Sweden. Meanwhile, Australia got all three points with its 2-1 win against New Zealand before it also lost to Sweden, a 4-2 thriller that saw star forward Sam Kerr score two goals and fail to convert a penalty kick that would've momentarily made it a 3-3 game.
MORE: Updated Olympic women's group standings
Sporting News will be following the match live and providing real-time updates, commentary and highlights from the USWNT vs. Australia Group G finale.
USWNT vs. Australia live score
| | | | |
| --- | --- | --- | --- |
|   | 1H | 2H | Final |
| USA | 0 | — | — |
| Australia | 0 | — | — |
(All times Eastern)
Halftime: USA 0, Australia 0
Halftime: Australia was the better team in that half, but the Matildas couldn't find a breakthrough goal despite multiple set pieces and a header that hit the crossbar. The USA had two real chances and both came through Alex Morgan, with one finding the back of the net but was overturned for an offside. The main issue for the USWNT is that the midfield and forwards can't help keep any real possession and they're outnumbered and succumbing to pressure. We'll see what tactical changes U.S. head coach Vlatko Andonovski makes at the half.
45th min.: The USWNT goes the other way and there's a great through ball to Christen Press, but her first touch takes her wide left and her shot on goal is weak and makes for an easy save.
44th min.: The USA's Becky Sauebrunn needs to concede a corner after a ball over the top was flicked into the path of Kyah Simon. Julie Ertz with a good defensive play in the box to stop Sam Kerr.
43rd min.: Australia's Yallop with a shot on the right side of the box that is caught comfortably by Naeher. That was preceded by a turnover from Kelley O'Hara on the other side of the field. Australia has dominated this half.
38th min.: On the ensuing counter from the set piece, Megan Rapinoe chases a ball at the edge of the Aussie box, pushing Carpenter to get to it and then running into the 'keeper. Yellow card for Rapinoe.
38th min.: A Sam Mewis foul leads to another set piece and two Australia players get in each other's way and don't get a shot off.
36th min.: The USWNT is not sustaining any real possession. Either the Australian pressure leads to a giveaway or the passing is off. Crystal Dunn tried to send Sam Mewis in behind the defense, but that pass was too long.
34th min.: Australia can't take advantage of a corner and the USWNT can't spring the counter. It's been the theme of the first half here.
33rd min.: In the meantime Madelen Janogy adds a second for Sweden. The Swedes are cruising against New Zealand, up 2-0.
31st min.: The USWNT scores! Alex Morgan heads home a cross from Kelley O'Hara after a short corner, but the flag goes up for offside. Officials are taking a long look, but no clear and obvious error found and the offside call holds up. But it was REAL close.
30th min.: Christen Press with the ball at her feet running at the Aussie defense, but defender Ellie Carpenter picks the ball off. It looked dangerous.
26th min.: Australia wins another ball in the U.S. half with the high press. The ball again in the USA box, but it's momentarily cleared. The American women can't get a hold of this game just yet.
20th min.: Another Australia set piece. This one's a corner and the Matildas get a shot off in the box that is blocked. Outside of the Alex Morgan shot, it's been all Australia early on.
17th min.: An Australia header hits the crossbar! Naeher looked like she had a beat on that ball, but it was dangerous. It was the late addition, Mary Fowler, with the shot.
15th min.: To confirm that the USA and Australia are playing for second place, Anna Anvegard has put Sweden up 1-0 on New Zealand and they look set to win Group G. Both group finales are being played simultaneously for competitive reasons.
14th min.: And it's a third Australia set piece in the U.S. defensive third. This one is headed at U.S. goalkeeper Alyssa Naeher.
12th min.: Another set piece for Australia into the U.S. box. Nothing comes of it. The broadcast flashed a graphic and Australia has 62% of the possession so far.
8th min.: USA chance – Alex Morgan shrugs off defenders on the break and her shot is right at the goalkeeper. Looks like she's going to get a chance at those quick breakaways today. A pass from Lavelle set her on her way.
6th min.: Teams exchanging bouts of possession early on. No one team really holding onto it for long enough stretches. Game hasn't settled down just yet.
1st min.: We're off and the USWNT is already in Australia's half.
3:56 a.m.: Late lineup change by Australia at forward. This is good news for the USA. Foord was a menace in the first two matches:
3:50 a.m.: There will be some atmosphere at this game. We'll see who the kids root for:
3:48 a.m.: There's a lot of reaction to Abby Dahlkemper being out and Tierna Davidson taking her place. Although Dahlkemper has made errors in the first two games, this sub is not about performance, it's about getting her rest like every other regular starter:
I'll just say this now because I know people will say it after the game. Tierra Davidson is the best center back on this team #USWNT

— Warren Backhus (@warrenbackhus) July 27, 2021
11:40 p.m.: You probably had to do this a few days ago. Don't think the boss will appreciate the late notice:
USWNT vs. Australia probable lineups
U.S. women's national team head coach Vlatko Andonovski promised there would be more lineup changes to provide his players with sufficient rest ahead of the single-elimination knockout rounds. Center back Abby Dahlkemper, who played the full 90 in both matches so far, sits out and backup forward Lynn Williams makes the 18-player roster.
As for Australia, the Matildas can't relax too much in this game. A heavy loss could cost them a spot in the quarterfinals if other results don't go their way. The starting XI has just two changes with starting wide midfielder Hayley Raso sitting out and center back Alvi Luik on the bench.
MORE: U.S. women Olympic team roster
USA
Starters (4-3-3, left to right): 1-Alyssa Naeher — 2-Crystal Dunn, 12-Tierna Davidson, 4-Becky Sauerbrunn (capt.), 5-Kelley O'Hara — 3-Samantha Mewis, 8-Julie Ertz, 16-Rose Lavelle — 15-Megan Rapinoe, 13-Alex Morgan, 11-Christen Press
Substitutes: 18-Adrianna Franch-GK, 20-Casey Krueger, 6-Kristie Mewis, 9-Lindsey Horan, 10-Carli Lloyd, 7-Tobin Heath, 21-Lynn Williams
Sitting out: 22-Jane Campbell-GK, 14-Emily Sonnett, 17-Abby Dahlkemper, 19-Catarina Macario
Australia
Starters (3-4-3, left to right): 18-Teagan Micah-GK — 4-Clare Polkinghorne, 14-Alanna Kennedy, 12-Ellie Carpenter — 7-Steph Catley, 6-Chloe Logarzo, 10-Emily van Egmond, 13-Tameka Yallop — 11-Mary Fowler, 2-Sam Kerr (capt.), 17-Kyah Simon
Substitutes: 1-Lydia Williams, 5-Aivi Luik, 3-Kyra Cooney-Cross, 19-Courtney Nevin, 21-Laura Brock, 15-Emily Gielnik, 9-Caitlin Foord 
Sitting out: 22-Mackenzie Arnold-GK, 16-Hayley Raso, 20-Charlotte Grant, 8-Elise Kellond-Knight
How to watch USWNT vs. Australia Olympic soccer
Date: Tuesday, July 27
Time: 4 a.m. ET
TV Channels: USA Network
Spanish-language TV: Telemundo
Replays: USA Network (10 a.m., 6 p.m. ET), NBCSN (11:45 p.m. ET)
Streaming: fuboTV, NBCOlympics.com, TelemundoDeportes.com, NBC Sports app and Telemundo Deportes app (with user authentication)
USA vs. Australia will air live on USA Network and Telemundo at 4 a.m. ET. Those channels can be streamed on fuboTV (free 7-day trial) .
MORE: Complete Olympic women's soccer schedule
All soccer matches are also streamed in the USA on NBCOlympics.com, TelemundoDeportes.com, NBC Sports app and the Telemundo Deportes app — all with user authentication.

Checkout latest world news below links :
World News || Latest News || U.S. News

Source link