Sports
Ravens vs. Raiders live score, updates, highlights from NFL's 'Monday Night Football' game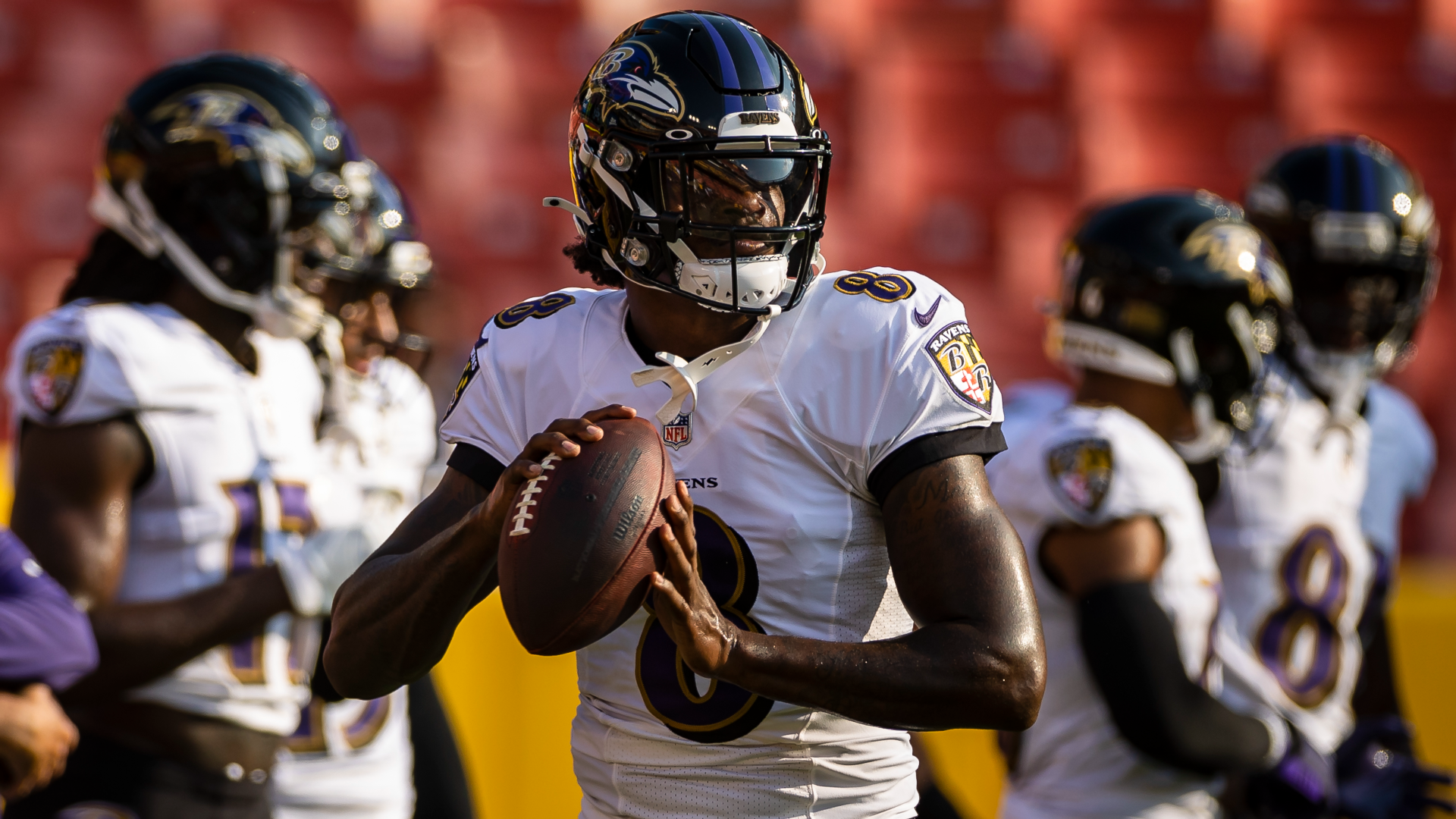 The Ravens and Raiders face off in the first "Monday Night Football" game of the 2021 season Sunday (ESPN, 8:15 p.m. ET) at Allegiant Stadium in Las Vegas, Nevada.
Baltimore, which went 11-5 last season and lost to the Titans in the AFC wild-card round, will be looking to make its fourth straight playoff appearance, something it has not done since it had five straight postseason berths from 2008 to 2012.
The Ravens have been hurt extensively by injuries this preseason, especially at running back. J.K. Dobbins (torn ACL), Gus Edwards (torn ACL) and Justice Hill (torn Achilles) are each out for the season, leading Baltimore to sign Latavius Murray, Trenton Cannon, Le'Veon Bell and Devonta Freeman as replacements.
Former first-team All-Pro cornerback Marcus Peters also suffered a torn ACL, and wide receiver Rashad Bateman is on injured reserve to start the season with a groin injury.
MORE: Watch Ravens vs. Raiders live with fuboTV (7-day free trial)
Las Vegas, which went 8-8 in its third season under coach Jon Gruden, is looking to make its first postseason appearance since 2016. The Raiders overhauled their defense this offseason, firing coordinator Paul Guenther and hiring Gus Bradley, who was the defensive coordinator for the Chargers from 2017 to 2020.
Las Vegas also added 13 new defensive players, looking to improve a unit that allowed the third-most points, forced the third-fewest turnovers (15) and had the fourth-fewest sacks (21) in 2020.
This will be the only Monday Night Football game in Week 1 for the first time since 2005. ESPN will instead have two games during Week 18 in accordance with the league's new 17-game schedule.
Sporting News is tracking live scoring updates and highlights from Ravens vs. Raiders on "Monday Night Football." Follow for complete results from the Week 1 NFL game.
MORE: Updated Ravens RB depth chart after injuries mount
Ravens vs. Raiders score
| | | | | | |
| --- | --- | --- | --- | --- | --- |
|   | Q1 | Q2 | Q3 | Q4 | F |
| Ravens | 7 | 7 | — | — | — |
| Raiders | 0 | 0 | — | — | — |
Ravens vs. Raiders live updates, highlights from 'Monday Night Football'
All times Eastern
Second quarter: Ravens 14, Raiders 0
9:12 p.m.: TOUCHDOWN RAVENS. Jackson avoids the pressure, rolls right and hits Brown on the run in the back of the end zone for a 10-yard touchdown. It's 14-0 Ravens with 8:52 left in the half.
9:10 p.m.: Sammy Watkins takes a shallow crossing route for 29 yards to the Raiders 14.
9:09 p.m.: And on the next play, Jackson fumbles the ball and takes a 4-yard loss.
9:08 p.m.: Jackson gets right back to work, completing a 29-yard pass to Marquise Brown out past the Raiders 40.
9:06 p.m.: Silver linings: AJ Cole has been very good punting the ball, averaging 53.3 yards on four attempts. Duvernay fumbles his latest one but recovers it at the Ravens 32.
9:05 p.m.: Woof. Justin Houston eats rookie Alex Leatherwood's lunch on a 12-yard sack. Punt upcoming again.
9:03 p.m.: Carr completes his first completion in eight attempts, a checkdown to Jacobs. It goes for 6 yards to make it third-and-4.
9 p.m.: Raiders defense does its part and gets off the field. Now it's on Carr, Jacobs and Co. to get something going, this time from their 35.
First quarter: Ravens 7, Raiders 0
8:56 p.m.: Nothing doing for the Raiders again. Jacobs gets a 13-yard carry, followed by zero yards on the next three plays. Ravens take over at their 20 after the punt.
8:48 p.m.: TOUCHDOWN, RAVENS. Ty'Son Williams takes the fourth-and-1 carry up the middle for a 35-yard touchdown! It's 7-0 Ravens with 1:53 left in the first quarter.
8:42 p.m.: Devin Duvernay takes the 62-yard punt and returns it to the Ravens 35. That's where Baltimore takes over.
8:41 p.m.: Carr's pass is tipped at the line and is nearly intercepted by Tavon Young. A quick three-and-out brings out the punt team.
8:36 p.m.: Darius Philon sacks Jackson for a loss of 6 yards on third-and-13 to bring up fourth down. After the punt and return, the Raiders take over at their 24.
8:26 p.m.: Ravens take over at their 8. … And there's the first explosive play for Baltimore: an 18-yard scramble by Lamar Jackson out to the Baltimore 29.
8:23 p.m: Disaster for Las Vegas. Carr attempts to audible but his center didn't get the message, snapping the ball. Carr has to dive on it for a loss of 15 yards back to the Baltimore 43. Punt ensuing.
8:21 p.m.: Josh Jacobs gets his second rush of the day, a good gain that's negated by a hold. He limps off the field while lineman Denzelle Good is attended to on the field.
8:20 p.m.: Carr stays in on third down this time, completing his first pass to Darren Waller for 12 yards to the Ravens 21. Las Vegas is 2 for 2 on third down.
8:18 p.m.: Marcus Mariota replaces Derek Carr on the third-and-1 play and keeps the zone read! He takes it 31 yards to the Baltimore 35.
8:15 p.m: Ravens win the toss but defer; Raiders take over at their 25 after the touchback.
Ravens vs. Raiders start time
Time: 8:15 p.m. ET
TV channel: ESPN | ABC
Live stream: Watch ESPN | ESPN App | fuboTV
Ravens vs. Raiders will kick off at 8:15 p.m. ET, the same start time for all "Monday Night Football" games during the 2021 NFL season. There is no doubleheader this year, so the Ravens vs. Raiders game will be the only game to air on Monday and will be the last contest played of the week.
Monday Night Football schedule 2021
| | | |
| --- | --- | --- |
| Week | Date | Matchup |
| Week 1 | Sept. 13 | Las Vegas Raiders vs. Baltimore Ravens |
| Week 2 | Sept. 20 | Green Bay Packers vs. Detroit Lions |
| Week 3 | Sept. 27 | Dallas Cowboys vs. Philadelphia Eagles |
| Week 4 | Oct. 4 | Los Angeles Chargers vs. Las Vegas Raiders |
| Week 5 | Oct. 11 | Baltimore Ravens vs. Indianapolis Colts |
| Week 6 | Oct. 18 | Tennessee Titans vs. Buffalo Bills |
| Week 7 | Oct. 25 | Seattle Seahawks vs. New Orleans Saints |
| Week 8 | Nov. 1 | Kansas City Chiefs vs. New York Giants |
| Week 9 | Nov. 8 | Pittsburgh Steelers vs. Chicago Bears |
| Week 10 | Nov. 15 | San Francisco 49ers vs. Los Angeles Rams |
| Week 11 | Nov. 22 | Tampa Bay Buccaneers vs. New York Giants |
| Week 12 | Nov. 29 | Washington Football Team vs. Seattle Seahawks |
| Week 13 | Dec. 6 | Buffalo Bills vs. New England Patriots |
| Week 14 | Dec. 13 | Arizona Cardinals vs. Los Angeles Rams |
| Week 15 | Dec. 20 | Chicago Bears vs. Minnesota Vikings |
| Week 16 | Dec. 27 | New Orleans Saints vs. Miami Dolphins |
| Week 17 | Jan. 3 | Pittsburgh Steelers vs. Cleveland Browns |

Checkout latest world news below links :
World News || Latest News || U.S. News

Source link