NHL
Top 5 Red Wings Prospects in the NCAA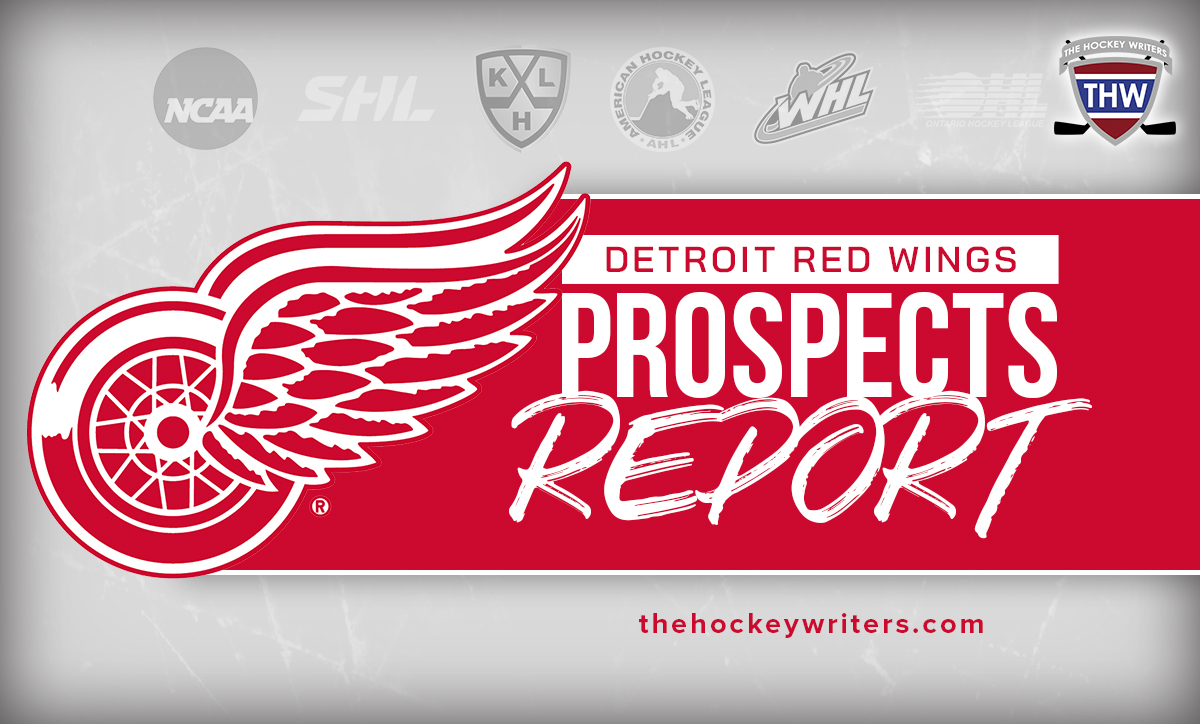 When you think of prospect development you may think of the American Hockey League (AHL), Ontario Hockey League, or maybe even the Swedish Hockey League. However, college hockey is also a great development step for players yearning for a professional career someday. I, for one, absolutely love college hockey. The atmosphere, the developing talent, and the excitement you see whenever a goal is scored is something special to watch.
As the halfway point of the season has recently passed, it's time to look at how the Red Wings' prospects are holding up so far. Spoiler alert: they've been doing pretty dang good. Here are my top five players that are making a splash in the NCAA and have a good bit of NHL potential as well!
5. Shai Buium – University of Denver
Also a sophomore at the University of Denver, Shai Buium has had a solid season. With 12 assists and a lone goal through 25 games, his stats sheet isn't the most impressive, but it is by no means bad. He's one of those players whose presence on the ice is important even if he's not generating points like crazy.
When the Red Wings moved up two spots and traded the 128th pick to draft Buium in the 2021 Draft, they saw something in him worth the risk. What exactly that might have been, I am not too sure, but there are plenty of attractive aspects of his game that stand out. He's a solid two-way defenseman that leans more into the offensive side and has great movement on the ice. One thing that is noted about him frequently is how deceptive his eyes are and his ability to fake shots, both of which support the argument that his game is stronger one way than the other.
He's been working on strengthening the defensive end of his game both during his collegiate seasons and as he's attended the Red Wings development camp. Since he's much stronger offensively, the dedication to improving his defensive skill set is something he needs and has proven to have. This past year, he even got some pointers from former Red Wing Niklas Kronwall, as well as the other coaches that he's been keeping in mind throughout this season.
"He [Kronwall] was obviously an NHL legend. He teaches you a lot of things. I'm just trying to bring it into my game on the blueline, learning to walk the blueline, be more deceptive and just playing defensive." 

-Shai Buium (from "Red Wings prospect Shai Buium took big steps during NCAA title season, MLive, August 3, 2022)
While he might not be a prospect making a case for the NHL anytime soon, he makes my top-five list of collegiate prospects because of his potential. The difference in his defensive game between last season and now is tremendous, and if he keeps growing at this rate, I see him being a solid pro player in the AHL one day.
4. Red Savage – Miami University
You may not know his game, but you certainly know his name. Red Savage, now a sophomore at Miami University (Ohio), has had a solid second year. This season, he has four goals and six assists through 22 games. However, his more impressive achievements have come on the international stage. He recently brought back a bronze medal from the 2023 World Junior Championship while serving as an alternate captain. His tournament run this year was phenomenal as he recorded six points (three goals and three assists), with one assist being on the bronze medal-winning goal. 
He's a lesser-appreciated "hidden gem" acquired by Steve Yzerman for a great price. Savage could've easily gone higher in the 2021 NHL Draft but was snagged by the Red Wings in the fourth round. It never hurts to add a skilled center into the system, so finding one like him that late in the draft was a no-brainer decision.
He's a hardworking, versatile player…He finishes his checks hard and does a lot of the little things well. He can contribute with the puck but is most likely a bottom-six forward in pro. I thought he was one of (U.S. NTDP's) more consistent players over the course of the year.

(from "Detroit's Red Savage learned that where you're picked in the NHL Draft doesn't define you," The Athletic, July 24, 2021)
Now, what exactly makes him one of the top collegiate Red Wings prospects? For starters, he has a strong two-way game that makes him a tremendous force both at regular strength and on the penalty kill. He has a solid wrist shot and can manipulate defensemen as he glides through the offensive zone. All around, he has a ton of potential and is definitely going to pan out to be a pro at some level one day. Savage seems to be getting better with time, and it will be very interesting to see where he is by the end of his collegiate career. 
3. Carter Gylander – Colgate University
The sole collegiate goaltender prospect for the Red Wings, Carter Gylander has been serving as the backbone of his team at Colgate University this season. Now in his junior year of college hockey, the 6-foot-5 goaltender has been standing tall as he's seen the most playing time in his career. Now an upperclassman, he has had his chances to shine that were not available to him as an underclassman, and he's made the most of each and every one.
Related: Red Wings Top 25 Prospects: 2022-23 Midseason Rankings
---
Latest News & Highlights
---
He was recently named the ECAC Hockey MAC Goaltender of the Week after a series sweep of Maine in which he had 51 saves. To put the cherry on top, he was also just named to the Mike Richter Award watch list, which is a huge milestone in his career. Gylander has a .925 save percentage and a 2.21 goals-against average through 23 games this season, which is his career-best thus far. Colgate just had the biggest win of their season as they upset No. 1 ranked Quinnipiac in a 3-2 victory. He made 27 saves and was almost instrumental to the team's success. 
Acquired in the 2019 NHL Draft at 191st overall, Gylander was ranked 10th amongst North American goaltenders by NHL Central Scouting. He's been making improvements year by year and is putting up a case that he may have a bright professional career after college. By no means is he at the level of Sebastian Cossa in terms of development, but that doesn't mean that he's not someone worth talking about.
2. Robert Mastrosimone – Arizona State University
Next up, we have a player who has been playing on NHL ice for the entire 2022-23 season. By that, I mean he plays for Arizona State University and shares his home ice with the Arizona Coyotes. Robert Mastrosimone is in his fourth season of college hockey, his first with ASU, and has had a great run so far. Oftentimes, his name seems to get overlooked in the Red Wings prospect discourse, but that shouldn't be the case, as he's a young star in the making.
Drafted back in the second round of the 2019 NHL Draft, the 5-foot-10 forward was just starting his collegiate career at Boston University. He spent three years as a Terrier before heading out west and ended his time there with a 25-point season. So far in the 2022-23 season, he has a total of 29 points with nine goals and 20 assists and was recently nominated for the Hobey Baker Award.
"He's really skilled, competitive, got great hands, great hockey sense. He's got to fill out, he's got to get stronger and getting stronger will improve his skating."

– Steve Yzerman (from "Breakdown of Detroit Red Wings 2019 draft class," MLive, June 24, 2019)
Mastrosimone just so happens to have bragging rights for being one of Yzerman's first-draft picks as the Red Wings' general manager. The first player selected by Yzerman was Moritz Seider, the sixth overall pick from the same draft class as Mastrosimone. He has attended Red Wings development camp a couple of times and hopes to make strides toward reaching the professional level as he wraps up his collegiate career. Like Mazur, I can see him making a genuine case for an NHL career one day, and I'm very excited to see where he will go after what's likely his final year of college hockey.
1. Carter Mazur – University of Denver
Now, this is the player that probably comes to mind when you think of Red Wings prospects playing college hockey. Carter Mazur, a Michigan native, is in his second season with the Denver Pioneers and has been on a roll. His team is coming off the high of winning the national championship last year and has ranked in the top 10 for almost the entire 2022-23 season.
He's second in total points (23) for all Red Wings prospects in the NCAA, but he has the most goals with 17 through 26 games. Those 17 goals have him ranked at number two in the NCAA for goal scoring, right behind Jason Polin of Western Michigan. Along with Robert Matrosimone, he's made the long list of players being considered for the Hobey Baker Award.
Mazur was drafted in the third round of the 2021 NHL Draft and was ecstatic that he would get to fulfill his childhood dream of being a part of the Red Wings organization. He's been very vocal about how happy he is to be a Red Wings prospect as well as how a former Red Wing, Darren Helm, is his role model. It's always good to see a young player with so much passion for the game, and Mazur is nearly a perfect example of that.
Whether he's scoring goals or dishing out assists, Mazur is a tremendous player all around. He has the physicality, craftiness, and drive needed to succeed, and he stands a good chance of making it to the NHL someday. He's so much more than just a goal scorer and is seemingly going to fill a huge need for the Red Wings one day, maybe in the near future.
All this being said, there is a ton of talent for the Red Wings playing in the NCAA. There are 14 total prospects to keep an eye on while watching college hockey, including Mazur, Mastrosimone, Gylander, Savage, and Buium. The back half of the season will be interesting as plenty of these players are on some of the top-ranked teams in the nation. Will Mazur and Buium make another tournament run following their national title, or is it time for other Red Wings prospects to shine? No matter what the outcome is, there's always something exciting to watch in college hockey, especially with these prospects!
Delaney Rimer writes about the Detroit Red Wings for THW who brings a new perspective to the hockey scene as a young female in the industry. Formerly, she wrote for Octopus Thrower- a Detroit Red Wings fan blog.

Checkout latest world news below links :
World News || Latest News || U.S. News

Source link