NHL
Sabres Have A Lot To Gain By Trading For Timo Meier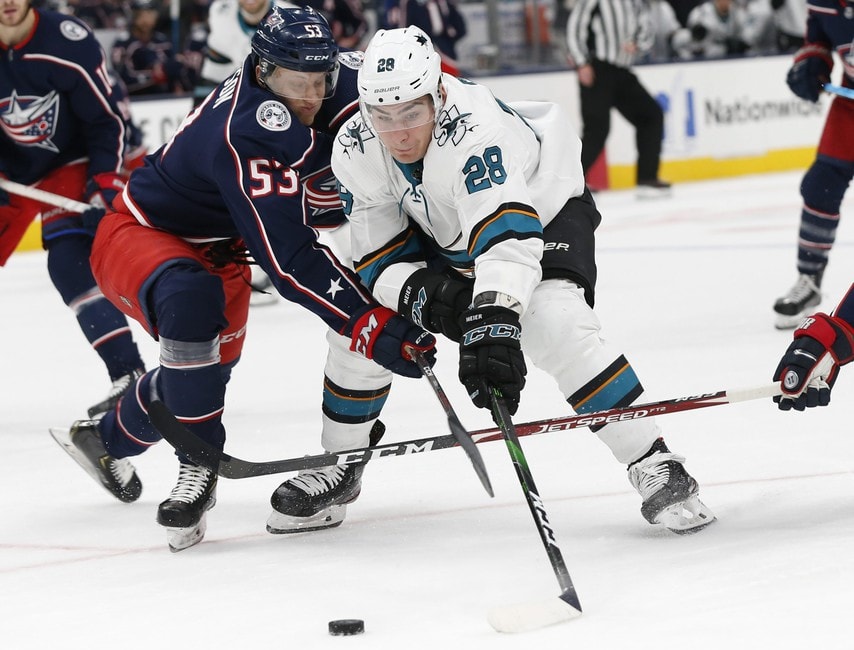 The Buffalo Sabres have plenty of things going right for them offensively, but there is always room for improvement on a young team. Owen Power is taking a big step offensively as of late, the top line is looking fresh and in sync, and the speed of the forward group continues to give opposing teams trouble. Where there is room for improvement is in their second-line scoring and their physicality, and they can get better in both categories by adding San Jose Sharks forward Timo Meier via trade.
Meier is a young, physical winger who has a knack for putting pucks in the back of the net. He can play both a play-driving role, or a complementary scoring role and still yield offensive results better than most players available on the trade market. The Buffalo Sabres are getting some good secondary scoring from the likes of Victor Olofsson, but they need more out of their second-line wingers Jack Quinn and JJ Peterka. Both are young developing forwards, but adding Meier to shift one or more of them down the lineup will benefit the team as a whole.
Meier Brings Size and Consistency
The Sharks are in the middle of one of their worst seasons to date. While they are getting some great value out of some of their lower-end players, they are also getting solid performances from the expected core group of Erik Karlsson, Tomas Hertl, and Meier. As they continue to trend towards a rebuild, they will likely be selling off key pieces in order to acquire young talent for the future.
Meier has established himself as a clean power forward with a great scoring touch. He does not take many penalties, he throws good hits, he pressures pucks anywhere on the ice, and he can finish a play off better than most players on the Sabres' roster. Beyond one low and incomplete year in 2020-21 where he only scored 12 goals, he has shown to be a consistent 20-30 goal scorer, and that is something the Sabres could absolutely benefit from. He stands at 6-foot-1 and weighs in at 220 pounds, so he has the size to win puck battles and drive the net with conviction — a trait that fits right in with the Sabres' current offensive scheme. Putting him alongside another young player like Dylan Cozens would be optimal as they would develop chemistry together and be able to function as a tough and heavy scoring duo.
Meier's Contract Carries Heavy Weight
Meier is on the last year of his current contract, and is due for a pay raise based on his productivity alone. The pay raise will likely be in the range of $7-10 million per season, and that would be a massive commitment for any team. The Sabres, however, have plenty of cap room, and would be able to lock in Meier to an extension while also handing out new contracts to their young studs like Rasmus Dahlin and Dylan Cozens. All of these players are restricted free agents (RFA) and the Sabres have primary negotiating rights with them, making it easier to put together some team-driven deals.
Should the Sabres make the move for Meier, they would be able to take on his full, current $6 million cap hit without a problem, but they would still need to move out some cap in order to make it work in the following seasons. They will be able to clear a good chunk of it when Kyle Okposo's $6 million hit comes off the books at the end of the season, but the rest would need to come from moving other roster players. They would be entering new territory as they would become a more cap-strapped team, but they would have their core locked in long term on both the offensive and defensive ends of the ice. If the Sabres get Meier to buy in to the team culture that Buffalo has built, there is a chance he takes a shorter termed contract at a slightly reduced price in order to be a huge part of their playoff runs in the next few years.
The Meier Trade Would be Costly
The Sharks will not part with Meier as they would a usual rental player. He is still in his prime at 26 years old, and his RFA status means that his worth is far more than a player that would be hitting the open market in July. If the Sabres want to add a high-end, top-six scoring forward that plays every aspect of the game well, they will need to part ways with both some roster and prospect value. Some potential trade offers could look like the following:
Sabres trade F Victor Olofsson, F Casey Mittelstadt, F Isak Rosen, a 2023 conditional second-round pick (BUF) and a 2023 second-round pick (VGK) to the Sharks for F Timo Meier… (conditional pick is if the Sabres re-sign Meier, San Jose gets their 2023 first-round pick instead)
Sabres trade F Peyton Krebs, F Victor Olofsson, F Prokhor Poltapov and a 2023 first-round pick to the Sharks for F Timo Meier
Sabres trade F Victor Olofsson, F Noah Ostlund, and a 2023 conditional second-round pick (BUF) to the Sharks for F Timo Meier… (conditional pick is if the Sabres re-sign Meier, San Jose gets their 2023 first-round pick instead)
Sabres trade F Isak Rosen, F Noah Ostlund, D Ryan Johnson, a 2023 second-round pick (BUF) and a 2023 second-round pick (VGK) to the Sharks for F Timo Meier
Sabres trade F Jack Quinn, F Noah Ostlund and a 2023 first-round pick to the Sharks for F Timo Meier
---
Latest News & Highlights
---
There are so many different combinations of trades that could be sent to the Sharks for consideration, but it depends on the rebuilding route that they plan on going with. If they take the route of re-tooling and inserting young talent into the lineup, then they would want some scoring coming back in the form of a roster player to two. This can be provided by both Mittelstadt, Olofsson, and Krebs as they all are still young and have scoring talent. Krebs is still finding his way, but he would continue to develop as a prospect in the Sharks' system, Mittelstadt gives good depth scoring and can play both center and wing, and Olofsson can give the Sharks some scoring punch that can be deployed anywhere.
If they decide to go a more youthful route, the Sabres have a number of high-end prospects that can be used to their full potential in this deal. Rosen has been good in the AHL this season and willingly continue to grow, Poltapov still has some development time in Russia left, but will fit well on a Western Conference team, Johnson is a very promising, reliable defensive prospect, Quinn is a top-tier goal-scoring prospect, and Ostlund has the potential to be a number one center someday. All of these prospects give the Sharks the tools they need for the future, and they would get to add one or more draft picks this season to go with it. They will have moved one player and given themselves the ability to get their future in order.
Acquiring Meier Does Have Drawbacks
At the end of the day, the Sabres' ultimate goal is to complete their rebuild and make the playoffs. As things currently sit, they are just outside of fulfilling that dream and getting a player like Meier to bolster their team would go a long way in pushing over that playoff threshold. The cost would be great since they would need to part with some valuable prospects and draft capital, but it would also give their future star prospects like Matthew Savoie and Jiri Kulich more room to make the roster.
Related – Sabres Forward Dylan Cozens Deserves Better Wingers
The contract that would be given out to Meier would be substantial, no matter how it is framed, but the Sabres can accomplish it while still having locked up Tage Thompson, Alex Tuch, Jeff Skinner, Rasmus Dahlin, Mattias Samuelsson, AND Dylan Cozens. Their only struggle cap wise would come in a couple of years when they would need to ultimately re-sign Owen Power, but he is the only true hiccup in the cap crunch that Meier's extension would cause. The Sabres do not need to make this trade by any means, but doing so has a lot of positive outcomes. Kevyn Adams has some work to do as he evaluates his team in the next few weeks and determines if it is time to buy at the deadline or stay put and let his kids run the show.
---
---
I have been a hockey and Buffalo Sabres fan since I was in middle school. Through the good times and the very long bad times, I have stuck by this team with the hope that one day we would become a powerhouse in the NHL. Now I join The Hockey Writers as I hope to talk about this Buffalo Sabres team on an upswing. I love this team with all my heart, and I take pride in my ability to know players, prospects, and so much more. As a hockey fan I have a particular taste for young players and prospects; doing mock drafts, looking up stats, guessing potential, doing player comparisons, all of it. The idea of the future skill in the NHL is one of my favorite things to think about, write about, and talk about. I am also an avid NHL gamer with a top ranked team in the "Threes Eliminator" mode.

Checkout latest world news below links :
World News || Latest News || U.S. News

Source link