NHL
Predicting the Outcomes for Red Wings' Pending Free Agents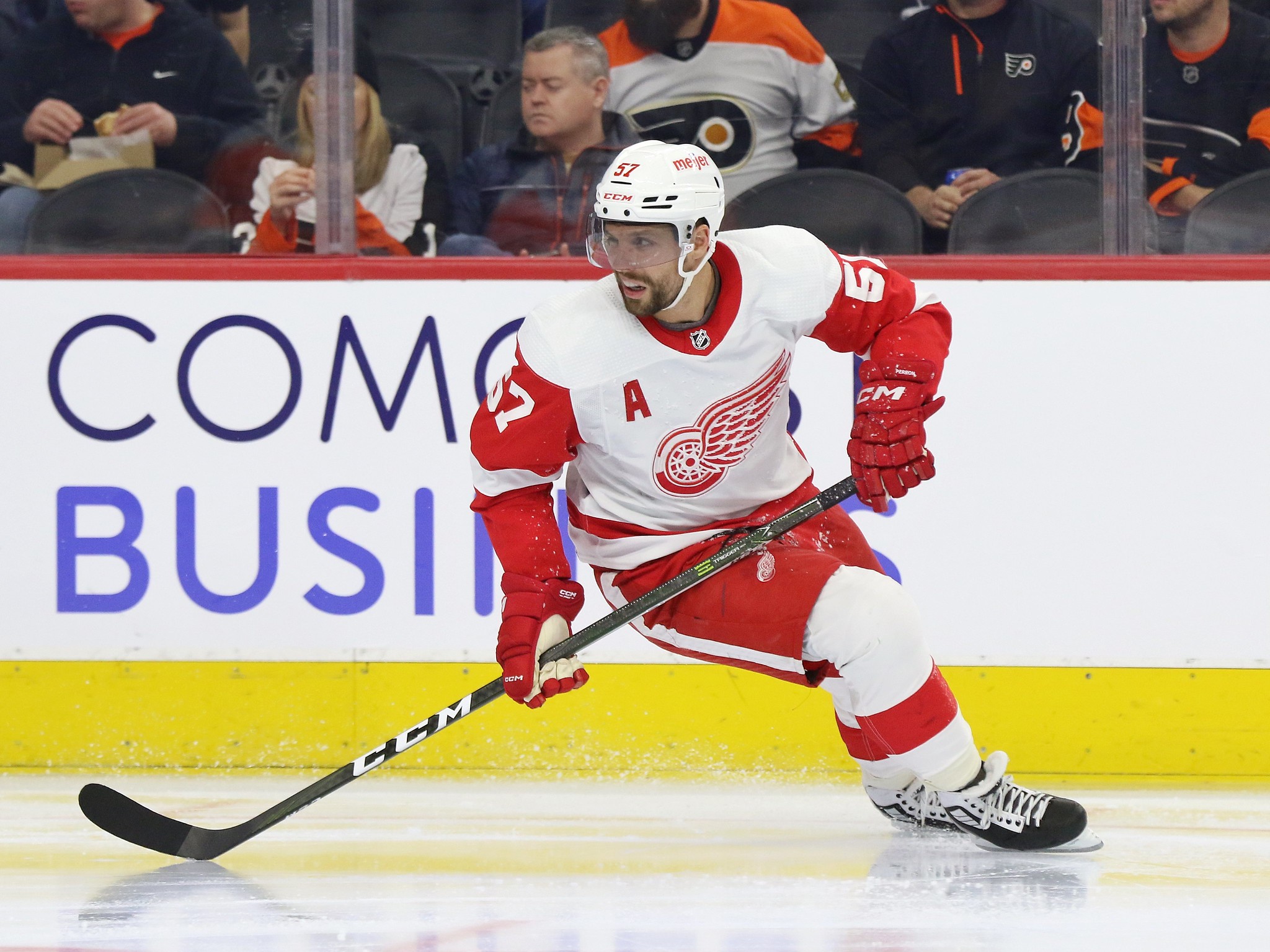 With the regular season being right around the corner, the Detroit Red Wings have a roster with many pending free agents, both unrestricted (UFA) and restricted (RFA). What could end up happening with each of these pending free agents by the time the end of the 2023-24 season comes around?
Forward Jonatan Berggren
After being a second-round pick in the 2018 Draft by the Red Wings, Jonatan Berggren was able to make the jump over to North America and make his NHL debut last season and put up 28 points in 67 games played. He is also viewed by many as a possible breakout player this season.
He will be an RFA at season's end and if he is able to build off of last season's production, could work his way into being a long-term building piece for the organization. General manager (GM) Steve Yzerman has shown patience in getting deals done with players who are potential RFAs, so an extension for Berggren is more likely to happen during the next offseason than during the season itself.
Prediction: Berggren has a breakout season for the Red Wings and earns a three-year contract extension from Yzerman.
Forward Christian Fischer
Coming to Detroit this offseason on a one-year deal, Christian Fischer is expected to be in a battle for the bottom-six of the Red Wings' lineup. He is a player that could find himself on the outside looking in depending on how other players battling for spots in that bottom-six perform during training camp.
---
Latest News & Highlights
---
If a younger player (i.e. Elmer Soderblom) is able to outperform Fischer in camp and preseason games, Yzerman could be looking to trade him at some point early in the season. But if Fischer is able to find his way into the lineup out of camp, he brings a big body who can help in the offensive zone to the bottom-six of the lineup.
Prediction: Fischer is traded by the trade deadline.
Defenseman Shayne Gostisbehere
Another player who was brought in this offseason on a one-year deal, Shayne Gostisbehere brings an offensive game to the back end for the Red Wings that should be able to help both in even strength and powerplay situations if given the opportunity.
If he is able to show off his offensive prowess for the Red Wings this season, he could very easily position himself for a long-term contract at season's end, whether it be with the Red Wings or another team in the league. What will most likely determine his future in Detroit will be the development of the younger defensemen in Grand Rapids this season and if they will be positioning themselves for a spot on the team in 2024-25.
Prediction: Gostisbehere performs well enough for the Red Wings and earns himself a long-term deal with a different team in 2024-25.
Forward David Perron
Joining the Red Wings in 2022, David Perron was one of the team's most consistent and reliable players last season, playing in all 82 regular season games while tallying a total of 56 points. With his two-year contract expiring at the conclusion of this season, he could become a player that contending teams could look to make a move for. He is a veteran presence having played over 1,000 career games and is still able to produce at a level that would be envied by a team at the trade deadline if the Red Wings fall out of contention.
With his age (35 years old), Perron could be on his way out of Detroit one way or the other, dependent on the development of some of the young prospects the Red Wings possess and the push these players could put on management at some point either during the season or going into next season.
Prediction: Red Wings stay in playoff contention, hang on to Perron and he leaves the organization as a free agent in the 2024 offseason.
Forward Lucas Raymond
After a solid rookie season in 2021-22, Lucas Raymond's production dipped in 2022-23 but is fully expected to have a breakout season for the Red Wings in 2023-24. At only 21 years old, the organization is hoping he will be able to return to his rookie-year form and be a core piece for the future.
At the end of the season, he will be another player the Red Wings have who will be an RFA and will most likely get a deal done in the offseason. With a bounce back season, he could find himself getting a long-term deal from Yzerman, but if he is unable to find his form again, will most likely get a bridge deal from the team.
Prediction: Raymond has a bounce back year after earning first-line minutes and signs a four-year extension in the offseason.
Goalie James Reimer
One of the surprising moves of the offseason by Steve Yzerman was bringing in veteran goaltender James Reimer on a one-year contract. After a subpar season last year, Reimer is likely going to be relied on as the primary backup to Ville Husso this season.
Being brought in on a one-year deal, Reimer is also expected to be a bridge-type backup until next season where there is hope that one of the younger goaltenders in the Red Wings system could be making the jump to the NHL. If he is able to have a decent enough season backing up Husso, he could be a goalie that contending teams could look to add at the deadline if the Red Wings are out of the playoff hunt.
Prediction: Reimer plays the entire 2023-24 season with the Red Wings and leaves via free agency in the offseason.
Defenseman Moritz Seider
Since coming into the league in the 2021-22 season, defenseman Moritz Seider has yet to miss a regular season game, playing in all 164 possible games. He has also developed himself into one of the league's best young defensemen.
Related: Red Wings Probably Signing Different Deals for Seider & Raymond
Seider has the potential to be a lock-down defenseman for the Red Wings for the next decade and with another solid season in 2023-24 should easily earn himself a long-term deal with the organization to solidify their back end for years to come.
Prediction: Seider signs a six-year contract extension by the end of the regular season.
Forward Daniel Sprong
Another free agent signed this offseason by Yzerman, Daniel Sprong will be a UFA at the end of this season as he was signed to a one-year deal. He will bring depth to the Red Wings forward group, with the hopes that he will be able to replicate the season he had last year when he compiled 46 points for the Seattle Kraken.
In the event that Sprong is able to replicate last season's production, he could easily look to take a chance at a bigger payday and longer-term contract from another team. But if he is able to fill the role on one of the bottom two lines in the Red Wings lineup as a goal-scorer and energy guy, he could be a candidate for an extension in the offseason.
Prediction: Sprong earns himself a two-year extension with the Red Wings.
Forward Joe Veleno
This season is shaping up to be a make-or-break season for Joe Veleno. The former first-round pick by the Red Wings has not been able to get over the hump and make the next jump that the organization has hoped he would be able to by now.
With that being said, Yzerman has made it known that he has faith that Veleno can finally do that this season and push the coaching staff to put him in bigger opportunities and situations. If he is able to do so and improve his production on the stat sheet, Veleno could earn himself an extension in the offseason. But if he is still not able to take that next jump, a change of scenery could be in store for him.
Prediction: Veleno struggles throughout the season and finds himself traded at the trade deadline for a fresh start.
Overall, the decisions on both the UFAs and RFAs the Red Wings will have at the end of the season will greatly be impacted by on-ice performance and the development of the prospects and younger players in the organization as well.
---
---

Checkout latest world news below links :
World News || Latest News || U.S. News

Source link