NHL
NHLers Struggling With New Teams After Offseason Moves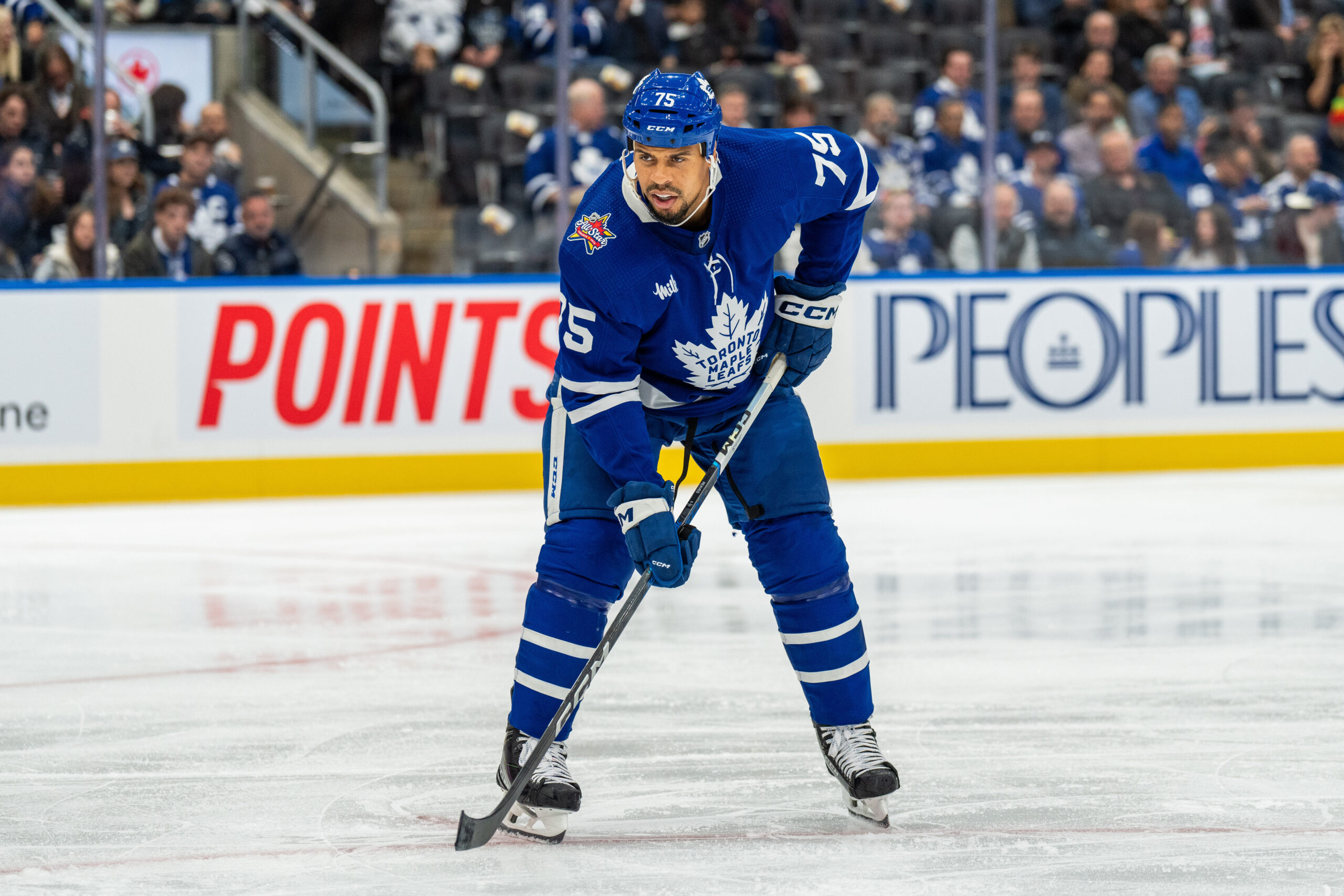 Late last week, we looked at some offseason moves that have been working out for their new teams to start 2023-24. Now, we'll go over some that have failed to meet expectations heading into American Thanksgiving just a couple of days from now. 
Maple Leafs Offseason Moves
Aside from Tyler Bertuzzi, who has played well for the Toronto Maple Leafs, general manager Brad Treliving's offseason moves have not paid dividends for his team to start the 2023-24 season. 
Let's start with John Klingberg, who's come under the most scrutiny among the Maple Leafs' signings from this summer. Klingberg may have a little offensive value left in him, but his defensive game has completely fallen off a cliff. 
Related: 3 Maple Leafs Players Exceeding Expectations in 2023-24
---
Latest News & Highlight
---
The Maple Leafs have a 42.03 expected goals percentage (xG%) with Klingberg on the ice at five-on-five and have gotten outscored 14-9 in his minutes. This signing has not worked out, and it appears there could be some clarity on his situation this week, per Elliotte Friedman on the Nov. 20 episode of 32 Thoughts. 
Then there's Ryan Reaves. At least with Klingberg, it was a one-year deal. But for whatever reason, Treliving gave Reaves a three-year contract at a cap hit of $1.35 million. He's been a complete net-negative this season, with a 35.02 xG% and minus-11 goal differential at five-on-five. That goal differential is zero goals and 11 against, by the way. 
Reaves may not have a significant cap hit, but that contract will be problematic because of his term and because he's been such a net negative. The Maple Leafs are unlikely to get any value out of this signing. 
Finally, there's Max Domi. He's had some rough shooting luck, but the struggles are apparent. He has no goals and nine assists in 17 games while sporting a 42.32 xG% at five-on-five. He's always been a defensive liability, and that's proven to be a problem at the beginning of his Maple Leafs tenure. 
Fortunately, he's on a one-year deal, too, but Treliving's offseason moves have not panned out as hoped. The Maple Leafs are getting by with fantastic play from their star players, specifically William Nylander, who's in for a payday over the next few months. 
Avalanche's Depth Moves
Admittedly, it's been a mixed bag for the Colorado Avalanche's offseason moves. Ross Colton and Miles Wood have fared well, while Ryan Johansen, though inconsistent, has had some good moments. But the same can't be said for Tomáš Tatar and Jonathan Drouin. 
Tatar had a rebound season with the New Jersey Devils in 2022-23, totaling 20 goals and 48 points in 82 games. Unfortunately, he's off to a very slow start with the Avalanche, with no goals and seven points in 16 games. 
Tatar's impacts have declined significantly from where he was a season ago, and he's only averaging around 0.5 shots on goal a game, a far cry from the 1.86 shots on goal he averaged with the Devils in 2022-23. The Avalanche don't have great forward depth, especially with Artturi Lehkonen out long-term with an injury, so they need more from Tatar. 
Then there's Jonathan Drouin, who has a goal and two assists in 15 games. The Avalanche signed him to a one-year deal in hopes of rekindling some of the magic he had with Nathan MacKinnon when they played for the Halifax Mooseheads in the QMJHL. But it just hasn't worked in Denver so far. 
With Tatar and Drouin struggling and Johansen not being far off from getting lumped in with them, GM Chris MacFarland will likely need to add some forward depth ahead of the trade deadline. 
Connor Brown
Connor Brown is coming off a torn ACL, so maybe it shouldn't be a surprise he's struggling out of the gate. Still, the Edmonton Oilers were likely expecting more from him to start 2023-24. He has no goals or points through 11 games, but I think there's reason to be optimistic with his game. 
Though Brown hasn't found the scoresheet, he has a 57.47 xG% at five-on-five. The Oilers have scored just one goal in his 130 minutes on the ice, leading to an on-ice shooting percentage of 1.39 percent. With how they're carrying play when he's on the ice, they're due to score more in his minutes. 
Brown himself has been generating chances, averaging 5.54 high-danger chances per 60 minutes. Unlike most of the Maple Leafs' offseason moves, he isn't playing as poorly as the counting totals suggest (that sums up the Oilers pretty well). He's only on a one-year deal, so there's not much risk in keeping him around, especially since he should have better luck at some point. 
Alex Killorn
The first of a four-year deal that Killorn signed with the Anaheim Ducks this offseason has gotten off to a rocky start. That's partly due to injuries — he's played in just eight games — but his play has not been up to where the Ducks need him, especially since his cap hit is $6.25 million. 
Killorn has no goals and just three assists through eight games, and his impacts have been significantly in the red. His 33.49 xG% is second worst on the Ducks roster to Tristan Luneau, a 19-year-old rookie who's only played in two games. 
Obviously, it's early in the season, and he's missed some time with injuries, but Killorn's contract was a problem from the moment he signed it. He was a prime regression candidate heading into 2023-24, especially away from that Tampa Bay Lightning top-six. And at 34 years old, you never know when age-related decline could kick in. 
We'll see how the season progresses and if Killorn can adjust to his new surroundings and teammates to become a reliable middle-six scorer. But there's at least reason for Ducks fans to be concerned about his start, though it doesn't warrant panic yet. 
Dmitry Orlov & Tony DeAngelo
The Hurricanes have had goaltending struggles to start this season, but two of their defensive additions from this offseason have gotten off to slow starts, too. Those would be Dmitry Orlov and Tony DeAngelo, the latter of whom is in his second stint with the Hurricanes. 
Orlov was the Hurricanes' marquee addition this summer, signing for two years at a cap hit of $7.75 million. He hasn't been awful by any stretch, but he hasn't gotten off to the best start, either. On the surface, Orlov's on-ice metrics seem fine. He has a 50.8 xG%, but his impacts have not been fine, specifically offensively:
It's too early in the season to put too much stock in RAPM charts, but it shows that Orlov has not gotten off to the best start. He'll likely pick it up as the Hurricanes' season progresses, though it remains to be seen what that looks like. 
As for DeAngelo, the defensive concerns have always been apparent. That's been no different to start this season, but he's not contributing offensively anymore. He doesn't add much value if he's not producing from the back end, so the Hurricanes may look to cut bait at some point. He's only on a one-year deal at a cap hit of $1.5 million, so that shouldn't be overly difficult. 
Blake Wheeler
Blake Wheeler looked like one of the best value signings of the summer at one year for $800,000. Maybe that'll end up being the case at season's end, but father time may have caught up to the 37-year-old winger, who has only four points in 16 games to start 2022-23. 
Wheeler's on-ice metrics are among the worst on the New York Rangers, as he has a 41.42 xG%, ranked fifth-worst on the team. He's never been a high-end goal scorer, but he's always been a top-notch playmaker. Unfortunately, that hasn't been the case to the start of his Rangers tenure. 
Artemi Panarin has been lighting the NHL on fire to start this season, so the Rangers haven't felt the effects of Wheeler underperforming. But if Panarin cools down a bit and the Rangers start scoring less on the power play, Wheeler's lack of production could hurt the team's results down the road. 
Of course, there's time for these players to turn around their seasons. Some have better odds of doing so, like Orlov and some of the Avalanche's depth moves. But it hasn't been the best of beginnings from these notable 2023 offseason transactions.  
* * *
Advanced stats from Natural Stat Trick
Checkout latest world news below links :
World News
||
Latest News
||
U.S. News
Source link