NHL
Jacob Markstrom Has Done More Harm Than Good for Flames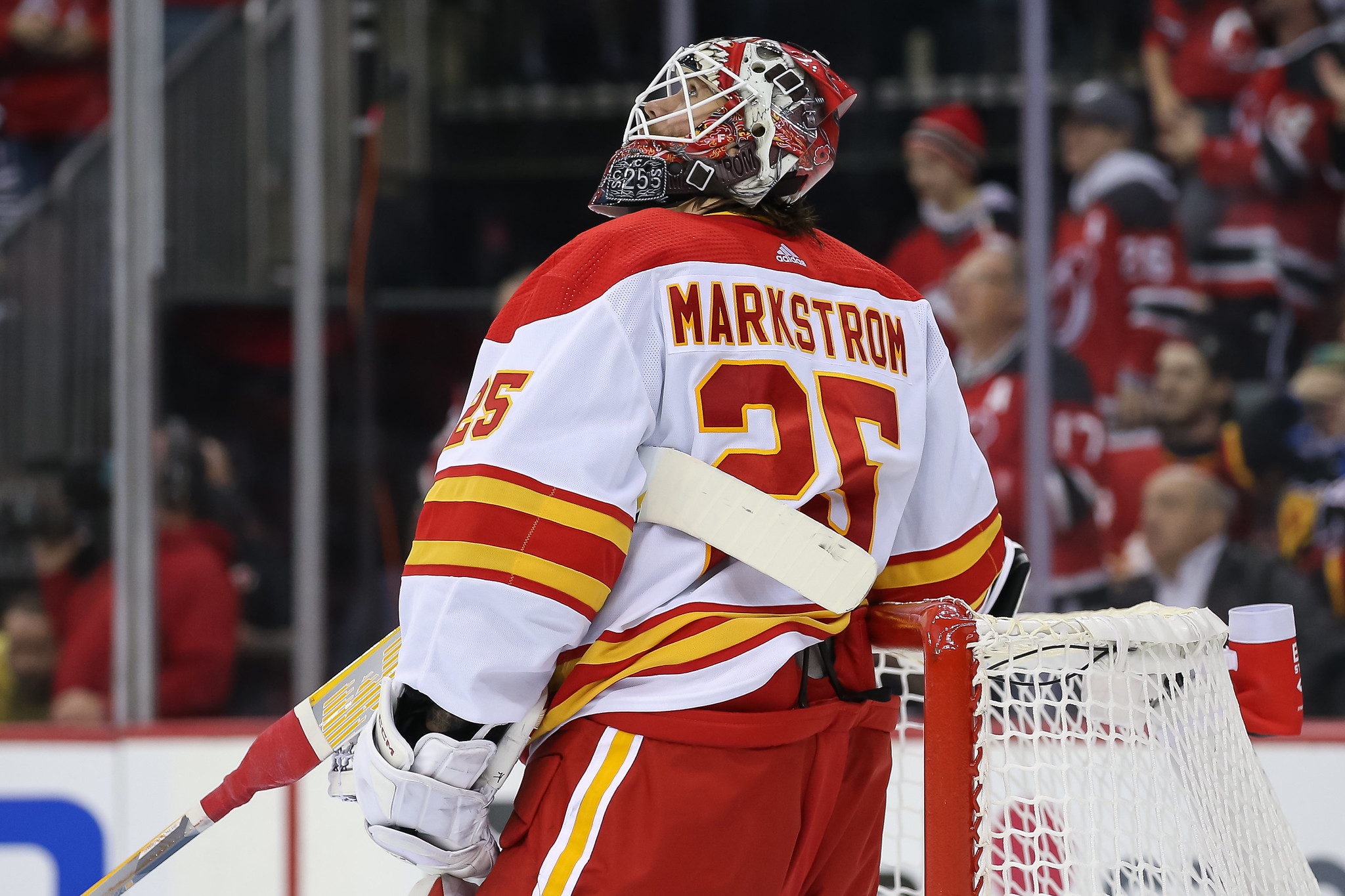 Jacob Markstrom may have been what the Calgary Flames needed for one season, but he hasn't been reliable for most of his time spent with the organization. This is his third season as a member of the Flames after signing a six-year, $6 million average annual value (AAV) deal in 2020 and the majority of it has been underwhelming play the goaltender would like to forget.
As shown on the Sportsnet broadcast when the Flames lost to the Chicago Blackhawks on Jan. 26, Markstrom's play has been night and day to this point in the season compared to last season through 33 games. His record is worse by three wins, which would make a huge difference in the standings right now. He has also allowed many more goals and his save percentage (SV%) is down an astonishing .030. To go along with this, seven shutouts at this point of the season in 2021-22 compared to none this season is incredible.
The wins I can understand being lower considering the team lost their two best players and replaced them with a couple of older players coming off of career years. The offence wasn't expected to be as good. What was supposed to stay the same was defence and goaltending. Though there have been more holes in the defence than last season, Markstrom hasn't helped out. Dan Vladar, the backup goaltender, hasn't had the same trouble in net, so it's on Markstrom.
Markstrom Has Played More Bad Hockey Than Good for Flames
Take away Markstrom's amazing 2021-22 season for the Flames who were a powerhouse in all aspects and what has he provided? Two poor seasons as the starter, a horrible second-round series against the Edmonton Oilers in the playoffs last season, and a decent series in which he only had to contend with one line from the Dallas Stars.
---
Latest News & Highlights
---
Overall, Markstrom has done more harm than help for the Flames despite finishing last season as the Vezina runner-up. After finishing fourth in Vezina Trophy voting in his contract season in 2019-20, the former Vancouver Canucks goaltender set the bar high. Markstrom ended the season with a .918 SV% and 11.4 goals saved above average (GSAA). This earned him a big contract and he is the sixth-highest paid goalie that has played a game this season. Three of the five who have higher cap hits have won a Vezina Trophy, while Matt Murray has won back-to-back Stanley Cups as a rookie. The other is John Gibson.
In 43 starts in 2020-21, Markstrom's first with the Flames, he barely finished with more wins than losses and had a SV% of .904. He ended the season with a negative GSAA for the first time in three seasons (minus-4.0), but actually had an above average quality start percentage. Twenty-three of his 43 starts were quality starts for a .535 percentage. The league average is .53 according to Rob Vollman who developed the stat. This below average season in net for Markstrom was accompanied by a career-high number of really bad starts (RBS) of eight where his SV% in a game was below 85 percent.
The following season, where he would've won the Vezina Trophy if it weren't for Igor Shesterkin, Markstrom started 20 more games, winning 15 more of them than the prior season, and reduced his goals against average (GAA) and SV% significantly. He also recorded nine shutouts, seven of them coming in the first 33 games as seen above. His GSAA also improved by 30.1. I wouldn't say anyone can have an incredible season like Markstrom had, but it seems like an anomaly when we look at his body of work as a whole in Calgary.
Related: 3 Flames Most Likely to Be Traded Ahead of 2023 Deadline
This season has been his worst by a wide margin since solidifying himself in the NHL. His SV% is at .893, he's approaching a 3.00 GAA, he has the lowest GSAA of his career with minus-10.4, and has failed to record a shutout. His quality start percentage is also incredibly low seeing as under 50 percent is considered bad. Markstrom sits below 40 percent with just 13 quality starts in 33 games.
The last bit to cover on Markstrom is his two playoff series last season with the Flames. The seven-game series between the Flames and Stars was more of a goaltending duel. This was more because neither team could score. The Stars just didn't have the offence besides their top line and Jake Oettinger of Dallas outplayed Markstrom. The Flames' goalie did end the series with a .943 SV%, but faced just 27 shots per game in a series that also featured an overtime game. With an offence to match the Flames, the Oilers ran through Markstrom and he had a horrible .852 SV% over the five-game second-round series. This brought his playoff total for 2021-22 to a .901 SV% and minus-4.1 GSAA. His inconsistency is a big reason why the Flames haven't been able to accomplish much over these past three seasons.
Vladar & Wolf Could Be Better Options
I know neither Vladar or Dustin Wolf are the calibre of an elite NHL starter that the Flames need… yet. Vladar has shown promise this season as the backup who has been pushed into a part-time starter role. In comparison to Markstrom, Vladar has two fewer wins in 16 fewer starts with much better stats this season. The Flames' backup has a .906 SV%, 2.71 GAA, a quality start percentage of .529, and 0.3 GSAA which doesn't help or hurt the team. He also has just one RBS, has relieved Markstrom of the net in two games, and has a $750,000 cap hit this season.
I wouldn't call Vladar a starter, but he has the potential. He has been solid when called upon and when he took over the net from Markstrom earlier in the season. The Flames already extended him for two more seasons at $2.2 million AAV. So, where does this leave Wolf?
In Wolf's second season in the American Hockey League (AHL), he has been even more dominant than his rookie season. He sports a 24-5-1 record with a 2.20 GAA and .928 SV% and is regarded as one of, if not the best goaltending prospect in the NHL. Though he is yet to play an NHL game, he will be pushing for a spot as early as this season. If an injury occurs, you can bet on Wolf getting the call-up since he is their best option in the pipeline and the Flames need to win games at all costs.
If both Vladar and Markstrom are signed for the next two seasons at a combined cost of $8.2 million and providing less than average goaltending, a change will have to be made. The Flames are in win-now mode as indicated by their three big signings over the past half a year. If Markstrom is going to provide a sub-.900 SV%, the Flames will be stuck with a lack of cap space, too many NHL goaltenders, and tough choices to make. With two stellar seasons for Wolf, he can't spend too much more time in the AHL. As the future franchise goaltender, he will usurp Markstrom by the end of next season if the poor play and lack of consistency continues.
---
---
Rob Couch is a THW freelance writer covering mainly the Edmonton Oilers and Calgary Flames. He covers everything you need to know about fantasy hockey. He will also keep you up to date with NHL Stats News and trade talks.
You can find more of his work here.
Follow Rob on Twitter or his hockey account Stat Hockey for the latest articles, stats, and more.

Checkout latest world news below links :
World News || Latest News || U.S. News

Source link