NHL
Fantasy Hockey's Top 10 Goaltenders for 2023-24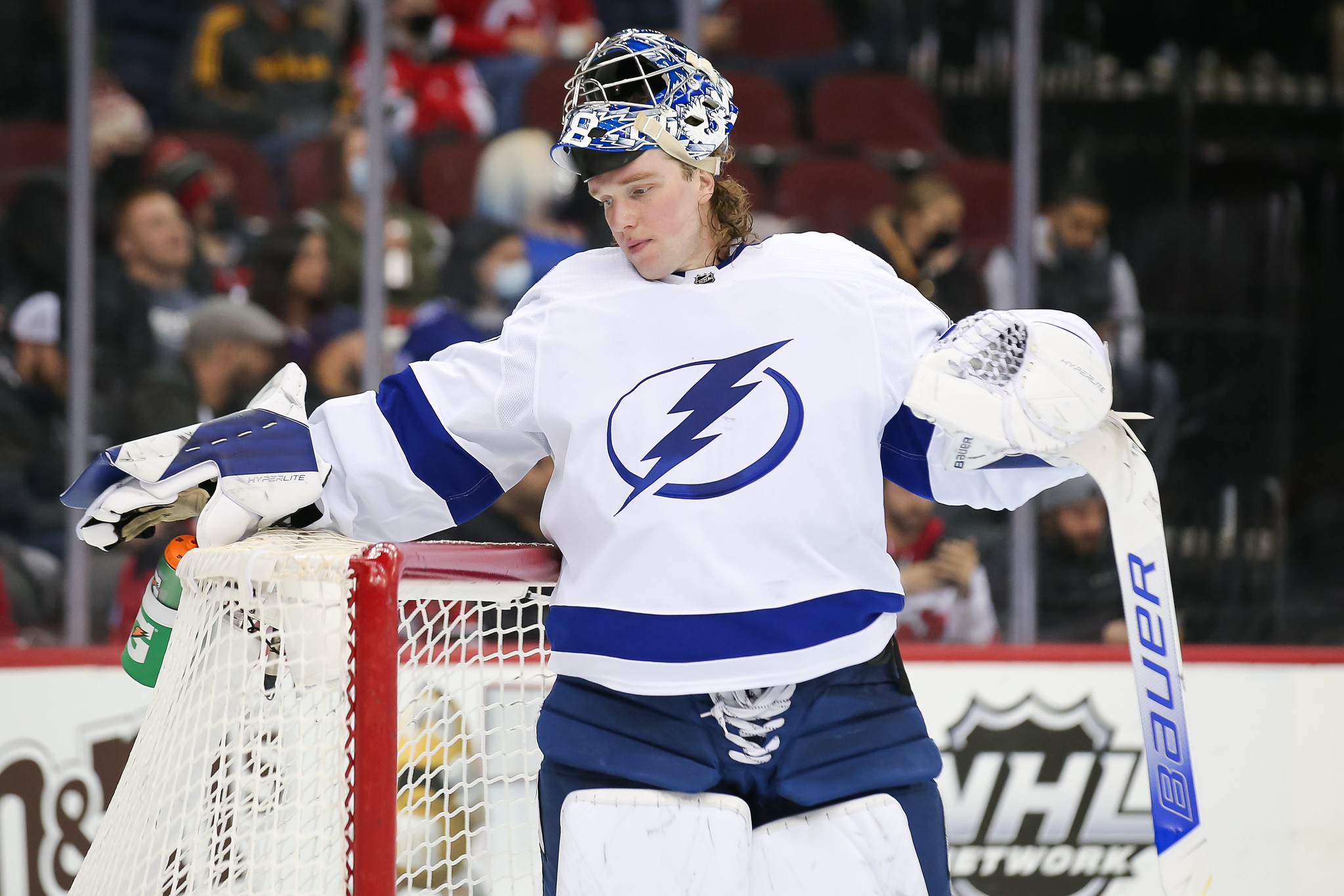 The NHL season is just around the corner, and with that comes the beginning of your fantasy league. On a recent episode of the THW's Fantasy Forecheck podcast, two lists were presented as Jacob Strozyk, and I each came up with our own list of the top ten players in each position for the upcoming NHL season. Here is a list of our list of goaltenders.
Related: Ranking NHL Teams By Goaltenders
---
Latest News & Highlights
---
Everybody has their preferences when it comes to selecting their players. Depending on the type of league you are playing in different players and goalies may do better than if it was another type of league. For the sake of this list, we don't have a specific type of league in mind, and this is more of a general list for our top 10.
Strozyk #10 – Stuart Skinner
Just for how amazing the Edmonton Oilers are expected to be and the amount of wins they will get, I have Stuart Skinner in my 10 spot. I don't have confidence that he will put up amazing numbers or the Oilers' defense can fully support him to have good stats. If he can get by with a goals-against average (GAA) of 2.6 and a save percentage (SV%) around .908-.912, he will be good in fantasy, but it is the wins for me. It is purely the wins for Skinner.
Billington #10 – Thatcher Demko
I think the Vancouver Canucks will be hovering around a wildcard position this season. They have a lot of great pieces and the talent to get a lot of wins, plus Rick Tocchet is a bonus for the team. If Thatcher Demko can stay healthy and the team can push for a playoff spot, he will be in a great situation. He has shown that he is capable of recording good stats. He will likely end up around a 2.7 GAA and hover around a .915 SV%, as he has done twice in the past three years. If the Canucks defense tightens up, those numbers could even rise a bit.
Strozyk #9 – Vitek Vanecek
This might be a slight hot take, but I have Vitek Vanecek at nine. I love what he did last year and think he can replicate it. He doesn't need to have super-elite individual stats. If he can have a 2.5 GAA and .910 SV%, the difference in the wins he will get playing behind the stacked New Jersey Devils lineup.
Billington #9 – Filip Gustavsson
I know that Filip Gustavsson had an unrealistically good year last year with a .932 SV%, and he won't duplicate that this year. He will get a lot of wins with the Minnesota Wild playing in a weaker conference than the East. If he can land around a .917 SV% and a 2.3-2.4 GAA. The only thing that would deter anyone from this pick is that he needs to do it one more time to prove he can do this more than just once.
Strozyk #8 – Linus Ullmark/Jeremy Swayman
I have Linus Ullmark and Jeremy Swayman together. They are a tandem that runs with whoever is playing better right now. That is what it will ride on. I don't think they have as high of a win total as their record-breaking season, but they will both have great numbers still. I think Swayman can do just as well and have similar stats. The Boston Bruins are still a good team.
Billington #8 – Alexandar Georgiev
Alexandar Georgiev and Mikko Rantanen are the only reasons the Colorado Avalanche made the playoffs last season. Georgiev is a good goaltender in a great position. The Avalanche has one of the best defensive groups to help support him for what he can't do on his own. He will get many wins this season, especially with Pavel Francouz missing some time.
Strozyk #7 – Ilya Samsonov
What Ilya Samsonov had done last year will carry into this year. He will get a lot of wins, and I have always liked him, even with the Washington Capitals. He was misused and underrated. He can be a top-tier started. The Toronto Maple Leafs are all but locked into the top spot in the Atlantic Division.
Billington #7 – Linus Ullmark
I think the Bruins will take a step back this year, but I don't think Ullmark will. He won the Vezina, he probably won't again, and won't have as many wins, and he will be splitting the crease with Swayman. Ullmark can still land around the 30-win mark, while still putting up great individual numbers.
Strozyk #6 – Frederik Andersen
I have faith in the Carolina Hurricanes, and if Frederik Andersen can stay healthy, he is criminally underrated. People tend to stray away from him for some reason. You can keep a goalie on injury reserve if need be, but he will produce wins, saves and every goaltending stat that you need for your team. Other than the injury history, the only other issue could be the challenge in the crease with Antti Raanta and Pyotr Kochetkov.
Billington #6 – Juuse Saros
The Nashville Predators have an excellent defensive group. He is one of the best goalies in the league. I think that despite the Preds not outscoring their problems, they won't have to score many goals to win hockey games. Saros will likely have a fantastic year, and the defensively built team led by new general manager Barry Trotz and coach Andrew Brunette will be hard to score on.
Strozyk #5 – Alexandar Georgiev
I believe Georgiev is a very good, reliable starting goaltender. The Avalanche are going to win a bunch of games, so combining his individual talent and the team's success, I have him at eight. He might not have the best stats at the end of the year, but he will be a steady player that will get you what you need.
Billington #5 – Connor Hellebuyck
I think the Winnipeg Jets will have a better year than most people seem to think. The defensive system Rick Bowness likes to preach will help, and with the acquisition of Alex Iafallo, Gabe Vilardi and Rasmus Kupari to replace Blake Wheeler and Pierre-Luc Dubois, it will be a stronger defensive team than Connor Hellebuyck is used to. He is a perennial Vezina Trophy candidate, and with his contract expiry and questions about his future, I think he will be playing with everything he's got.
Strozyk #4 – Ilya Sorokin
Ilya Sorokin will have a great SV% and GAA, even if he isn't getting as many wins as some others. The only reason I have him lower is because of the possible lack of wins. The New York Islanders will be in the mix for a playoff spot, but I am just not as confident in them as some others may be.
Billington #4 – Jake Oettinger
The Dallas Stars are a very good team on their own. You add in a franchise-level goaltender like Jake Oettinger, and they are even better. He will have great stats this year, and between his talent and the team in front of front of him, he will make out to be an excellent pick.
Strozyk #3 -Jake Oettinger
Dallas is a really good team this year. If you take Oettinger out of the equation, the Stars are not nearly as good as they are with him. Calculating the value between his SV%, GAA and wins, he will be my number three. Oettinger is a goalie that can carry you to a win. That is the distinction with this top four group.
Billington #3 – Igor Shesterkin
He has it in him to take over any game whenever he wants. Last season, he was a bit more inconsistent and not as good as the year before, but he was still one of the best in the league. I expect him to land somewhere in the middle, finishing with a .922 SV%, or so. He is going to get a lot of wins as well.
Strozyk #2 – Andrei Vasilevskiy
You can count on Andrei Vasilevskiy landing in the high 30s to 40+ wins. That is what you want out of a premiere goaltender. It is the Tampa Bay Lightning. They will get a lot of wins, and he will be a big reason behind that. It helps when you have a good team and a really good goalie between the pipes.
Billington #2 – Andrei Vasilevskiy
Vasilevskiy in the regular season isn't even close to the playoff version of himself, but he is still fantastic. He has a great SV% and GAA, and he has earned a ton of wins over the past few years. I think Tampa Bay will take a bit of a step back this year, but they are still a great team and will make the playoffs. If he can land between 35 and 40 wins supported by a SV% around .920 he will be an excellent pick.
Strozyk #1 – Igor Shesterkin
I have a lot of faith in what the Rangers will accomplish this year. They will be a high-win team, Shesterkin has shown he can maintain a high SV% and a very fair GAA, including his Vezina Trophy season. Will he be running Vezina-quality numbers all year? Probably not, but there is always the chance he could. I think he provides the most value between his skill and what his team provides as support for him.
Billington #1 – Ilya Sorokin
Not many people will have Sorokin as the top goaltender. I like the defensive systems with the Islanders. He is a fantastic goalie on his own and just earned a huge extension. The wins, or lack thereof, might deter some people, but the Islanders will be in the hunt for a playoff spot, and Sorokin can reasonably get 30 wins. The Islanders have all the assets they need but need to put it all together. Sorokin is one of the best goaltenders in the NHL and can steal quite a few games this season.
There are a lot of different picks in this ranking, so be sure to leave your thoughts and give us your list in the comments. Following this will be the other positions released over the coming days.
---
Sign up for our NHL Prospects & Draft Substack newsletter
---

Checkout latest world news below links :
World News || Latest News || U.S. News

Source link