NHL
Canadiens Give Sean Farrell a Chance to Prove Himself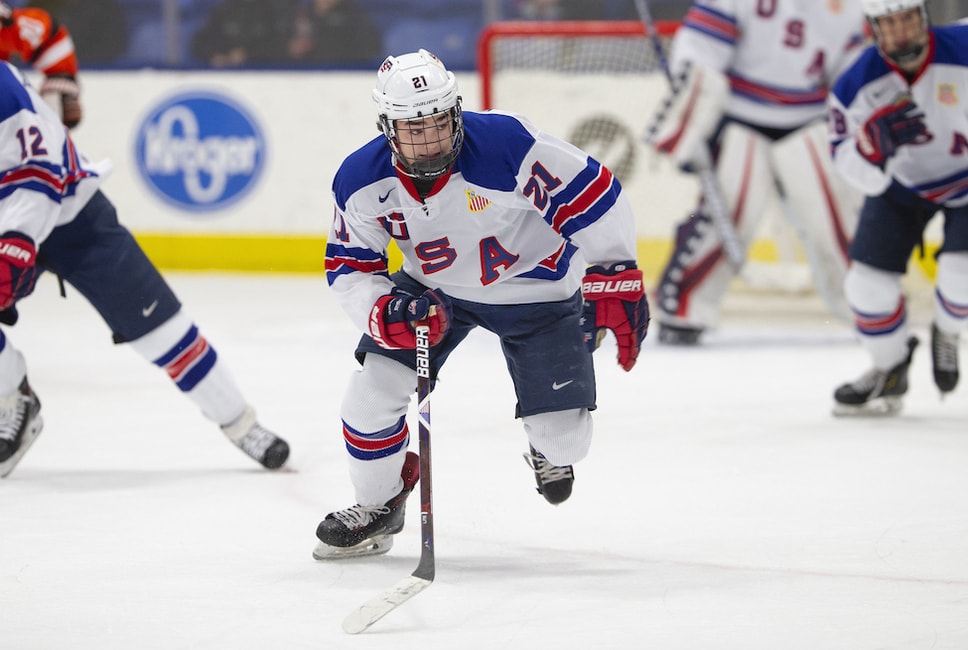 It is now official, the Montreal Canadiens have signed their fourth-round selection of the 2020 NHL Entry Draft, Sean Farrell, to a three-year entry-level contract (ELC). The 21-year-old left-winger from Hopkinton, Massachusetts decided it was time to leave his NCAA club Harvard University behind and join the professional ranks. 
Related: Canadiens' Denis Gurianov Finding His Game and a Home
---
Latest News & Highlights
---
There has been exciting talk by the fans and media about him making this leap all season long. Here we will look at what kind of player he is and what is to be expected in the short and medium term. Farrell is an intriguing player, who, despite his size, has shown elite levels of skill in many areas of the game that could prove to be very beneficial for a team in a rebuild.
Sean Farrell Scouting Report 
Farrell is a dynamic, highly skilled left-winger with impressive offensive abilities. His speed and agility are his biggest assets, allowing him to get past defenders or to open passing or shooting lanes and create scoring opportunities. He has a hard and accurate shot with a quick release, which paired with his offensive vision as a smart and creative playmaker, makes him a dangerous player in the offensive zone. 
Despite his small size, 5-foot-9, 174-pounds, Farrell is a tenacious player with a strong work ethic and a commitment to improving his game. His speed is an asset on the forecheck, allowing him to create pressure and cut off time and space from defenders. It is also a key part of his defensive game. He is a responsible player that uses his speed to fill in gaps in coverage that he identifies and is highly effective with his body and stick positioning. He is also adept at recovering the puck and providing an outlet for his defensemen. His first step allows him to get to top speed quickly, which makes him dangerous to opposing defenses in transition and off the rush as well. Overall, Farrell has the potential to be a highly successful player in the NHL, and Montreal made a smart move by signing him to a three-year entry-level contract. 
Farrell Earned His Graduation to the Canadiens 
Overall, Farrell's time with Harvard University was a testament to his ability to consistently perform at a high level and can only be seen as a success. In his two seasons with the team, he played a total of 58 games, scoring 30 goals and 82 points. This season he averaged 1.62 points per game, finishing second in the NCAA behind only Adam Fantilli in that category. His contributions to the team were an important factor in Harvard's recent success as he helped lead them to an ECAC championship in 2021 and enter the NCAA Championship tournament two years in a row. 
Farrell's high pace of play, vision, elusiveness, and passing ability should make him an immediate threat to play in the Canadiens' top-six. Most of the time, players taking a step up to the NHL need time to settle into the team's style as well as the pace of play against professionals. 
In Farrell's case, he has experience playing against professionals, having excelled as a key member of Team USA at the IIHF Men's World Championship and even led the American entry at the Winter Olympics in points in the 2021-22 season. In those tournaments, he played in 14 games, scoring five goals and 12 points as a top-six winger.  
Canadiens' Future Playmaker 
Farrell has a significant advantage as he joins the Canadiens; he has been working with Adam Nicholas, Montreal's Director of Player Development, since their time together in junior hockey with the United States Hockey League (USHL)'s Chicago Steel. Nicholas has high praise for the young forward who he sees as a significant addition to the club. 
"Sean Farrell to me is a very heady player. He is phenomenal. He knows how to read the ice. He's playing chess and everyone else is playing checkers. For me, this guy is going to be very, very special. He thinks the game and he has elite tools, like his shot actually is very underrated. He can wire the thing. And he's an elite passer, he knows how to reload, create speed differentials, how to attack two checks to suck in multiple defenders to free up options for him to move pucks into, and his area passing is amongst the best I've seen. He can really manage a puck very well, and that's his strong suit. He's also very good on the power play."
Farrell is undersized, and because of that, he has learned how to protect himself against much larger opponents. However, that hasn't been against NHL competition, which means he will need to focus on that aspect of the game so that he doesn't expose himself or put himself into awkward positions risking injury. It is something that the Canadiens can help him develop as they did with Cole Caufield. 
Once fans get to watch him more closely, they may recognize his offensive style. It is reminiscent of Jonathan Drouin's. With the puck, as mentioned above, Farrell is a wizard who can create openings and make his linemates better. However, he plays well in traffic and is far better with his play away from the puck at his age than Drouin was. His arrival could be a reason why the Canadiens choose to allow Drouin to walk as an unrestricted free agent this summer once his contract expires. 
In terms of immediate expectations, the Canadiens will want him to gain experience and work on his defensive abilities while continuing to sharpen his offensive skills. Farrell will likely start with the Canadiens' bottom six in a sheltered role where head coach Martin St. Louis will allow him to continue to hone his skills against NHL competition, but not top players who can expose his flaws and break his confidence. This would allow him to audition himself in a pressure-free environment for the remainder of this season and prove that he is the steal that Caufield declared him to be when he was drafted in 2020.
---
---
Checkout latest world news below links :
World News
||
Latest News
||
U.S. News
Source link