NHL
Avalanche Need to Better Manage Georgiev's Workload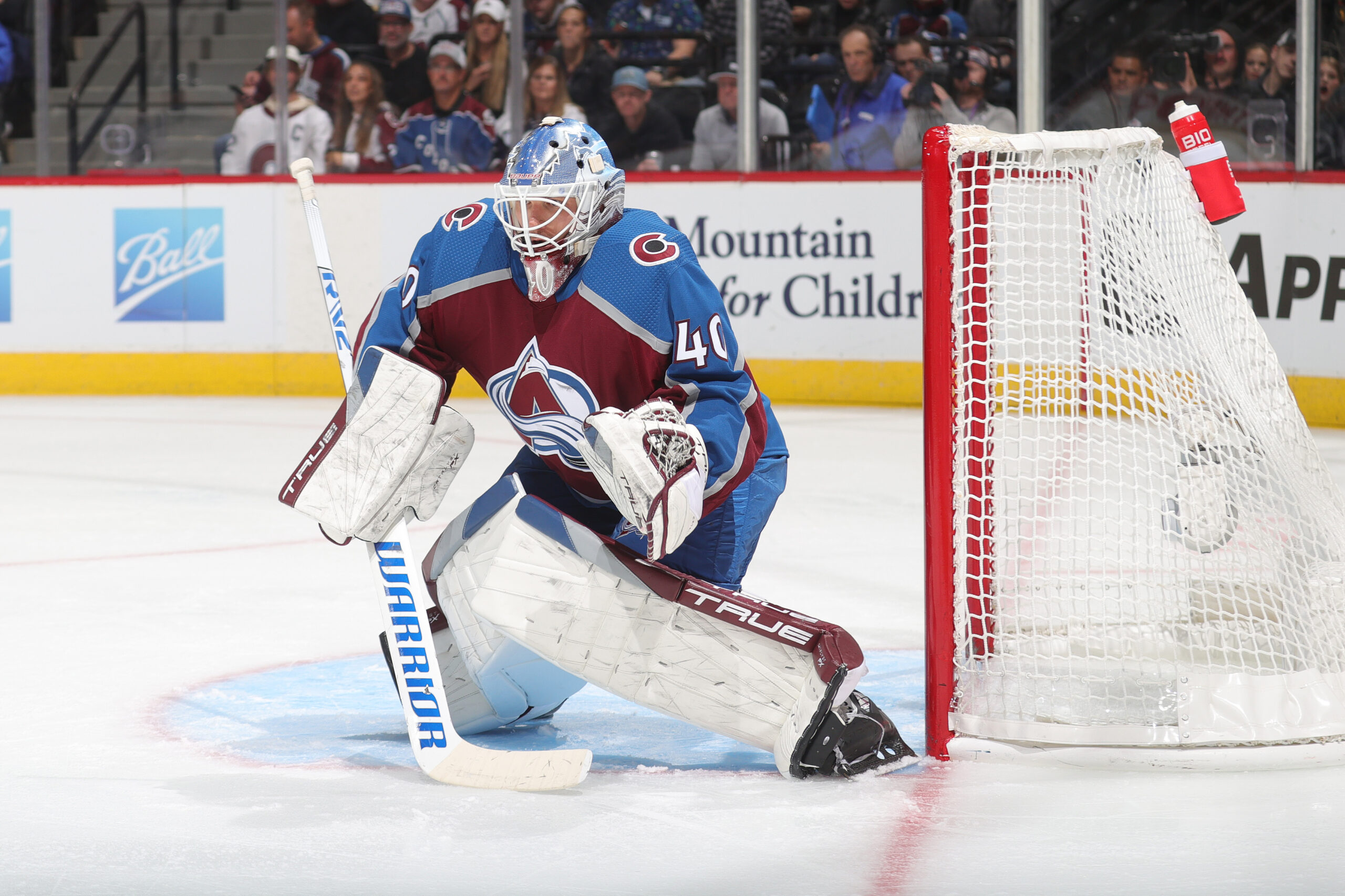 By most measures, the Colorado Avalanche have gotten out to a strong start to the 2023-24 season – frustratingly late-blown leads and uncharacteristic blowout losses aside. They boast a record of 11-6-0 and are three points back of the Dallas Stars for the Central Division lead. They held a very similar record of 11-5-1 after 17 games last season, though this group must be hoping for a better outcome at the end of the campaign.
As a result, the Avalanche once again find themselves among the inner sanctum of Stanley Cup contenders with their key contributors firing on all cylinders. All three members of the Avalanche's fearsome triumvirate of Cale Makar (seventh), Mikko Rantanen (10th), and Nathan MacKinnon (18th) rank among the top 20 NHL skaters in points. Secondary scoring is an issue, but it's not the most pressing concern a month into the season.
Rather, it's the sub-par play of goaltender Alexandar Georgiev that should have the Avalanche the most worried, especially after his sparkling debut season in Colorado. Let's dive into what's ailing the 27-year-old, and how likely it is that he'll recapture his 2022-23 form by the end of the season.
Georgiev Struggling After Impressive Debut Season
Considering the uncertainty around Georgiev's long-term potential at the time of being traded from the New York Rangers, his first season with the Avalanche could not have gone much better.
He was tied for the league lead in wins (40) while making the third-most starts among all goalies (62). He also made the fourth-most saves while finishing with a .919 save percentage (SV%), tying for seventh among qualified goalies (minimum 10 games played). Perhaps most impressively, he accumulated a plus-18.7 mark in goals saved above expected (GSAx) despite playing for one of the league's best regular-season teams.
---
Latest News & Highlights
---
The Avalanche were an elite defensive unit (second in scoring chances allowed in all situations), but Georgiev outperformed expectations and earned dark-horse Vezina Trophy consideration for his efforts. Posting such an admirable stat line as a starter for the first time in his NHL career (he had never played more than 34 games in a season) makes his early slump so puzzling, and introduces unwelcome uncertainty into the Avalanche crease.
Carrying a record of 10-5-0, Georgiev owns a SV% of .888 (51st out of 69 goalies with at least two starts) and a goals-against average (GAA) of 3.08 (39th), with both ranking as either the worst or second-worst marks of his seven-year career.
Georgiev has allowed three or more goals in nine of his 15 starts, and four or more in six of 15. Last season, he allowed three or more goals in a game 31 times, and four or more on 16 occasions. He's on pace to eclipse both totals by a significant margin in 2023-24, despite facing a much lighter and less difficult workload on average.
For example, Georgiev managed to post a SV% of .900 or higher in 40 of his 62 games in 2022-23, giving him a 65% quality-start rate. This season, he's only managed to eclipse the .900 threshold in a game five times, representing a nearly halved clip of 33%. He's struggling to accumulate quality starts and provide above-average cover in goal, even as the Avalanche have increased their average offensive output from 3.34 to 3.76 goals per game compared to last season.
You may also like:
Georgiev also ranks 66th out of 75 goalies to have played in the NHL this season in GSAx with a mark of minus-3.85, suggesting his depressed numbers aren't solely the result of playing behind a loose defensive structure. In fact, the Avalanche are allowing fewer expected goals and high-danger chances against per 60 minutes in all situations this season compared to last, currently ranking third and 11th respectively.
It's difficult to paint Georgiev's start in a positive light, regardless of your preferred statistics and modes of analysis. Simply put, he needs to be better and an extended run of rotation in the crease should help. The Avalanche might not have much of a choice given who is available to them, which puts them in an unfavorable position going forward.
Avalanche Must Prioritize Rest for Georgiev Despite Lack of Options
Georgiev has started 15 out of the Avalanche's first 17 games of the season to give him a league-leading start ratio of 88%, slightly greater than the next highest in Jonas Johansson of the Tampa Bay Lightning (16/19 – 84%). 62 starts out of 82 total opportunities last season represented a slightly lower 75% start-rate, but it's apparent that starting 84 of Colorado's last 106 regular-season and playoff games might be taking its toll.
The only problem is that due to the news that Avalanche backup Pavel Francouz would miss the rest of the season while continuing to recover from multiple lower-body surgeries, their options in the crease are slim.
En route to capturing the 2022 Stanley Cup, Francouz played 28 regular-season and playoff games while effectively relieving then-starter Darcy Kuemper. Francouz posted a .916 SV% in the regular season prior to putting up an unremarkable .906 SV% in the postseason, but he was dependable enough to lead the Avalanche through choppy waters and played a pivotal role in their eventual triumph.
A lengthy list of health concerns at 33 years old and in the final year of his contract might spell the end of Francouz's tenure with the Avalanche. This group could have used his reliable veteran presence to support and rotate with Georgiev (.915 SV% in 15 starts last season), so his absence creates a void that will be difficult to fill early on in the campaign.
Current backup Ivan Prosvetov has made the other two starts since being claimed off of waivers from the Arizona Coyotes prior to the start of the season, but he hasn't fared much better in his outings. He's allowed seven goals over four appearances with an .899 SV%, but does own a positive GSAx margin of plus-0.45 across a very limited sample.
Related: Avalanche's 2023-24 Start Reminiscent of Stanley Cup Season
At 24, Prosvetov owns a career SV% of .876 and a minus-8 GSAx over 17 total appearances in the NHL, making turning to him as a starter a much riskier proposition than just letting Georgiev try to figure things out.
23-year-old prospect Justus Annunen is currently getting his reps in at the American Hockey League (AHL) level with the Colorado Eagles, carrying a .910 SV% through 12 games. He posted a .916 SV% in 41 AHL games last season, but he only counts four total NHL appearances and a career .859 SV% to his name, making it much more likely that he continues to build his professional portfolio for the time being.
At this juncture, it's difficult to imagine any of the Avalanche's in-house goaltending options either supplanting Georgiev outright or even stealing a greater majority of starts. Neither Prosvetov nor Annunen boast either a lengthy or successful NHL resumé at the moment, and the Avalanche can't exactly waste a year of the current Cup window gambling on either to make an enormous leap forward.
Beyond waiting on Georgiev to rebound, a trade may be the only recourse, though a number of veteran backup goalies appear to be varying degrees of availability even a month into the season.
Avalanche Season Hinges on Georgiev's Health and Performance
I'm not one to hyper-fixate on an isolated poor stretch over a single month in what is a very long season, but it's hard to not overstate how important it is that Georgiev regains his confidence and his previous form.
Good goaltenders can – and have – masked a lot of issues for teams worse than the Avalanche. Having Georgiev return to being a capable anchor in the crease would go a long way in solidifying Colorado's Stanley Cup credentials, especially since the depth behind him is worryingly thin.
With the Avalanche scheduled to play seven games between Nov. 21 and Dec. 3, there isn't much opportunity for rest in the short-term. Some rotation will be necessary, especially with back-to-backs scheduled for Nov. 24 and 25, as well as Dec. 2 and 3.
If the early-season trend continues, general manager Chris MacFarland may have to address the position prior to or at the trade deadline, though that should be a last resort considering how much time remains between now and then.
For now, the Avalanche must continue to insulate Georgiev while ensuring that he doesn't get burnt out before the calendar turns to 2024, with a much greater prize on the line than a regular-season win.
Data courtesy of Evolving Hockey, Natural Stat Trick, and the NHL.
Checkout latest world news below links :
World News
||
Latest News
||
U.S. News
Source link