NBA
How Cynt Marshall's Faith and Strength Guides Her | SLAM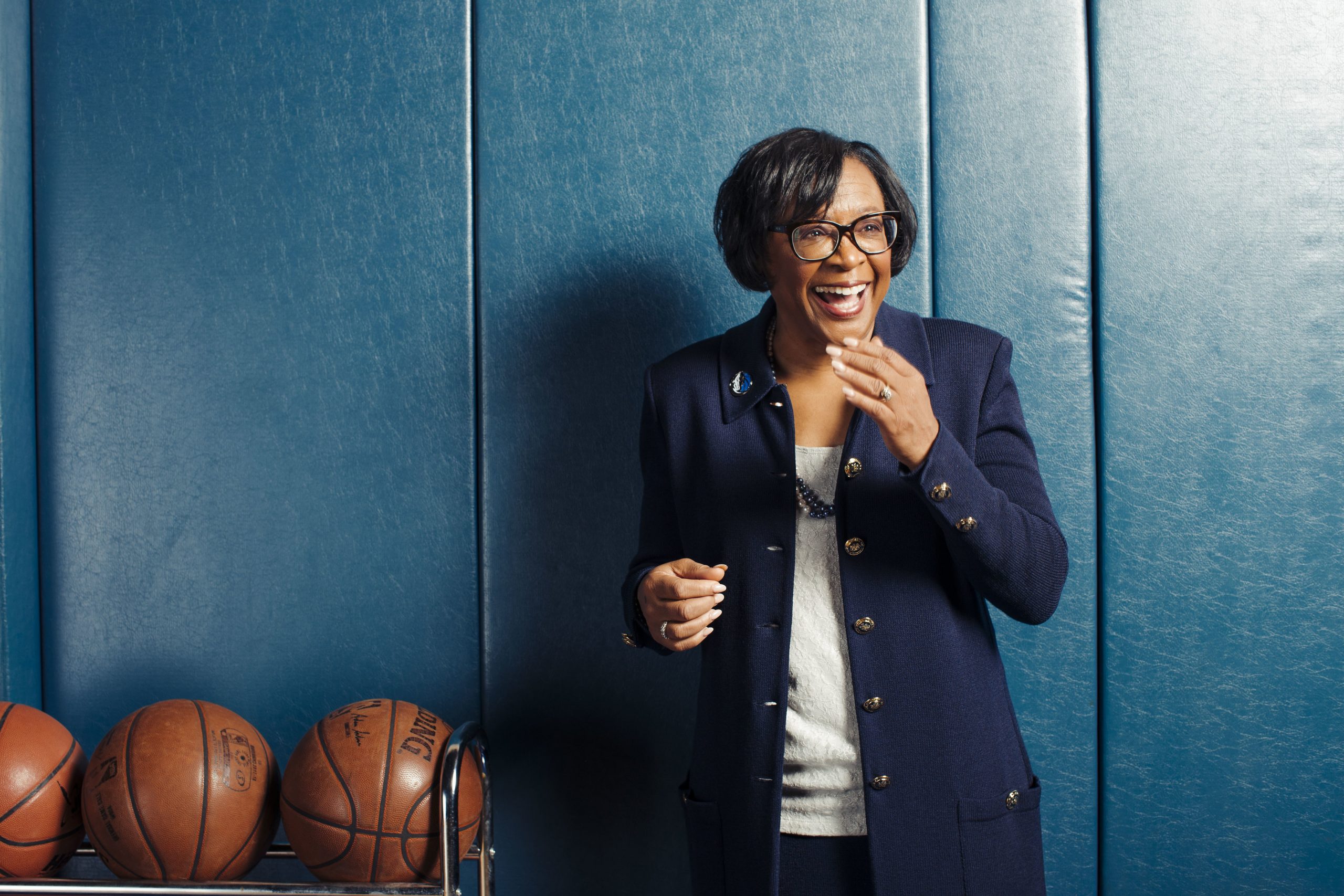 This March, SLAM is highlighting different women around the game who are breaking barriers, elevating the game and continuing to empower others.
Cynt Marshall is used to making history. She's done it many, many times.
She was the first Black female senior class president at her high school back in Richmond, California; one of the first Black cheerleaders at the University of California-Berkeley—where she graduated with degrees in Business Administration and Human Resources Management—and the first African-American chair of the North Carolina State Chamber of Commerce.
"Usually, when I am the first I don't know I am the first until someone tells me," Marshall tells SLAM. "I am just doing what I do, or if someone approaches me and it feels like a good fit, we go for it; like the job I am in right now.
In 2018, Marshall became the first Black female CEO in NBA history when she joined the Dallas Mavericks. 
"I like to say Mark Cuban wasn't trying to make history, he was trying to make a difference. He didn't think about—I didn't think about that. And then when I was told that I was the first African-American CEO of an NBA team, I actually didn't believe it," says Marshall. "I thought, this is 2018. I can't be the first."
But she was and is. And it's a position that the 62-year-old has embraced with gusto, pride and enthusiasm.
"It just means we are blazing trails and it's an opportunity for me to do a great job, and that is what I am focused on," says Marshall, who has led the Dallas Mavericks franchise since March of 2018.
As chief executive officer of the Mavs, Marshall spends her days running the day-to-day operations of the franchise owned by billionaire Mark Cuban since 2000. After strategy sessions, appearances and meetings, she'll then head over to the team's home arena, American Airlines Center, and sit in her honorary seat—right behind the team's bench. Back in February, Marshall was there, dressed in her trademark Mavs blue, waving and greeting everyone, who she mostly knows by name, 45 minutes before tip-off. 
"My energy comes from the Lord. The Lord sustains me. You know the song, 'This joy I have, the world didn't give it to me?' Well, it's the same with the strength I have. I get tired like everyone else," Marshall says. "The Lord gave it to me. Especially after he blessed me to come through cancer. I am running and I'm not tired yet—we got work to do."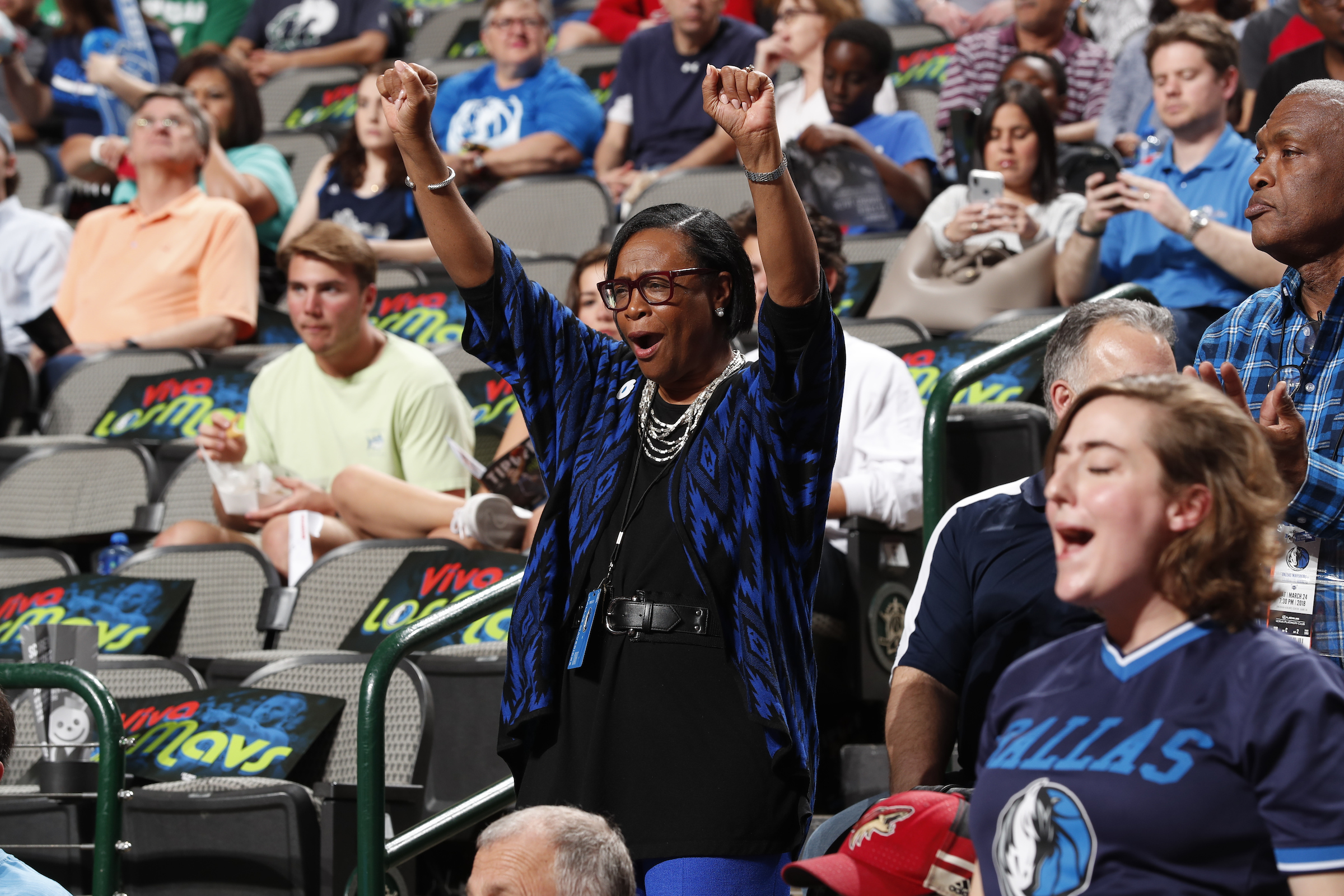 Marshall's success is a testament to her unwavering strength and resiliency—in 2010, she was diagnosed with stage 3 colon cancer, and this summer will mark eleven years since she went through chemotherapy. 
Marshall had chronicled her battle with cancer in a journal, but at the request of many, decided to write an autobiography, which will be out later this year. 
"That was on my bucket list; to be an author. My mother's response when I told her I had cancer was, This is for His Glory. God will use your cancer to tell a great story about Him," Marshall recalls. "We will see what the world says about it. It is truly to inspire people. So many of us are touched by cancer and I want people to know the good, bad and ugly about that story. I can't wait for [people] to read it." 
Marshall arrived at the Mavs after a 36-year career with AT&T, where she led the organization in various roles while improving diversity and work-place culture practices. She brought a vision to Dallas for it to become the NBA standard for inclusion and diversity, guided by a set of specific values: character, respect, authenticity, fairness, teamwork and safety, both physically and emotionally. "Everything we do, everything we respond to, our business plan, everything, it's all based on these sets of values. I love the people at the Mavs. We are like the best sports organization on the planet and I work with some wonderful people."
She leads the Mavs, and her own life, through the lens of her faith and a spirit of servant leadership. "I am called to serve others and I'm inspired to help others."
As the mother of four adopted children, Marshall also serves as chair of Dallas Casa, a non-profit organization that advocates for abused and neglected children. "I want us to be about saving kids, serving them and placing them in permanent, safe homes with caring adults. We have to save these kids."
She wants the next generation of young girls, and boys, to know that they, too, can accomplish anything they want in life. 
"I want them to know they should do anything they want to do and the key is if they want to do it," Marshall says when reflecting on what message she would send to adolescents. "When I was growing up, my mom taught me a poem that says "Be The Best." The message is [that] no matter what you want to do, whatever your  passions are, where the Lord takes you, just be the best and know that you can do anything. 
"Once you decide what that is or land in that spot, then be the best," Marshall continues. "Don't put any limits on yourself. No limits."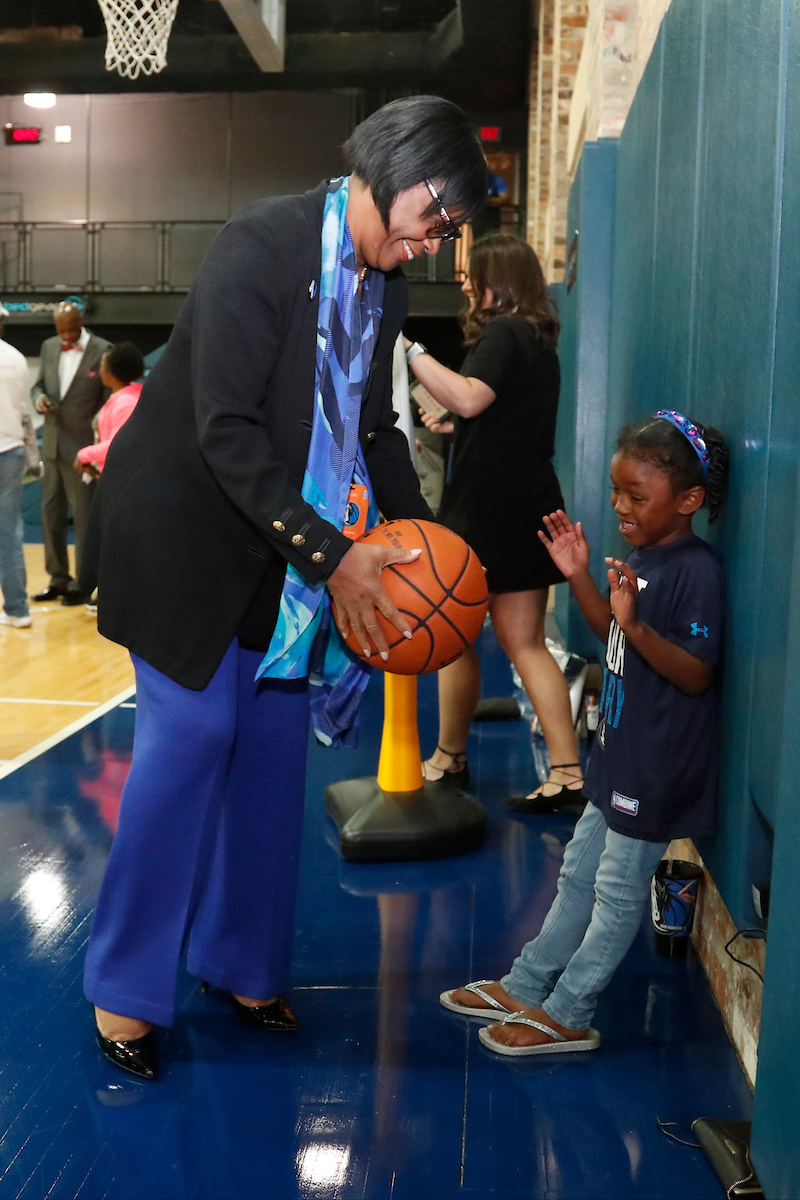 Her story has become an inspiration to many, including Poizon Ivy, the Mavs' In-house entertainment guru. "Growing up, my dream was to be the first female NBA commissioner, so having Cynt in her role as the first black female CEO continues to affirm that anything and everything is possible," says Ivy. "She leads with an incomparable style, infused with swag, humility, confidence, [and] accountability all at an extremely infectious level.
"There is not a time that I am out in the community that I am not complimented on how lucky we are to work under her leadership and guidance. That is the kind of leader I aspire to be and she makes it look so easy and effortless."
While she's the first Black female CEO in the NBA, Marshall strongly believes that there will be many, many more women in top sports management roles. And she's working hard to ensure that happens. 
"Yes, there will be more. We aren't doing our jobs to the fullest if it's not. That's what I love about being in this League, in the NBA. We're very focused on diversity, equity and inclusion, and very focused on that pipeline and making sure we're bringing others up and giving them those experiences so they'll be successful. 
"We know we are better together when we have a diverse group of people around the table with unique skills." 
When she thinks about the strength of women in the world today, Marshall envisions a triangle with each side representing a woman's heart, hands and head. 
"Women know how to take their heart, hands and head, put it all together and do something great with it. We have passion and compassion; we are smart, resilient, we know how to make a dollar out of 15 cents. We're very thoughtful. 
"When you take our hands, head and heart and we use them to work together, this is what makes you strong," Marshall says. "We don't rely on just one or the other, we know how to make them all work together for good. This is our strength."
---
Photos courtesy of the Dallas Mavericks.

Checkout latest world news below links :
World News || Latest News || U.S. News

Source link