NBA
Chicago Sky's Kahleah Copper Covers SLAM 236 | SLAM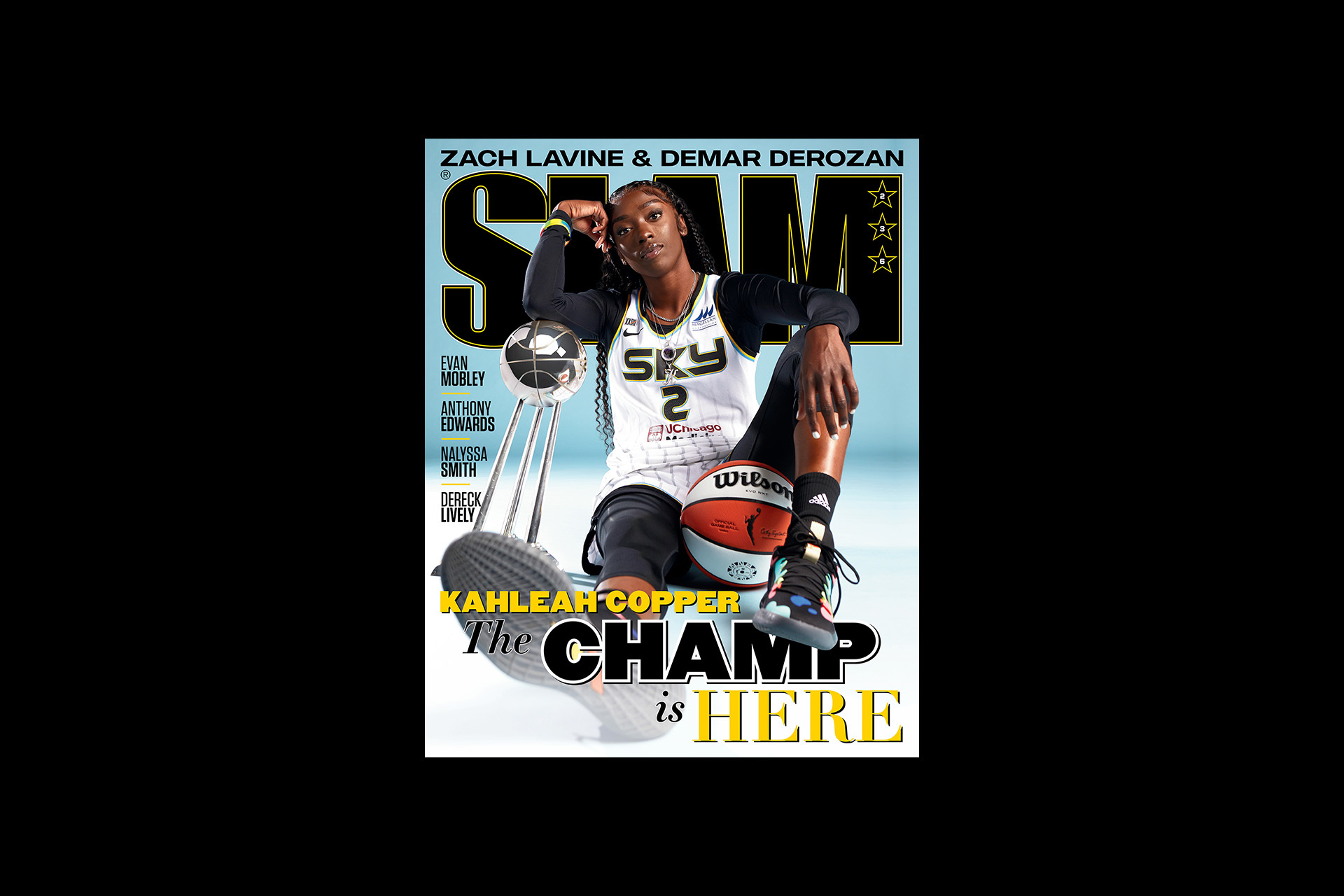 There are two sides to Kahleah Copper. That becomes clear the minute you get on the phone with her. The Chicago Sky forward's voice is more soft-spoken as she reflects on how she grinded her way to becoming an All-Star for the first time, a WNBA Champion and a Finals MVP, all in the same year. But when she starts talking about the other version, who she transforms into when she plays, the cadence of her voice changes. It goes from reflective to real, sort of like when Meek Mill switches up the flow on Dreams and Nightmares. As soon as someone from Philly starts talking about what they're about, they have a way of commanding your attention.
"Philly Kah is the ultimate competitor, just a dog," Copper says over the phone. "Like, just a real representation of flat-out toughness. I think it's important for me to be like that, and for me to be able to even flip the switch once I'm off the court. But, when I'm on the court, like, I'm just so locked in, in this zone. That's just who I am."
It's December, and Copper is calling from Spain, where she's been suiting up for the Perfumerias Avenida in the EuroLeague this WNBA offseason. Fresh off her "world tour" of winning a chip and putting everyone on notice, she took three weeks off from basketball, went to Philly for her first SLAM cover shoot, and then quickly jetted off to Europe, where she admits that even her teammates noticed that she "talked different." 
"[They were] like, Wow, you're so much nicer than we thought. We didn't think you were mean, but like, we didn't think you was this nice. And I'm like, Yo, that's really not me. On the court, that's really Philly Kah." 
SLAM 236 featuring Kahleah Copper is OUT NOW!
Chicago Sky head coach James Wade explained it perfectly: "It's like when she gets on the court, she has something like, You ain't taking my candy. Like, this is my game, and you can't have it. And if you try to take it, I'mma show you…It's just a toughness. It's that North Philly."
North Philly is the place that birthed her intensity, nurturing it in the parks on 33rd and Diamond, where she'd play against the guys, and then on 32nd and Berks Street against her own cousins on a "makeshift" rim they'd built near both of her grandmothers' houses. 
"Now this is some Philly shit," Copper says, as she explains over the phone how the rim was created. At first, they had a crate, but then "someone" stole a blue-trimmed Lifetime shatter guard backboard from the park and nailed it to a street pole. That's where it all started. 
"I think that really heightened my competitiveness, because I always wanted to beat them. It was never like, You a girl and  you can't play. It was just like, You need to be tougher. We all out here playing, it don't matter that you're a girl. Be tougher."
That toughness never left her, and this past season, the world watched Philly Kah take her full form. During the regular season, Copper averaged 14.4 ppg. During the playoffs, those numbers jumped to a playoff career-high 17.7. She played with an energy that couldn't be contained, or defended, from anywhere on the floor. Not in the first round against the Dallas Wings, where she shot 71 percent from the field, knocked down pull-up jumpers with a fury and effortlessly caught no-look dimes from Courtney Vandersloot in transition. Or, in the semifinals, when she dropped a playoff-career high 26 points against the Connecticut Sun in a Game 3 win to help give the Sky a 2-1 series lead.
"I think my competitiveness just reached an all-time high. I think I was the ultimate competitor…Even re-watching the games and seeing how locked in I was and seeing my intensity on defense. Getting hyped, just every little detail. I think that my competitiveness hit another gear."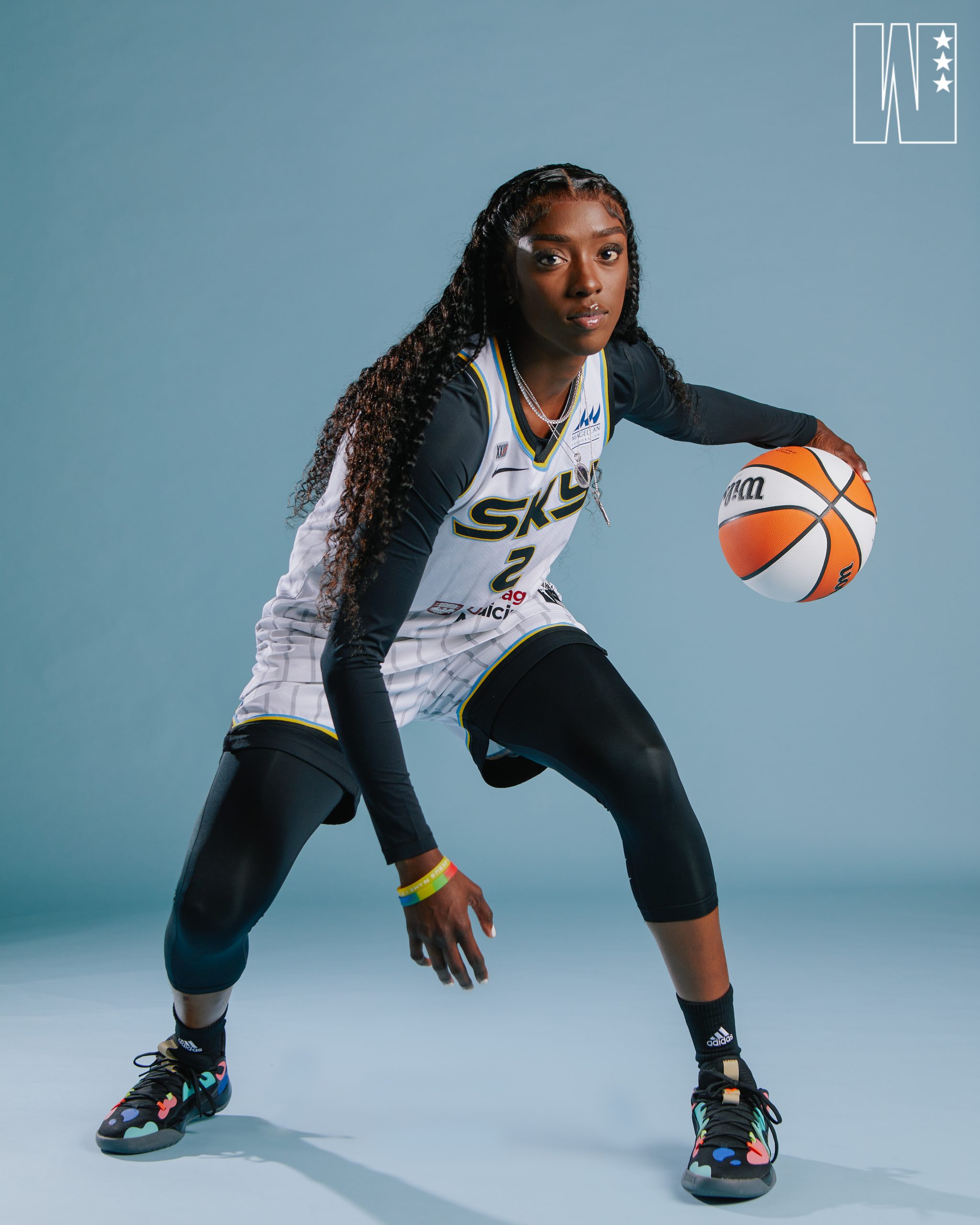 That fire poured out of her in the Finals against the Phoenix Mercury. In the second quarter of Game 2, after Sophie Cunningham caught an outlet pass from Diana Taurasi and missed the layup, Kah was right there, diving onto the floor and muscling her way to try to snag the loose ball. As the refs blew the whistle, she jumped up, got right in Cunningham's face and gave her the look. 
The photo that was captured became so iconic that Copper even put it on a t-shirt. "Yo, I love that picture. That's Philly Kah right there," Copper says. "They expect us to be all good and happy and shit, like, that's not how it goes. We are the best at what we do. We are super competitive." 
Oh, and just to be clear, Copper doesn't have any beef with Cunningham. "People keep asking me if I have beef with that girl. I won a chip, that's over with," she says.
That's just what happens when you challenge the kid from North Philly. She's been dominating since her high school days at Prep Charter, where she emerged as one of the top ranked prospects in the country and was named a McDonald's All-American. The legacy continued at Rutgers where she learned from the legendary C.Vivian Stringer and established herself as one of Rutgers' most dominant scorers ever, finishing her four-year career as the program's third all-time leader in points. 
By the time the 2016 WNBA Draft came around, Copper, who was selected with the No. 7 pick by the Washington Mystics, knew she wanted to carry the Rutgers legacy for Coach Stringer, for the program and for her own family. Her mother, grandmother and great grandmother have all had breast cancer. Sharing that moment on draft night with her grandma, specifically, was special. 
"I was in college, and she had [it] and didn't tell me," Copper says. "When I finally found out, she was like, I didn't want to distract you. You're trying to accomplish goals and I know that you're going to do it…I think she held on to every pain that she had, or whatever the case may be, just for her to be able to share that moment with me. I'm just so grateful that she was able to see the seeds that she planted really blossom. And to see me reach one of my ultimate goals."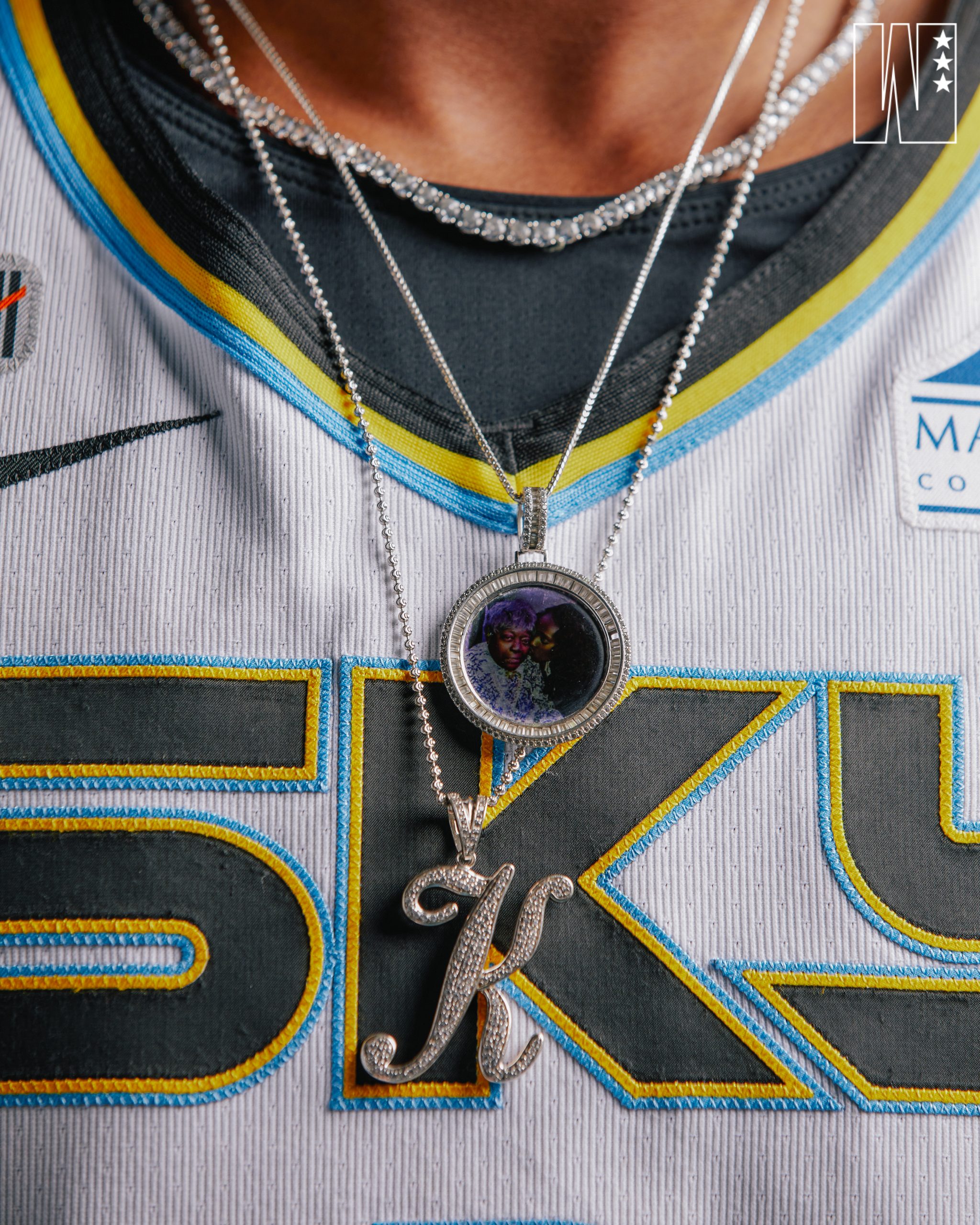 Copper came into the League with the sole focus of wanting to make an impact and be whatever the team needed her to be that year. And she did. As a rookie, she came off the bench and averaged 6.2 points in 16.2 minutes, a modest start to her pro career. But when she went to play overseas, she started seeing a "whole bunch of shit on Instagram" that a trade could possibly happen. Next thing she knew, she got a call from Mystics head coach Mike Thibault with the news: She had been traded to Chicago.  
"I was mad," she admits. "I was close to home [in Washington]. My family was coming to the games, my grandma was coming to the games. Once I got to Chicago, it was a little more difficult for them to come."
Her first season with the Sky was, in her own words, "a lot." Copper didn't get as much playing time as she had the season prior in DC, only 14.3 minutes per game, averaging just shy of 7 points a game. That would be the case for the next few years. But she knew that this was the WNBA, and the process wasn't ever going to be easy. "That's how you build your character. That's how you build that toughness. Most people can't handle a little bit of adversity, so for me to have it so early in my career, well, that was good."
She decided that she needed to refocus. She had a conversation with Wade about her growth and what she needed to do to take it to another level. "He was just like, We're going up from here. We're never looking back. You're going to be that player for us….There's nothing like having somebody truly believing in you because that changes everything. Especially your head coach. When [your coach] and your teammates genuinely believe in you, and want you to win, a different person comes out." 
She played with a vengeance during the 2020 WNBA wubble season, listening to Dreams and Nightmares before every game. As a full-time starter, Copper posted career-highs in nearly every category, including points (14.9), assists (2.1) and rebounds (5.5) per game. Not only did Wade believe in her, but she believed in herself. She was putting the work in and now seeing the reward. 
"I think that I've always believed in myself, and I think I was able [to] because of how I prepared. Prepared in a sense of putting the work in…Even rewinding to the bubble season, there's people who are always like, I want to play more. I deserve to play more. But when you get more time, what do you really do with it? I was always like, When the preparation meets the opportunity, I'm gonna be ready and I'm never gonna go back."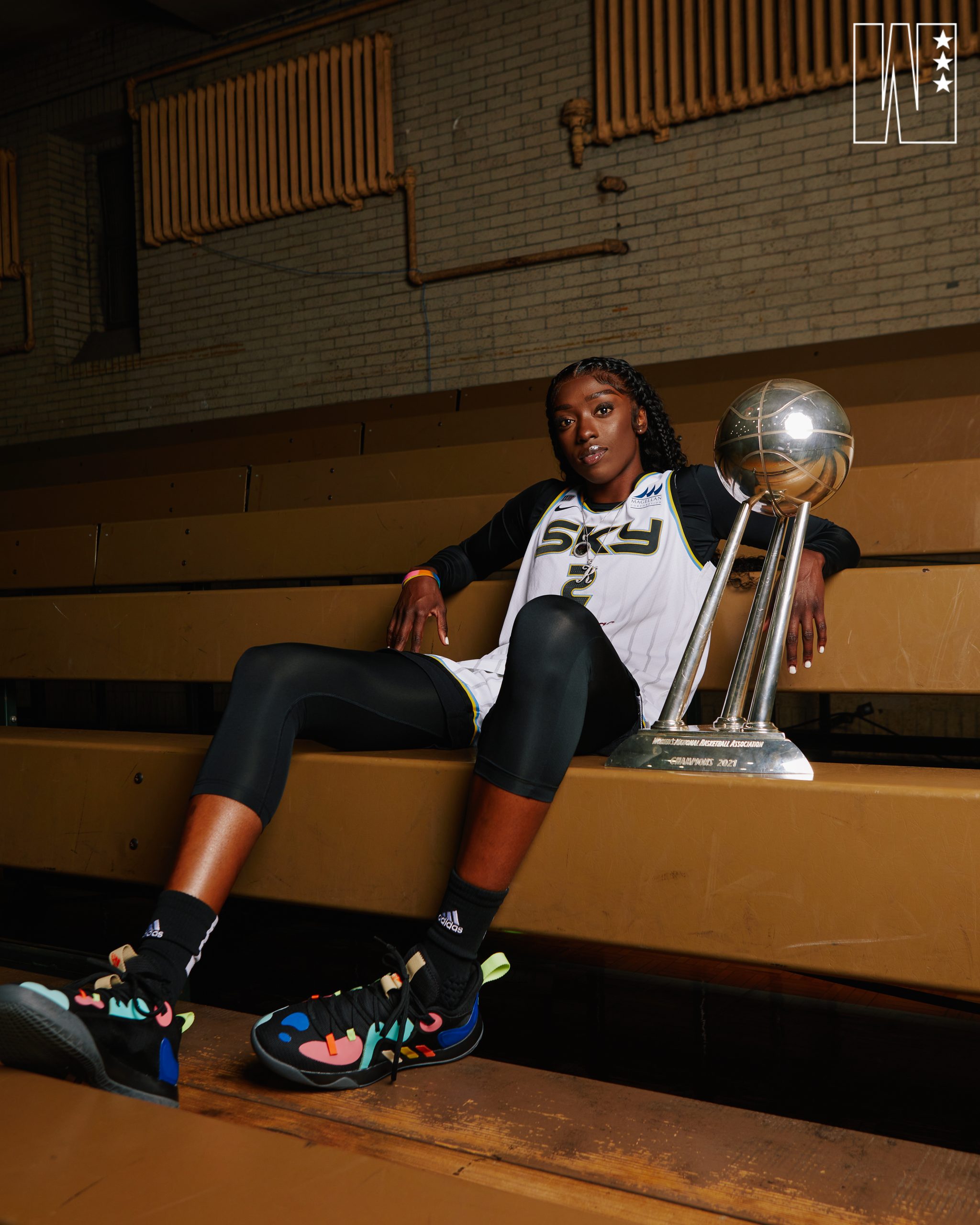 GET YOUR COPY OF SLAM 236!
She spent the offseason as an assistant coach for the Purdue Northwest women's basketball team and then returned for the 2021 season with two clear goals: become an All-Star and win a championship. To get there, Wade challenged her to become an even better defender. And then there was the arrival of Candace Parker, who pushed her every day to be the player the team needed her to be. 
But the road to a championship wasn't an easy one. The Sky battled through a seven-game losing streak early on in May, only to come back and embark on a seven-game winning streak by June. Still, many doubted that the Sky could make it all happen. Copper admits that at one point during the "bumpy season," she could have "went one or another way," and while she won't go into too much detail about it, she does reveal that she and Parker had to have a conversation. 
"When she hears this, however it's translated or whatever, she'll know exactly the conversation that we had," Copper says. "[It was] just about me having growth and me being mature. I think that without that conversation, the season would not have gone the way it went. We're so much the same—stubborn. So stubborn. She's worse than me, but she knows when to be super stubborn and when [to be] like, OK, alright. And that's the point that I needed to learn, like, OK, you pick and choose these battles."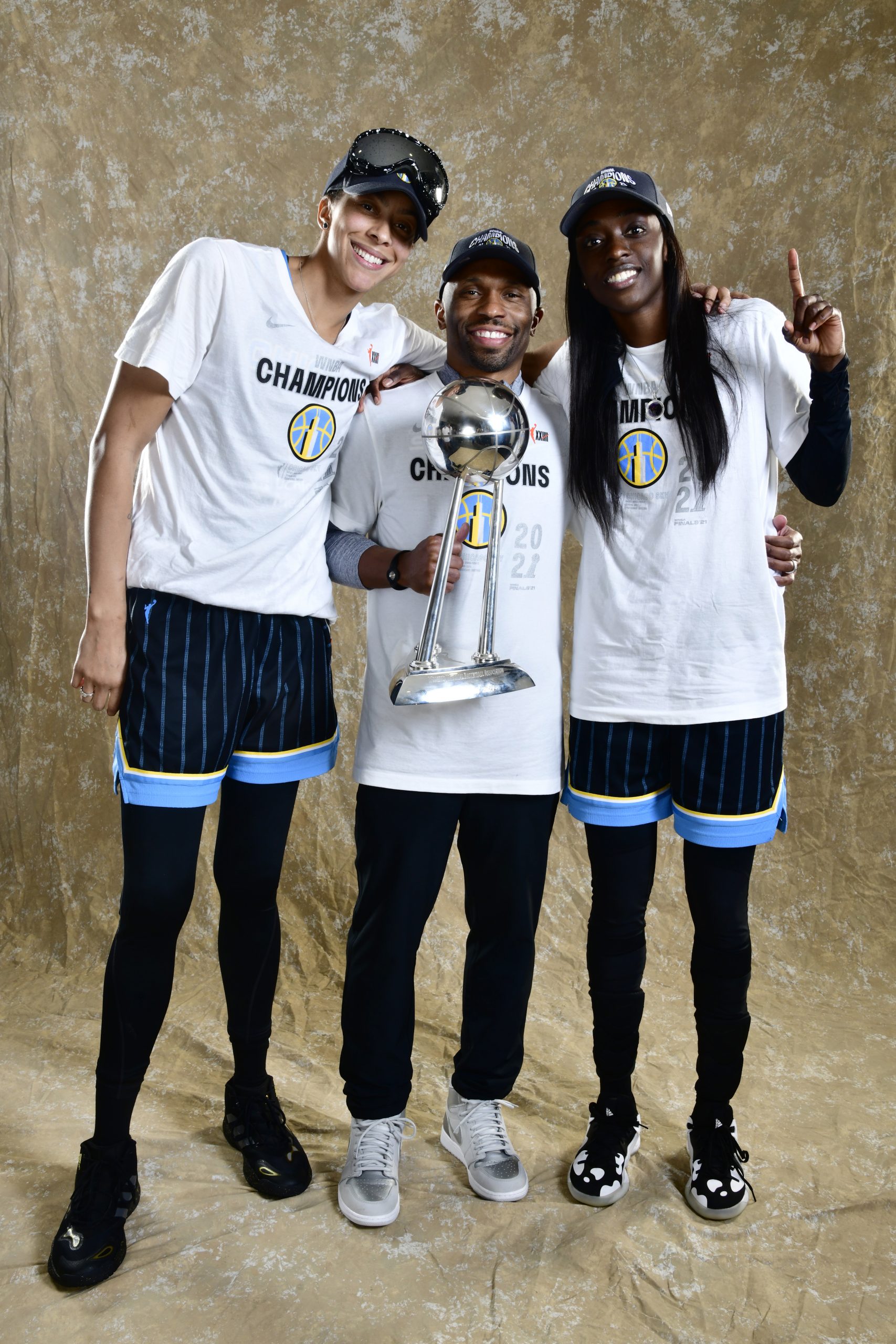 In the end, those moments are what has shaped her into the champion she is today. This offseason, Copper found herself sitting in her room in Spain, thinking about the "long ass year" that she's had and how she's stayed the course and trusted the process. Not only did the Chicago Sky make history by winning the first title in franchise history, but Copper has cemented her own legacy.  
"I've got legit superstars on my team, like, Finals MVP could have easily gone to anybody. Allie [Quigley] hit big shots in that game, we wouldn't have won that game without her. Candace's leadership, period, outside of her game and what she does for us on the basketball court. Then you got [Courtney Vandersloot], who sets everybody up. I feel like we have so many great players that, for it to be me, is—I feel like it's a testament to what I've been through and just a reward for, just everything." 
Even on the highest mountain top, Copper is ready to ascend to another level. To become the type of player who can help orchestrate an offense, not just dominate within it. When Spain played against Russia this past December, Copper talked to Vandersloot about how she can be unguardable. 
"I think the next level for me is being a better passer. I was telling Sloot, You think I'm unguardable? You know how hard it is to plan to play against you?…If I'm out here driving and dropping dimes, now the weak side don't want to help 'cause now I'm that good of a passer, so now there's no weak side and I'm shooting the three. That's unguardable. I think that people don't understand [that] there's so much more to being unguardable than just to create for yourself. When you're able to create for other people, that's it. 
And when I tap into that, it's over." 
---
Photos via Getty Images and Johnny Lewis.

Checkout latest world news below links :
World News || Latest News || U.S. News

Source link