Sports
Man Utd: Antony must be less predictable and more like Riyad Mahrez, says Gary Neville – but how?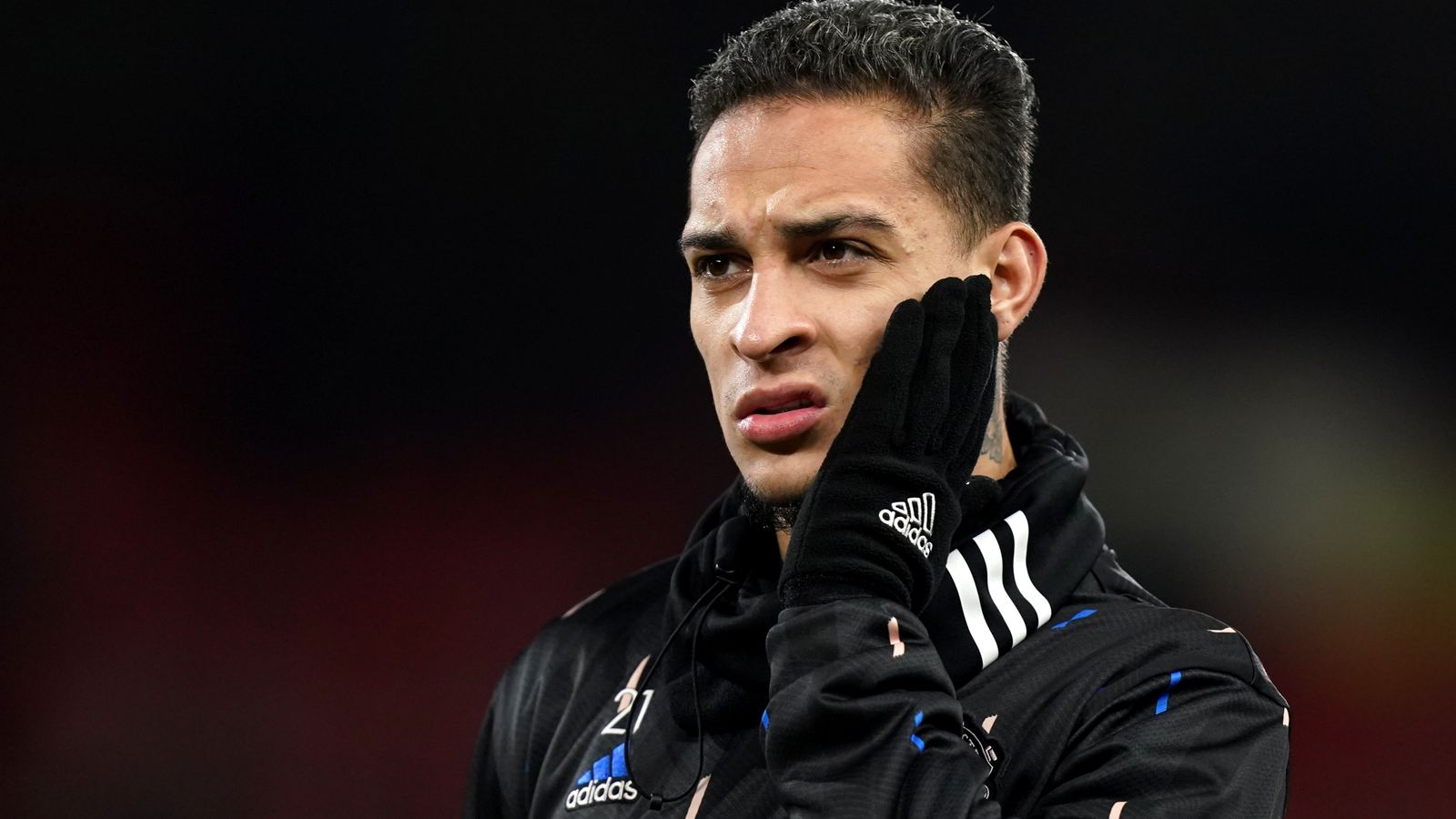 The £86m signing of Antony last summer was both a statement of intent by Manchester United and a show of faith in Erik ten Hag, the manager plucked from Ajax with the job of leading the rebuild at one of the world's most prestigious clubs.
Antony had established himself as arguably the best player in the Netherlands during his two years at Ajax, with Ten Hag guiding his development as he became a key part of the side that won back-to-back Dutch titles.
By making Antony the most expensive Premier League arrival of the window, Man Utd demonstrated their willingness to back their new manager's judgement and support him in his bid to finally bring silverware back to Old Trafford.
Watch Antony's first Manchester United goal, against Arsenal, from every angle

Antony's instant impact suggested Man Utd's money had been well spent, with the Brazilian scoring on his debut in a 3-1 win at home to Arsenal, and he followed that display with two more goals in his next two Premier League games, against Manchester City and Everton.
Antony's stunning solo goal against Manchester City

But while Man Utd's progress has been clear under Ten Hag, Antony's appears to have stalled. His strike at Goodison Park on October 9 was the last time he scored in the Premier League, while he now has just two goals in his last 14 games in all competitions for the club.
Speaking during Man Utd's 3-0 win at Nottingham Forest on Wednesday, Gary Neville said Antony was too "predictable" and urged him to follow the example of Manchester City's Riyad Mahrez.
But is Neville right when he suggests Antony is too easy for defenders to handle? Should the Man Utd winger be studying the Man City player's game? Or should we be preaching patience with a young player in a new environment?
Neville: Antony is too predictable
Gary Neville described Manchester United's Antony as too predictable as he always tries to cut in on his left foot

As Antony failed to make the most of a promising opening on the right of the Forest area, bending a shot over the crossbar after once again cutting onto his favoured left foot, Neville said: "I've been thinking a lot about Antony in the last few days and how he's got to develop like Mahrez at City.
"He's got to learn that the defender's going to try to cut off that left-footed option, so he might have to fake to go that way and then go back outside on the right.
"At the moment, he's still a little bit predictable and trying to force it onto that left foot. Defenders are shutting him off."
The statistics back up Neville's points. Antony was a new prospect for Premier League defenders to deal with following his arrival from Ajax, which may help to explain his fine form in front of goal during the early stages of his Man Utd career.
But it quickly became apparent that Antony is not just left footed, but hugely reliant on his favoured side, with all three of the goals he scored in his first three Premier League games coming from his left foot.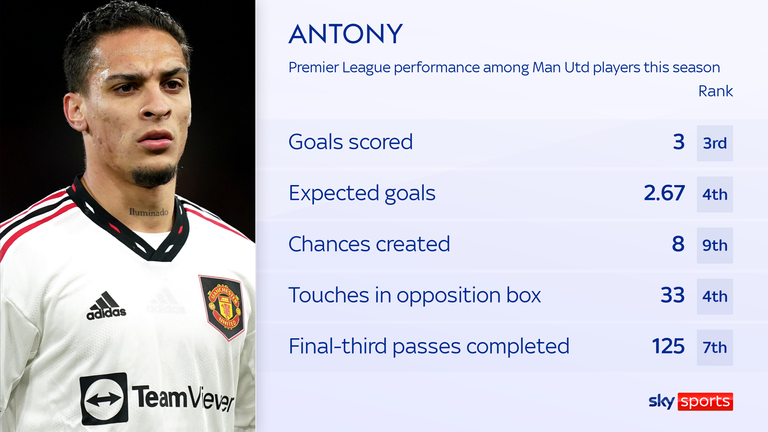 In fact, of the five goals he has scored for Man Utd, the only one that was not conjured from his left boot came in the FA Cup win over Everton, when he slid the ball into an empty yet from just yards out with his right.
The left-footed dominance of Antony's goals is no surprise when you consider that, of the 31 shots he has taken in the Premier League, 90 per cent of them have been left-footed, while only six per cent came from the right.
It seems defenders have quickly realised that, regardless of how many stepovers and feints he throws their way, Antony is almost always going to try to cut inside from his position on the right wing – making him, in Neville's words, predictable.
Mahrez can show the way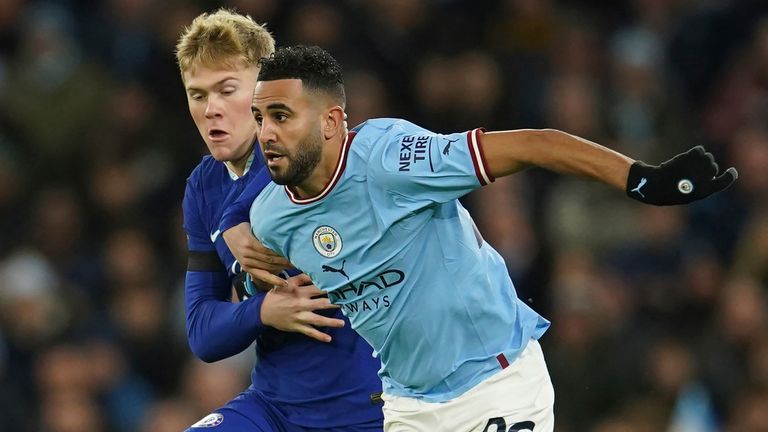 Mahrez was an obvious comparison for Neville to make when highlighting how Antony can improve, given he is also a left-footed winger who operates from the right.
Mahrez ranks above Antony for goals, assists, completed take-ons and successful final-third passes per 90 in the Premier League this season, but it is his unpredictability that the Man Utd winger can learn from.
Of the 42 Premier League goals Mahrez has scored for Man City since signing from Leicester in 2018, 79 per cent have been left-footed, while 19 per cent have come from his right.
While Mahrez clearly favours his left foot, his ability to go round the outside of defenders and score off his right creates doubt in their minds – as shown by his first goal in his side's win over Tottenham earlier this month.
Mahrez scores Manchester City's third against Tottenham

The Algerian takes advantage of a mistake by Ivan Perisic to drive into the right of the Spurs area but, instead of cutting into traffic when faced up by Ben Davies, he puts the defender off balance with a stepover before moving the ball onto his right foot and drilling a shot past Hugo Lloris.
Antony following Ziyech's path?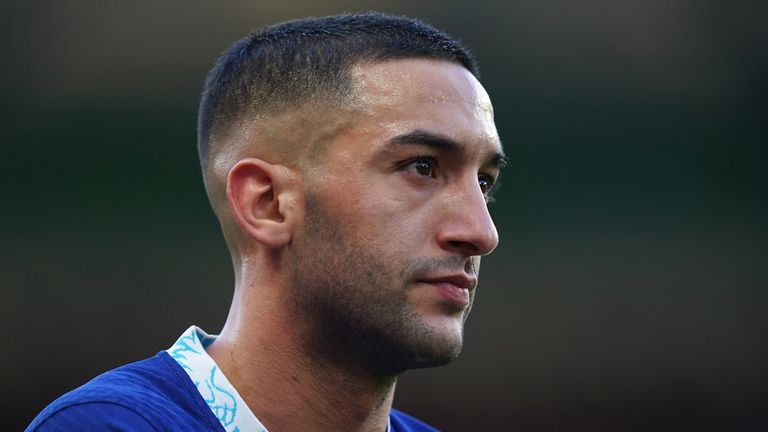 Anyone who watched Antony during his impressive two years at Ajax is unlikely to be surprised by the style of his football since swapping the Eredivisie for the Premier League.
Antony scored 24 goals in 82 games with the Dutch giants in all competitions, equating to 0.29 goals per game – slightly up on the 0.25 he has produced at Man Utd.
The breakdown of the shots the winger took in the Eredivisie are also strikingly similar to those he has taken in the Premier League, with 87 per cent coming from his left foot and just seven per cent on his right.
Throw in the fact that all but one of Antony's 18 goals in the Dutch top flight were left-footed and it becomes clear that Antony is trying to take on Premier League defences in much the same way he hurt those in the Eredivisie.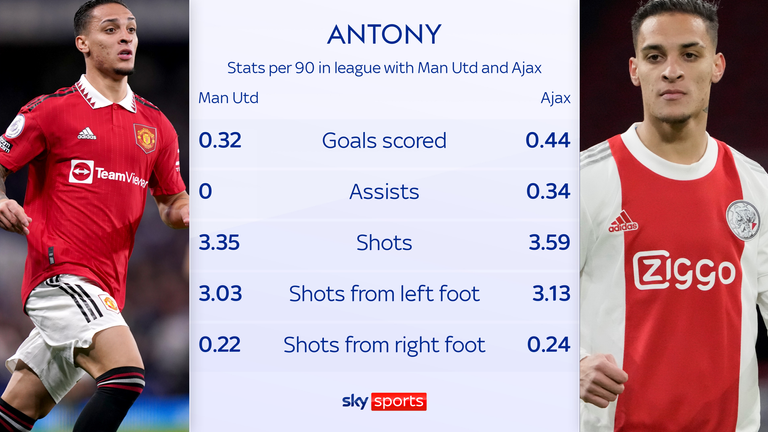 The situation bares many resemblances to that of Hakim Ziyech, the player Antony replaced at Ajax when the winger joined Chelsea in 2020.
Ziyech boasted a phenomenal record in the Netherlands, scoring 49 goals and claiming 81 assists in 165 games, and – like Antony – almost all of Ziyech's goals (87 per cent) during his final three seasons in the Eredivisie came from his left foot.
But that success has failed to translate in England, where the Moroccan's reliance on cutting in from the right wing has continued. Ziyech has just six Premier League goals – all scored with his left foot – in two-and-a-half seasons, during which he has struggled to display anything like the consistency that earned him his move to Chelsea.
The picture that emerges with Ziyech – now 29 – is of a player that was dominant in the Netherlands, but has failed to add the skills to his game that make him less predictable against higher-quality Premier League defences.
The challenge for Antony – still only 22 – is to ensure he does not continue to follow Ziyech's path.
Ten Hag 'happy' with winger's progress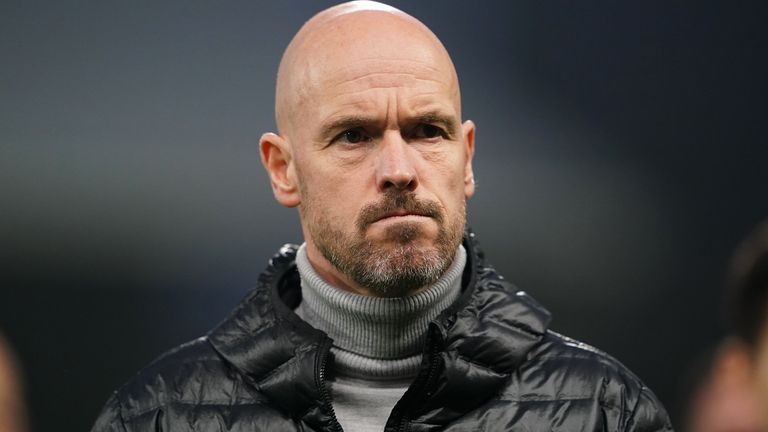 While it is fair to say Antony has plenty of room for improvement, it is important to point out that he has been far from a failure at Man Utd, and the quality of the goals he scored against Man City and Charlton demonstrate why Ten Hag was so keen for his trusted winger to follow him to Old Trafford.
Antony's stunning goal against Charlton in the Carabao Cup from the best angles

Speaking after the win at home to Sheriff in October – during which Antony was accused of showboating – the manager said: "From him, I demand more. More runs behind, more often in the box, more following in, more tempo dribbles and more playing in the pocket."
'The most pointless skill I've seen!' | Leroy Rosenior on bizarre Antony showboat!

Antony may have scored only twice – in the FA Cup and Carabao Cup – since then, but he has remained a regular in Ten Hag's side, with the manager confident his player has been taking his words on board.
"I think he played a really good game," Ten Hag said after the win against Forest. "I think he was a threat in between the lines, he was good in the physicality, he had some good actions to go at the opponent.
Ten Hag said he would 'correct' Antony if his showboating was not functional after the win over Sheriff

"We needed to see that more. More dynamic in the frontline – we are working on that part. That is the most difficult part.
"But I have seen some good moments today and in the last couple of games and I'm happy with that."
Ten Hag clearly sees improvements in Antony's game – even if the numbers are not there yet – and the winger's tweet earlier this week, in which he said he was "seeking to evolve", suggests he knows he can continue to get better.
Antony's age means his best years are likely ahead of him, and while the need to adapt his game is clear, there is surely no better manager than Ten Hag to help the young Brazilian flourish in the Premier League.
Checkout latest world news below links :
World News
||
Latest News
||
U.S. News
Source link