U.S. News
Why Walmart is eliminating single-use bags in some states but not others | CNN Business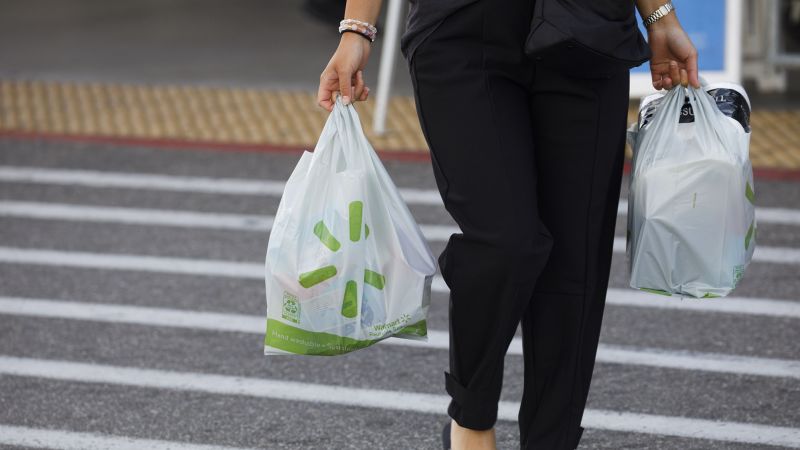 New York
CNN
 — 

Walmart will eliminate single-use paper and plastic carryout bags at the register from stores in New York, Connecticut and Colorado this month.
The company previously stopped giving out single-use plastic bags in New York and Connecticut and in some areas in Colorado. Walmart offers reusable shopping bags starting at 74 cents for customers without their own bags.
Walmart is trying to get ahead of legislation in some states that are cracking down on plastics. Many customers are also demanding change, and Walmart has outlined corporate environmental goals to achieve zero waste in its US operations by 2025.
These states and others led by Democratic lawmakers have taken more aggressive actions on enviornmental policies, and Walmart sees an opening to expand its efforts there. Ten states, as well more than 500 localities around the country, have passed measures to ban or restrict thin plastic and, in some cases, paper bags, according to the Surfrider Foundation, an environmental protection group.
But Walmart does not have a national bag policy.
Walmart and other companies are moving more slowly in states governed by Republicans hostile to reducing plastics and other policies to combat climate change. Twenty states have so-called preemption laws that block municipalities from adopting plastic bag regulations, according to the Surfider Foundation.
Eliminating single-use plastic and paper carryout bags is "critically important," said Judith Enck, a former Environmental Protection Agency regional administrator and current president of Beyond Plastics, a nonprofit organization working to end pollution caused by single-use plastics.
"There are reusable alternatives," she said. "It gets people focused on the need to reduce plastics. It's also not hard."
Plastic bags entered supermarkets and retail chains during the 1970s and 1980s. Before then, customers used paper bags to bring groceries and other merchandise back home from stores. Retailers switched to plastic bags because they were cheaper.
Americans use roughly 100 billion plastic bags every year. But single-use bags and other plastics pose a variety of environmental dangers.
Plastic production is a major source of fossil fuel emissions that contribute to the climate crisis and extreme weather events. As of 2020, the US plastics industry was responsible for at least 232 million tons of planet-warming emissions per year, according to a 2021 report by Beyond Plastics. This amount is equivalent to the average emissions from 116 average-sized coal-fired power plants.
The US plastic industry's impact on climate change is on track to exceed that of coal-fired power in this country by 2030, the organization projects.
Plastic bags are also a major source of litter and wind up in the ocean, rivers, and sewers and harm wildlife. Plastic bags are the fifth most common type of plastic litter, according to Ocean Conservancy, an environmental advocacy group.
Plastic bags do not biodegrade and only 10% of them are ever recycled, according to the EPA. When bags are mistakenly placed in traditional recycling bins, they can escape into the environment or jam recycling equipment at material recovery facilities.
Paper bags, on the other hand, are more easily recycled than plastic bags and are biodegradable, but some states and cities have moved to ban them because they are carbon-intensive to produce.
As the environmental toll of plastic bags began to be scrutinized, cities and counties began banning them.
California was the first state to ban single-use plastic carryout bags in 2016.
Plastic-bag bans reduce the number of these bags in stores and encourage customers to bring reusable bags or pay a small fee for paper bags.
"The ideal bag law bans plastic and adds a fee to paper," Enck said. While some customers balk at bringing their own bags, she compared plastic bag laws to seatbelt requirements and cigarette bans.
But the restrictions have led to some unintended consequences.
In New Jersey, a ban on single-use plastic and paper bags has meant grocery delivery services have switched to heavy-duty bags. Their customers now complain of a glut of reusable, heavy-duty bags that they don't know what do with.
Reusable bags — cloth totes or thicker, more durable plastic bags — aren't a perfect solution, either, unless they are actually reused.
A heavy-duty plastic bag made with the same material as regular thin single-use plastic bag but double the weight has twice the environmental impact, unless it is reused more often.
A report produced for the United Nations Environmental Programme in 2020 found a thick and durable bag must be used for an estimated 10 to 20 times compared to one single use plastic bag.
Cotton tote bag production also has an environmental footprint. According to the UNEP report, a cotton bag needs to be used 50 to 150 times to have less impact on the climate compared with one single-use plastic bag.
There is no data on how many times people use reusable bags, but consumers pay for them and very likely use them hundreds of times, Enck said. Cloth bags are also biodegradable, given enough time, and don't pose threats to marine life as plastic bags do.
To encourage the transition to reusable bags, Walmart has placed them in more areas around the store and added signs. It has also adjusted checkout lines to make it easier to use reusable bags.
Walmart, Target and CVS in 2019 also led funding for Beyond the Bag, an initiative to speed up alternatives to single-use plastic bags.
Walmart deserves credit for its efforts to go further than the law requires, Enck said. She also pointed to Trader Joe's, which has always had paper bags, and Aldi, which is removing plastic bags from all of its US stores by the end of 2023, as leaders in the effort to eliminate single-use plastics.
While more states may ban plastic bags in the coming years and retailers phase them out, it will be hard to eliminate new plastic bags in the United States.
Backed by plastics industry manufacturing groups, twenty states have so-called preemption laws that block municipalities from adopting plastic bag regulation, according to the Surfider Foundation.
Enck called these laws pernicious and argued they wind up hurting local taxpayers that bear the cost of cleaning up litter and dealing with problems at material recovery facilities when plastic bags jam equipment.
"State legislatures and governors should not stand in the way of local governments taking action to reduce local pollution," she said.
CNN's Katie Hunt and Rachel Ramirez contributed to this article.
Checkout latest world news below links :
World News
||
Latest News
||
U.S. News
Source link