U.S. News
Why the 'Crypto Bowl' won't be back this year | CNN Business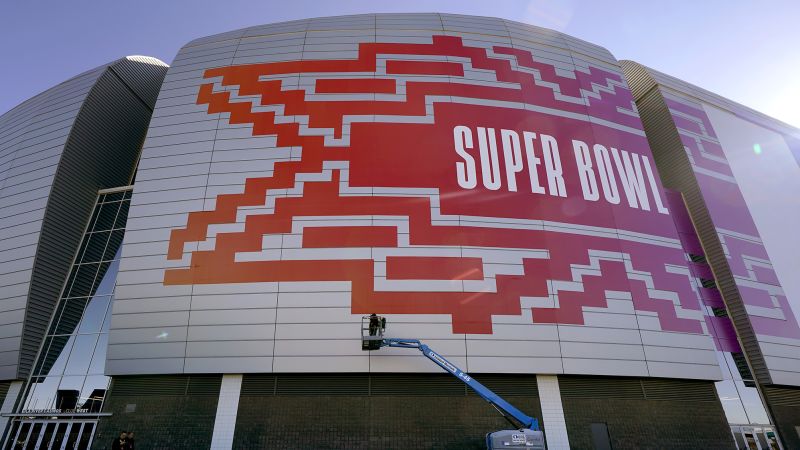 New York
CNN
 — 

Super Bowl LVI was the crypto world's coming out party. Buzzy firms made bold pitches last year, and shelled out millions of dollars on ads encouraging viewers not to be afraid of this new-fangled digital investment — and for God's sake don't miss out on this exciting opportunity!
You can expect a lot less noise from Team Crypto during Super Bowl LVII next Sunday.
In the year since those celebrity-packed ads debuted, the entire crypto industry has been rattled by a collapse in digital asset values. Bankruptcies began to pile up over the summer.
Then the real pain started.
Of the four crypto or crypto-affiliated companies that advertised in the Super Bowl last year, one (FTX) has collapsed completely. The others (Coinbase, Crypto.com and eToro) have fought against industry headwinds. Shares of Coinbase, the only publicly traded company in the group, have fallen more than 60% since its "floating QR code" ad became one of the most talked-about spots.
Don't expect any of those companies to be back this year. FTX is bankrupt and under criminal investigation by federal prosecutors. Etoro, a multi-asset trading platform, confirmed to CNN it would not be splurging on an ad this year, saying that while it continues to invest heavily in marketing, "we dial up or down specific channels based on many factors including market conditions."
Coinbase declined to comment. Representatives for Crypto.com — the company behind the ad featuring LeBron James telling his younger self to "call your own shots" — didn't respond to requests for comment.
But there will be at least one crypto-adjacent newcomer, according to AdAge. Limit Break, a blockchain-based game developer, has reportedly secured a spot and intends to give away 40,000 NFTs, or non-fungible tokens (aka one-of-a-kind digital collectibles) to viewers who scan its QR code.
Limit Break didn't respond to requests for comment.
Despite what is being called a "crypto winter," sports advertising remains a crucial avenue for the digital curency, marketing experts say, as their target demographics share significant overlap — sports fans and crypto traders tend to be mostly male and mostly young.
But turmoil in the crypto space means marketers are changing their tactics.
"The tone has shifted towards Web3-driven fan engagement over crypto-specific advertising," said Silvia Lacayo, head of marketing at crypto exchange Bitstamp US. (Web3 refers to a future internet framework that is decentralized and gives consumers more control over their own data).
"Crypto firms are focusing less on crypto advertising and more on investing in better user experiences, products, and customer service," Lacayo added.
Although we don't yet know the final lineup of advertisers for the Super Bowl, the usual suspects — beer, snacks, cars — are on deck as usual.
"The fact that the crypto players are not going to be on the Super Bowl reflects the fact that that world has profoundly changed," Calkins said. "Last year it was an exuberant time for crypto … This year, everything is different."
A year ago, FTX fetched a private valuation of around $32 billion. Its Super Bowl ads featured Tom Brady and Gisele Bundchen. Another FTX ad featured Larry David in a role that, a year later, appears prescient, with David sarcastically predicting that FTX won't make it.
In November, nine months after the ad debuted, FTX filed for bankruptcy. Several former executives have been charged with wire fraud and conspiracy over allegations FTX misappropriated customer funds.
"It's amazing how you can look back one year you realize we were in such a different place," Calkins said. "Last year we had a Super Bowl advertiser saying, 'fly me to the moon,'" he said, referencing the music in eToro's ad, which many read as a nod to the meme-stock traders' rally cry.
But a year of higher inflation, the end of pandemic-era stimulus and higher interest rates has put a damper on financial markets — not only crypto, but traditional markets as well.
That shift in mood will likely show up in the kinds of advertisers we see and in their messaging.
"Our economy's in a strange place," Calkins says. "So if you're an advertiser, it's hard to know — how do you play that?"
Checkout latest world news below links :
World News
||
Latest News
||
U.S. News
Source link