U.S. News
Why the American far right adopted Brazilian ex-President Jair Bolsonaro | CNN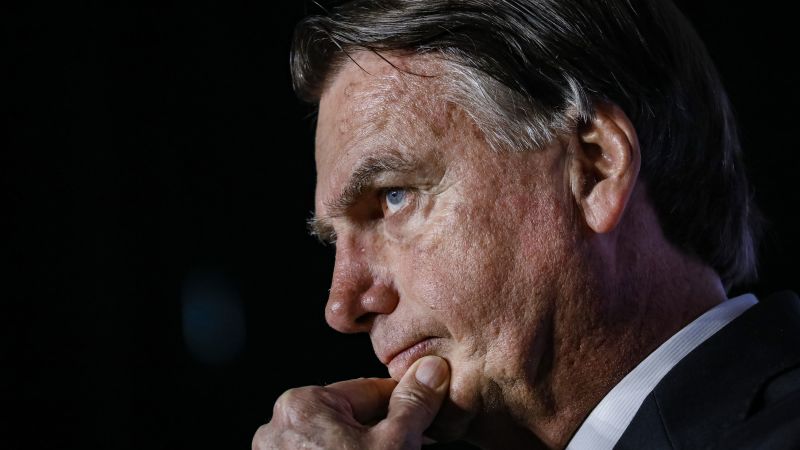 Sao Paulo
CNN
 — 

This Saturday, as American conservatives flock to the Conservative Political Action Conference in Maryland, they'll get a taste of just how far and wide their own ideas have spread. Former Brazilian President Jair Bolsonaro will speak on the same stage where a few hours later former US leader Donald Trump will deliver the event's closing remarks — a man the Brazilian leader has intentionally mirrored from the beginning of his presidency.
Far from his home country, Bolsonaro has found a warm reception in America: on social media, mostly Brazilian fans post videos of meeting Bolsonaro outside his south Florida rental and running into him in parking lots, food courts, and grocery stores, where the former president appears in shorts and sandals, grinning and posing for photos with children.
Bolsonaro has made a number of appearances in US hotel conference rooms and evangelical churches targeting Brazilian expats, giving speeches that come across as both timid and awkward, as he pauses to wait for interpreters to catch up to him, not always seeming certain of what is being said.
In early February, he spoke in the auditorium of a Trump hotel just outside Miami, hosted by none other than conservative activist and far-right organizer Charlie Kirk. Kirk, who admitted to not knowing much about Brazil, was nonetheless flanked by the flags of both nations: a gold-fringed, star-spangled banner and Brazil's unmistakeable bright green flag with a yellow diamond and blue circle in the center. "The fight against socialism and Marxism knows no borders," Kirk said by way of introduction to an audience of mostly Brazilians who were there to see Bolsonaro – "the myth," or legend, as they call him.
In a separate podcast interview, Kirk and Bolsonaro enthusiastically described common ground between the Brazilian and American right. Describing his decision to snub Brazilian President Luiz Inacio Lula da Silva's swearing in, Bolsonaro said: "I didn't want to be accused of collaborating with the clumsy way they began their mandate, because we have completely opposing political views: conservative, on the right, and theirs, closer to socialism on the left."
"Sounds very similar to what we're dealing with in the United States," Kirk responded.
The commonalities go on. From expanding gun rights and downplaying COVID-19 to opposing abortion and advocating for tougher immigration policies, Bolsonaro and Trump had plenty in common while in office. The two have continued to mirror each other since then; both shunned their successors' inauguration ceremonies and fled to the embrace of conservative society circles in Florida, where Trump moved his residence and where Bolsonaro has been living for more than two months.
But there's another reason for Bolsonaro's tour of the United States: his continued appearances on US stages serve strategic purposes for far-right movements in both countries.
For Bolsonaro, participating in US political events shores up his claims that he has not exited politics and will eventually assume again leadership of Brazil's rightwing opposition, despite his current sojourn abroad.
For the American right, publicly allying with a foreign figure helps expand their reach and creates the appearance of confirming conspiracy theories that originate in the US. In 2022, it was Hungarian hardline leader Viktor Orban who made headlines at CPAC. This year, it's Bolsonaro.
Deputy Director of Rapid Response at Media Matters Madeline Peltz, who researches right wing media and has been tracking the way extreme rightwing figures like Steve Bannon, Tucker Carlson and Alex Jones talk about Brazil, says American and Brazilian activists can see each others' countries as laboratories in which to test and observe tactics.
After a bruising midterm election, Peltz adds, Republicans are now wondering whether to continue down the path of being pushed farther to the right or to take a more measured approach, distancing themselves from election denialism and the violent acts of January 6, 2021, conveniently chalking that kind of behavior to the radicals of their party.
"The Republican Party was sort of testing this thesis about, do we continue down this path of Trumpism, of extreme election denial, and that was being reflected in the right wing media's commentary on Brazil as well — they were testing that thesis both in the American elections and in the Brazilian elections," Peltz said.
The blueprint hasn't shown the expected results, she said. "Republicans underperformed, to be charitable, and Bolsonaro lost."
In this balancing act, Bolsonaro is trying to figure out where he fits in. Though he denounced the invasion of Brasilia on January 8 by his supporters, in the days following the election he welcomed peaceful demonstrations while his party filed petitions for an audit of voting machines, alleging fraud. He fed his followers crumbs of misinformation about election fraud and made vague comments hinting at a potential coup.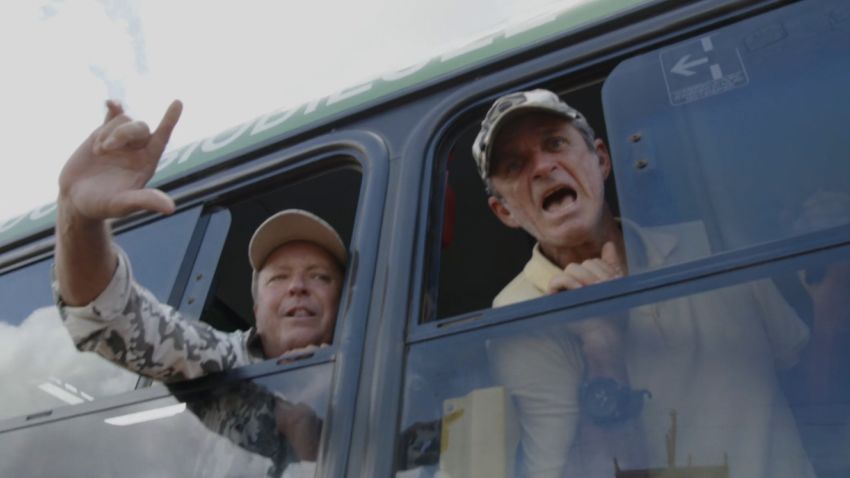 Isa Soares speaks with an arrested Bolsonaro supporter
When asked if Bolsonaro was not too problematic and messy to be brought into American politics — as a one-term president who infamously defended rape, torture, and a military dictatorship and is currently facing multiple criminal investigations at home — Peltz quipped, "They get their power from problematic and messy." Shock value and controversy can actually confer clout in the American political universe, she said.
Prominent American conservatives have long lent support to Bolsonaro. "(Steve) Bannon has long considered himself to sort of be the international boogeyman of the left," and his "next act" after leaving the White House was to form a sort of global coalition of far right movements, Peltz said. Brazil was one winning example of his political penetration.
Bolsonaro brought in Bannon to advise his first presidential campaign back in 2018 – and Bannon in turn began mentioning the South American leader more and more to his American audience, posing for photos with Bolsonaro's children on US visits, and voicing his support for the president on his social media whenever he was under fire.
He is not the only one. In the days that followed the Brazilian presidential elections in November, as Bolsonaro and his party filed petitions for tens of thousands of votes to be thrown out, another prominent conservative voice joined in. Fox News anchor Tucker Carlson raised questions about whether the vote was legitimate – despite Brazilian courts rejecting fraud claims and a military investigation finding no evidence of rigged voting machines.
Rodrigo Nunes, a philosophy professor at University of Essex and author of "From Trance to Vertigo," a book of essays about Bolsonarismo, said that Bolsonaro's value to US conservatives comes from two factors.
First, "he's a former president of a fairly important country. Geopolitically, he was a fairly important ally to Trump, because he was 100% aligned with Trump." As a former leader in the global far-right and part of the "ecology," Bolsonaro's voice can be amplified in the US whenever his ideas are relevant, Nunes said.
Second, Bolsonaro frequently mimics and echoes the discourse of the far right in the US, which can be fed back into the US as offering further confirmation of what the far right are saying there, Nunes explained.
"That's a lot of how this ecological approach to political organization works. When you're using the internet, how do you make something real? You spread sufficient sources of it so that it looks like it's coming from several different places at the same time, and suddenly, this produces an effect of reality, it looks like it's real, because there's a lot of people saying it and where there's smoke, there's fire."
In a way, the cycle is exemplified in the copycat insurrection that took place in Brasilia on January 8. It's impossible not to see the influence of January 6 in the actions of the rioters there, and yet "the Brazilian Jan 6" was defended by Carlson and Bannon even as the reaction from Bolsonaro and many in his camp was mixed.
In pictures: Bolsonaro supporters storm Brazilian Congress
The day after the Brasilia riots, Bolsonaro condemned the acts in a tweet. "Peaceful demonstrations that follow the law are part of democracy. However, depredations and invasions of public buildings as occurred today, as well as those practiced by the left in 2013 and 2017, escape the rule," he said.
But in American politics, what Bolsonaro thinks or says matters less than what the invasion of public buildings thousands of miles away means for American voters who believe that their own election was stolen.
"The way his narrative is built, to a large extent, as a copy or a mirror image of the narrative that they have in the US is very useful in the sense of showing people this is happening in other places, too. This proves the whole idea that there is a global conspiracy, a global left wing conspiracy to keep us, the people who represent the real people, out of power," Nunes said.
In another recent speaking event, Bolsonaro took the pulpit of an evangelical church in Boca Raton, Florida, and told a crowd of Brazilians, "My mission is not over yet."
In the same breath as he exalted the wonders of Brazil, ("There is nothing like our own land"), he urged his supporters to not be discouraged, and said he was planning to return to Brazil in the coming weeks to lead the opposition against Lula. If that is true, CPAC could be his last appearance in American politics before going home to an uncertain political future.
To Peltz, it would be the natural conclusion of what she described as Bolsonaro's "strange, directionless detour to America," given CPAC's waning influence in the American political landscape. "CPAC no longer launches the careers of hopefuls looking to make an impact, rather, it's now simply a box to check off. And without much otherwise on his to-do list, Bolsonaro might as well check it off."

Checkout latest world news below links :
World News || Latest News || U.S. News

Source link