U.S. News
What we know about the Brooklyn subway shooting | CNN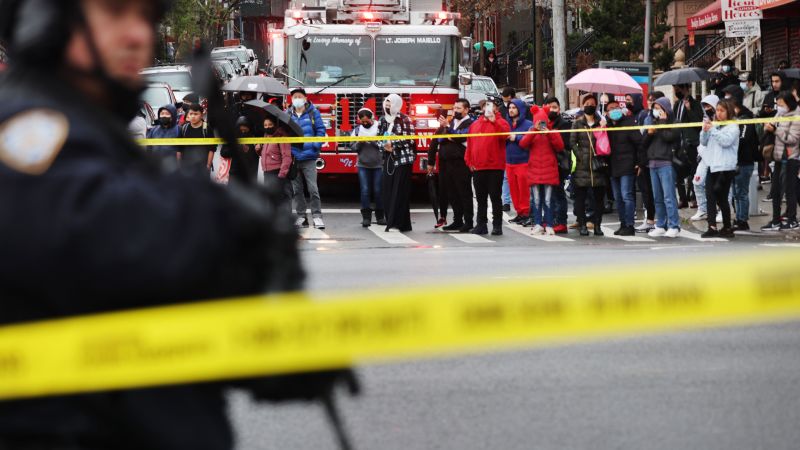 CNN
 — 

Riders of a New York subway train were victims of a mass shooting Tuesday morning when a man donned a gas mask, set off smoke grenades and began firing as the train made its way toward a Brooklyn station, police said.
A suspect in the shooting, Frank James, 62, was arrested in Manhattan's East Village neighborhood Wednesday after a roughly 30-hour manhunt.
At his court appearance Thursday, James was denied bail and did not enter a plea on charges of violating a law that prohibits terrorism and violent attacks on mass transportation. Officials have not released a motive for the attack.
Ten people were shot and 19 others suffered injuries related to smoke inhalation, falling down or having a panic attack officials said.
Here's what we know about the attack and the alleged shooter.
Just before 8:30 a.m. Tuesday, the New York City Fire Department got a report of smoke at the 36th Street subway station in Brooklyn's Sunset Park neighborhood, according to the department. When first responders arrived, they found gunshot victims throughout the subway station and others who were injured in the chaos.
Commuters told investigators that before the train arrived at the station, a gunman in one of the cars opened two smoke grenades, brandished a 9 mm handgun and fired multiple times, police said. At least 33 shots were fired, and 10 people were shot – seven men and three women – according to New York Police Department Chief of Detectives James Essig.
Investigators believe the gun jammed during the shooting, two law enforcement sources told CNN.
Based on photographic evidence, police believe that after the shooting, James boarded an R train and exited at 25th Street, Essig said.
Police tracked James, and his last known whereabouts was the 7th Avenue and 9th Street subway station, Essig said.
Five of the victims were students commuting to school, New York Gov. Kathy Hochul told reporters outside Maimonides Medical Center. She met with a 12-year-old, a 13-year-old, a 16-year-old and two 18-year-olds at the hospital, which is the only pediatric trauma hospital in the area, she said.
Investigators descended on the Brooklyn neighborhood and quickly zeroed in on a credit card and keys to a U-Haul van that had been rented in Philadelphia and were found at the scene.
Both items helped investigators find a U-Haul van Tuesday afternoon near the station in the Gravesend section of Brooklyn, police said.
There were no weapons or explosives inside the van, which was rented by James, according to law enforcement. However, the vehicle did have food remnants in it, and it appeared James may have slept in it, sources said.
At the station investigators also found a Glock 9 mm handgun, three extended magazines, two detonated smoke grenades, two non-detonated smoke grenades and a hatchet, Essig said.
Authorities were able to make several connections to James based on the evidence found at the scene.
They determined that the handgun was purchased by James in Ohio in 2011. Police also found a receipt for a Philadelphia storage unit registered to him inside a jacket left on the platform, according to a criminal complaint. Investigators also connected the purchase of a gas mask to James through an eBay account, two officials told CNN.
Authorities conducted search warrants on a storage unit and apartment in Philadelphia believed to be connected to James, according to the complaint. While executing the warrants, they found ammunition, a taser, a smoke canister and an empty magazine for a Glock handgun, among other things, the complaint states.
James was arrested roughly 30 hours after the shooting, in part thanks to a tip that James himself called in. His attorney confirmed that James saw his face on the news and called NYPD's Crime Stoppers hotline to tell them he was at a McDonald's on the Lower East Side of Manhattan.
Patrol officers found him down the block from the McDonald's and he was arrested without incident.
James had nine prior arrests in New York between 1992 to 1998, including possession of burglary tools, criminal sex act and theft of service, Essig said. Criminal tampering was also seen on his New York arrest record.
In New Jersey, James was previously arrested in 1991, 1992 and 2007 for trespass, larceny and disorderly conduct, Essig said.
James and his family didn't immediately respond to CNN's request for comment. CNN has also reached out to his federal defender, Mia Eisner-Grynberg, for comment.
James has been linked to a series of YouTube videos in which he documented his journey from Wisconsin to New York City. The channel, which has since been removed, also features videos posted by James that include rambling speeches that reference violence and mass shootings and are filled with racist and misogynistic language.
A YouTube spokesperson confirmed Wednesday that the channel has been removed in accordance with its "creator responsibility guidelines."
CNN was able to analyze the videos before they were taken down.
In videos chronicling his drive to New York, Frank says he has post-traumatic stress disorder and refers to his trip eastward as "heading back into the danger zone."
In other videos, the shooting suspect refers to a group of people he believed had maligned him and appeared to express hate toward broad societal and racial groups.
In a video posted Monday, James said, "I've been through a lot of s**t, where I can say I wanted to kill people. I wanted to watch people die right in front of my f**king face immediately. But I thought about the fact that, hey man, I don't want to go to no f**king prison."
Images captured by people at the scene and witness accounts piece together a picture of the panic and chaos that ensued when shots began to ring out in the smoke-filled train car.
In one video, people can be seen rushing off the subway train after it pulled into the 36th Street subway station.
Smoke pours out of the car where the shooting took place, and people can be heard screaming, that video shows. Someone helps an injured and bleeding person off the train, and another man is seen hobbling off the train shortly afterward.
Images taken by others at the scene show the subway platform streaked with blood and people sitting and lying on the train platform following the attack.
The photo gallery below contains graphic images. Viewer discretion is advised.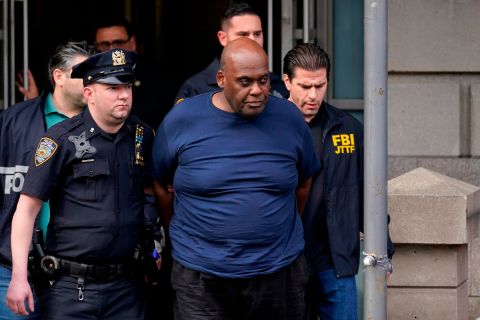 Photos: Brooklyn subway shooting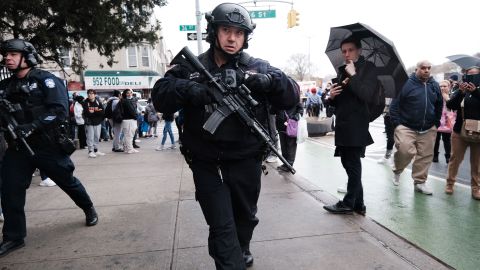 Photos: Brooklyn subway shooting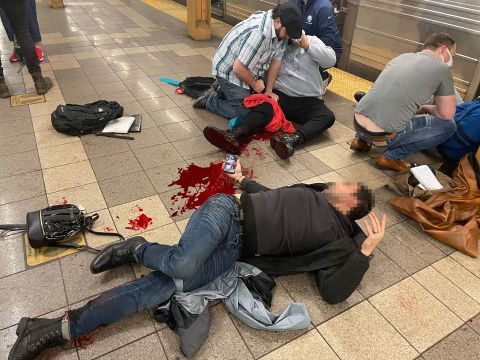 Photos: Brooklyn subway shooting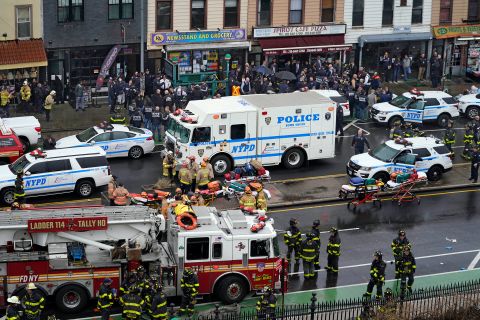 Photos: Brooklyn subway shooting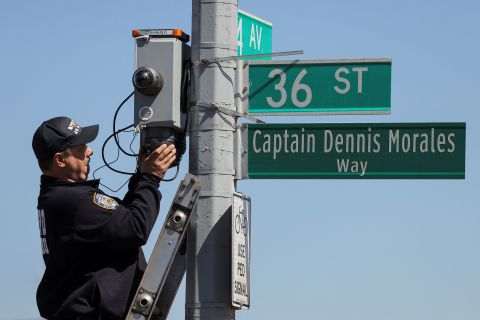 Photos: Brooklyn subway shooting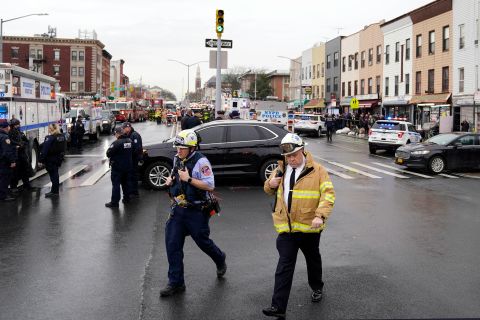 Photos: Brooklyn subway shooting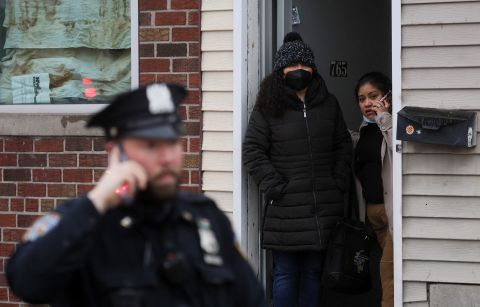 Photos: Brooklyn subway shooting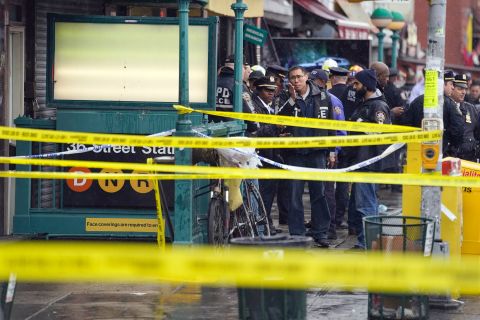 Photos: Brooklyn subway shooting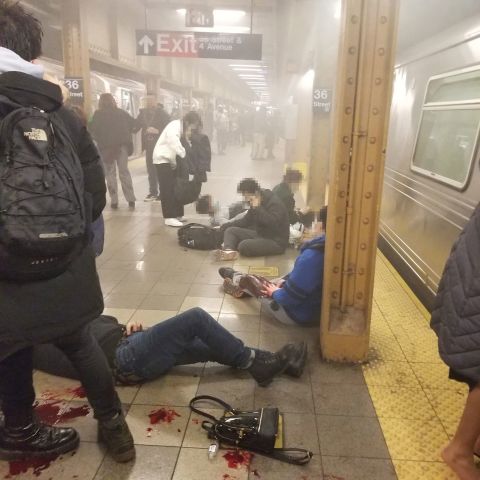 Photos: Brooklyn subway shooting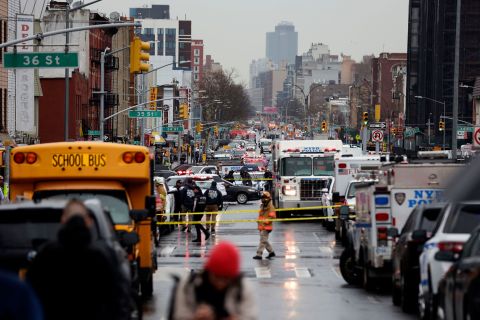 Photos: Brooklyn subway shooting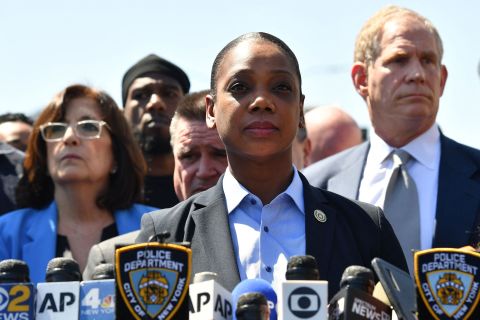 Photos: Brooklyn subway shooting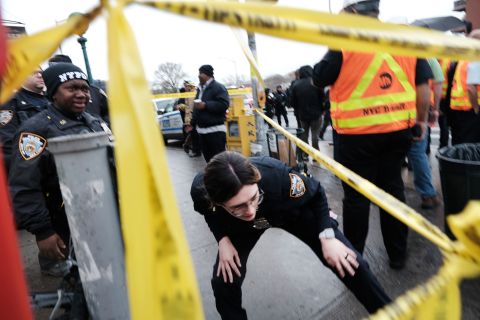 Photos: Brooklyn subway shooting
Photos: Brooklyn subway shooting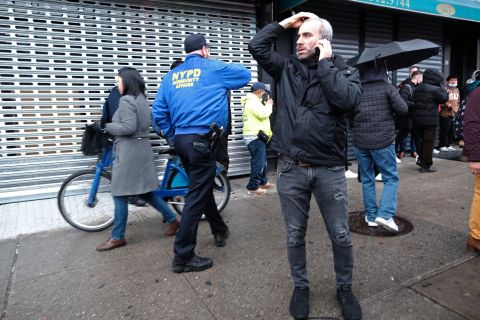 Photos: Brooklyn subway shooting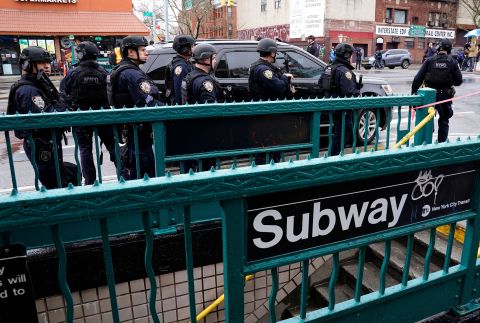 Photos: Brooklyn subway shooting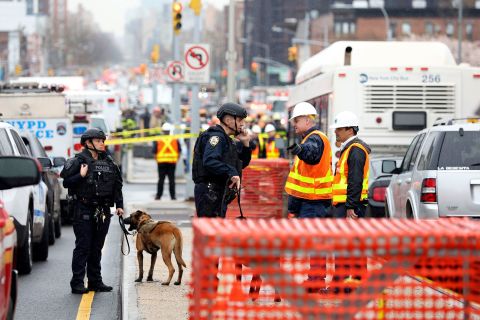 Photos: Brooklyn subway shooting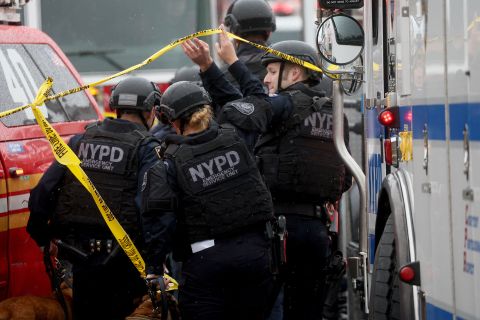 Photos: Brooklyn subway shooting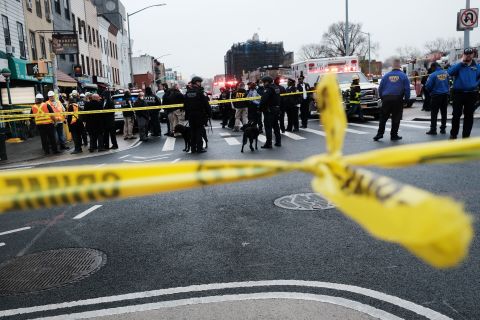 Photos: Brooklyn subway shooting
Hourari Benkada, 27, believes he was sitting next to the shooting suspect on the N train, he said. The man, he said, had a duffel bag and was wearing an Metropolitan Transportation Authority vest. Then the man let off a "smoke bomb," and Benkada and other passengers tried to rush to the other end of the car, he said.
Benkada was focused on helping a pregnant woman, whom he feared would get hurt as people rushed to the front of the car, when he got shot in the back of his knee, he said, describing it as "the worst pain of my entire life."
The shooting started about 20 seconds after the train took off, Benkada said.
"I feel shocked, I feel shaky, I don't know if I can ever ride a train," Benkada, a lifelong New Yorker and a housekeeping manager at The New Yorker hotel, said after coming out of surgery.
The bullet hit him in the back of his knee and came out the other side, he said. Doctors told him the bullet grazed his kneecap. He is expected to walk on his own after several weeks on crutches.
Benkada heard other people in pain but couldn't see them or the suspect because of the smoke, he said.
Claire Tunkel, 46, took off her jacket and tied it around the leg of a man who suffered a gunshot wound, she told CNN. Tunkel, who went to the hospital for smoke inhalation, said several victims were lying on the floor of the subway platform after the train arrived at the station.
"One of the guys who was shot, his leg was bleeding pretty bad, so I took off my jacket and tied it around his leg," she said.
Tunkel was in the subway car where the shooting took place and described the scene as chaotic. While she couldn't see anything because of the smoke, she said she heard people crying out for help and others who said they were bleeding.
"You couldn't see anything, but you could feel it," she said. People were rushing to the front of the car, and some fell to the ground, she noted. "You could feel the bodies."
Checkout latest world news below links :
World News
||
Latest News
||
U.S. News
Source link