U.S. News
Takeaways from the long-awaited confirmation hearing for Biden's FAA nominee | CNN Politics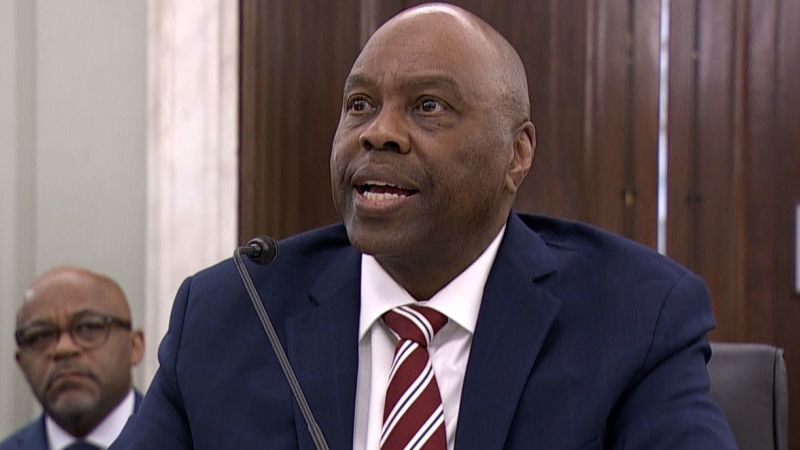 CNN
 — 

President Joe Biden's embattled pick to lead the Federal Aviation Administration is participating in his confirmation hearing before Congress on Wednesday morning amid a series of challenges for the agency.
Phil Washington, whose nomination was first announced by Biden nearly eight months ago, is appearing before the Senate Committee on Commerce, Science, and Transportation. He has so far been grilled during the hearing by Republican senators on issues that have emerged since he was nominated last summer, pressing him on why he's qualified to lead an agency that urgently needs to address a slew of complex challenges.
In his opening remarks, Washington said that if confirmed he pledged to "work diligently to support the extraordinary team at the FAA." He also defended his qualifications, particularly with regards to safety.
"As a military veteran and leader of three large transportation organizations, my broad transportation safety knowledge and real world leadership experiences provide me a unique perspective on how aviation on all modes of transportation should integrate into a seamless system," Washington said.
Washington, the current CEO of the Denver International Airport, has held leadership roles at municipal transit organizations, including in Denver and Los Angeles, focused on bus and rail lines. He also led the Biden-Harris transition team for the Department of Transportation. Prior to his work in transportation, Washington served in the military for 24 years.
While Washington has worked in transportation-related positions since 2000, he had no experience in the aviation industry prior to joining the Denver airport in 2021. Since his nomination last summer, Washington has faced questions about his limited experience and, in September, was named in a search warrant issued as part of a political corruption investigation in Los Angeles.
Washington has said that though his name was mentioned in the search warrant along with several other names, no search was ever executed on him or his property, nor was he questioned about the matter.
His name was also recently mentioned in a federal lawsuit filed earlier this month. Benjamin Juarez, a former parking director at the Denver Airport, alleges that the city permitted intolerable working conditions and that he faced ongoing threats to his job, Axios reported. Juarez's attorney says he contacted Washington, who was leading the airport, at least twice for help and did not receive a response.
Texas Republican Sen. Ted Cruz, the ranking Republican on the commerce committee, on Wednesday raised issues over Washington's legal entanglements, his lack of aviation safety experience, his management and his possible ineligibility.
"The nominee before us, Phil Washington, had a long and honorable career in the military, but he does not have any experience in aviation safety. This quite simply is a position he is not qualified for," Cruz said.
He also focused on Washington's efforts to incorporate diversity, equity and inclusion in his work, arguing that "safety, not political posturing, needs to be paramount at the FAA."
Republicans have questioned whether Washington, an Army veteran who left the military in 2000 after more than 20 years of service, would be statutorily considered a civilian – a requirement in order to serve as the FAA chief.
If he's not considered a civilian, he would need a waiver from Congress permitting him to lead the agency. And Republicans in both the House and the Senate do not support granting Washington a waiver.
Cruz on Wednesday asserted, "If Senate Democrats force this nomination through without a waiver a legal cloud will hang over every single FAA action."
Democrats and a number of aviation and transit groups continue to stand behind Washington.
Both Colorado senators, Democrats John Hickenlooper and Michael Bennet, support the nomination. Hickenlooper on Wednesday acknowledged, Washington is "not an airline industry insider using this role as a position for the industry to be policing itself. The challenges of managing FAA are those of managing a large complex bureaucracy badly in need of modernization. Certainly in that respect he's no novice."
And ahead of Wednesday's hearing commerce committee chair Maria Cantwell, a Washington state Democrat, called Washington "an experienced, mission-driven leader who has successfully led three of the largest and most complex transportation organizations in the country."
"Today, (the FAA) needs a strong leader to fully implement reforms and to address the challenges our national aviation system faces. I am looking forward to this opportunity for Mr. Washington to discuss his qualifications and vision for making the FAA the global gold standard in aviation safety," Cantwell added.
The hearing for Washington comes after a year of the FAA operating without a permanent administrator. In that time, the agency has contended with several problems that have plagued travelers and the airline industry, such as recent near-collisions involving airliners, crucial staffing shortages and malfunctions of aging technology that have cause major air travel disruption.
The agency has a professed focus on safety, but agency leadership is ultimately responsible for steering its focus as its mission gets wider – with responsibilities expanding to include establishing the federal approach to private space launches and regulating drones – even as longstanding aspects of the aviation industry continue to grapple with major challenges.
A failure of the 30-year-old NOTAM, or Notice to Air Missions, system led to the first nationwide airplane departure grounding since the 9/11 attacks, showcasing just one way aging industry technology is being stretched beyond its limits by increased volume. Now, the FAA is planning to dramatically accelerate replacing the safety system.
Another FAA computer system failed earlier this year when it was overloaded, leading to delays in Florida. And the agency has struggled to modernize parts of air traffic control, with a 2021 Transportation Department Office of Inspection General report citing difficulties integrating the FAA's multi-billion dollar Next Generation Air Transportation System project due to extended delays.
There have been recent near-collisions on US runways, prompting federal safety investigators to open multiple inquiries. Air traffic control is staffed at the lowest level in decades, according to industry experts. And key roles at US airlines pared down amid the Covid-19 pandemic have not ramped up to meet current outsized travel demand.
In February, Billy Nolen, the FAA's acting chief, ordered a sweeping review of the agency in the wake of recent aviation safety incidents. That review is expected to include a major safety meeting this month.
This is a breaking story and being updated.
Checkout latest world news below links :
World News
||
Latest News
||
U.S. News
Source link