U.S. News
Super Bowl ad slams Tesla's 'Full Self-Driving' tech | CNN Business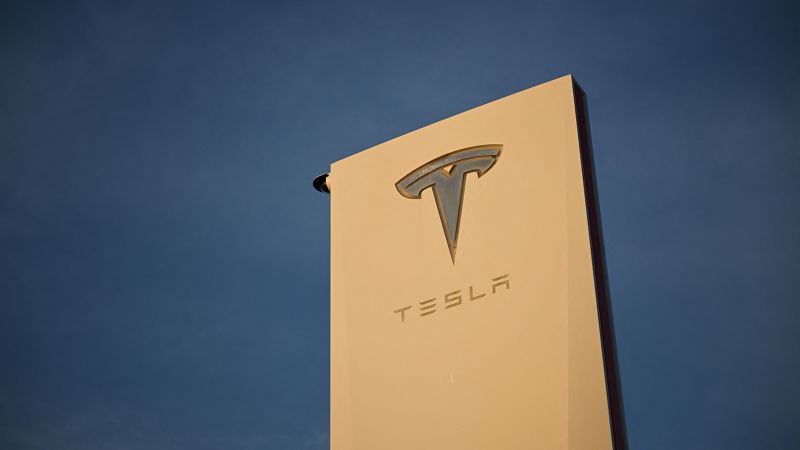 New York
CNN
 — 

Electric carmaker Tesla will face a hit on Super Bowl Sunday, when an ad will play showing the alleged dangers of its Full Self-Driving technology.
The commercial, which will be aired in Washington, DC, Austin, Tallahassee, Albany, Atlanta and Sacramento does not paint Tesla in the best light. The ad is part of a multimillion dollar advertising campaign by The Dawn Project. Its founder, Dan O'Dowd, is a California tech CEO who has dedicated millions of his own money (and a failed US Senate race) to the cause.
The ad cost $598,000, a Dawn Project spokesperson told CNN.
It shows a Tesla Model 3, which allegedly has the Full Self-Driving mode turned on, running over a child-sized dummy on a school crosswalk, and then a fake baby in a stroller, in a series of tests by the Dawn Project. In the ad, the car swerves into oncoming traffic, zooms past stopped school buses, and cruises through "do not enter" signs.
"Tesla's Full Self-Driving is endangering the public," the ad said. "With deceptive marketing and woefully inept engineering."
The Dawn Project says it wants to make computer-controlled systems safer for humanity, shooting its own videos as tests of Tesla's alleged design flaws. In August, O'Dowd published a video showing a Tesla plowing into child-sized mannequins. Some Tesla fans posted their own videos in defense, using their own dummies or even their own children – YouTube has taken down several test videos involving actual children, citing safety risks.
O'Dowd received a cease and desist letter from Tesla over the video, claiming he and the Dawn Project were "disparaging Tesla's commercial interests and disseminating defamatory information to the public."
O'Dowd responded to the cease-and-desist with a 1,736-word post in which he pushed back at the suggestion his posts were defamatory, defended his tests and returned barbs from Musk and some Tesla supporters.
O'Dowd, who sold software to the military, is undertaking a campaign of millions of dollars to ban Tesla's Full Self-Driving feature. He is running national ads and posting online videos displaying the possible dangers of Musk's technology. He also ran an unsuccessful one-issue campaign for the US Senate on the same message.
Though officially in beta mode, Full Self-Driving is available to any user in North America who wants to purchase the $15,000 feature.
Tesla did not immediately respond to CNN's request for comment. Tesla's "Full Self-Driving" system is intended to someday work on city streets, but despite its wide rollout, is still officially in a developmental "beta" program. No car for sale on the market is yet able to drive itself.
Autopilot is a suite of driver-assist features, while Full Self-Driving steers the car on city streets, but could also stop for traffic signals and make turns.
Tesla contends it is not aware of any ongoing government investigation that has concluded any wrongdoing occurred, and said its Autopilot, with its automated steering designed to keep a car within a lane, is safer than normal driving.
"Tesla's reckless deployment of Full Self-Driving software on public roads is a major threat to public safety. Elon Musk has released software that will run down children in school crosswalks, swerve into oncoming traffic and hit a baby in a stroller to all Tesla owners in North America," O'Dowd said in a statement.
Tesla said it "has received requests from the Department of Justice for documents related to Tesla's Autopilot and FSD features" in a January 31 public filing.
Federal investigators are looking into a Musk tweet about disabling driver alerts on Tesla's "Full Self Driving" driver assist system, joining several other National Highway Traffic Safety Administration probes.
On December 31, Musk replied to a tweet by @WholeMarsBlog which said "users with more than 10,000 miles on FSD Beta should be given the option to turn off the steering wheel nag."
"Agreed, update coming in Jan," Musk replied.
The National Highway Traffic Safety Administration announced last summer it was escalating its Tesla probe to an "engineering analysis," a step toward seeking a recall. NHTSA first investigated Tesla's driver-assist technology after reports Autopilot-engaged vehicles were crashing into emergency vehicles stopped at the scene of earlier crashes.
O'Dowd is the founder and CEO of Green Hills Software. Some of Musk's defenders claim O'Dowd has a conflict of interest as one of its customers is Intel-owned Mobileye, which makes a computer chip to run driver-assisted software, the Washington Post reported.
O'Dowd told the Washington Post Mobileye is one of his hundreds of customers and that his main motivation is safety.

Checkout latest world news below links :
World News || Latest News || U.S. News

Source link