U.S. News
Nurses at Mount Sinai Morningside and West reach tentative agreement as more than 7,000 nurses still due to strike | CNN Business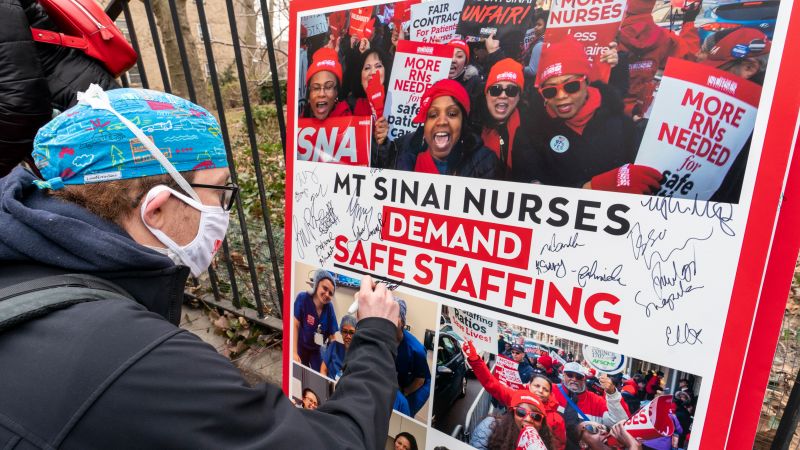 New York
CNN
 — 

Mount Sinai Morningside and West hospital reached a tentative agreement with the state nursing union on a new contract Sunday, avoiding a strike Monday morning, according to a news release from the union.
Nurses at two other area hospitals, Mount Sinai Hospital and Montefiore Bronx, are still due to strike after not reaching agreements.
Both hospitals are back at the bargaining table with New York State Nurses Association nurses today – if a tentative agreement is not reached, then approximately 3,625 nurses at Mount Sinai and approximately 3,500 nurses at Montefiore Bronx will strike at 6 a.m. Monday. The union said during a news conference Sunday morning that negotiations could go into the early morning.
The new tentative agreement at Morningside and West brings the anticipated number of nurses to strike down from 8,700 to about 7,125. The tentative agreement improves staffing, protects benefits and increases salaries over three years.
That brings seven of the 12 New York hospitals in negotiations to reach tentative agreements or new contracts.
"The time is now to settle fair contracts that help nurses deliver the care that all New Yorkers deserve. We are fighting to improve patient care and will do whatever it takes to win," NYSNA President Nancy Hagans said in a statement Sunday.
New York City's Mount Sinai Hospital is continuing to move infants out of intensive care units to other area hospitals, is diverting ambulances to other facilities and postponing elective surgeries and heart surgeries ahead of a planned nursing strike Monday.
In a statement late Saturday, the hospital said it has been negotiating "in good faith" with the nursing union on a new contract. Mount Sinai has agreed to meet with NYSNA nurses after walking out on a bargaining session Thursday, the union said Sunday.
A Mount Sinai spokesperson told CNN on Saturday the hospital system is actively bargaining with the Mount Sinai Morningside and West campuses under separate union agreements.
But if agreements aren't reached at several New York City area hospitals, thousands of nurses will strike on Monday morning.
The hospital said Sunday its current wage offer "is identical" to ratified agreements at NewYork-Presbyterian and Maimonides – and would increase a Mount Sinai nurse's base salary by 19.1 percent over three years.
"But NYSNA's inconsistent bargaining, unwillingness to accept this offer, and insistence on moving forward with a strike has left us no choice but to take significant actions to care for our patients," the hospital statement said.
Seven neonatal intensive care unit infants were safely transferred Saturday to partner hospitals in New York City, a hospital spokesperson told CNN on Sunday. Another six will be transferred Sunday from the NICUs at Mount Sinai Hospital and Mount Sinai West, the spokesperson said.
"In addition, we have transferred close to 100 patients from the affected hospitals – The Mount Sinai Hospital, Mount Sinai West and Mount Sinai Morningside – to unaffected hospitals within the Mount Sinai system and partner hospitals in NYC and we continue to safely discharge patients who were schedule to go home." All elective surgeries have been postponed, the spokesperson said.
The NYSNA hit back Saturday at comments from Mount Sinai, which said Friday it was transferring infants in its neonatal intensive care units to other area hospitals because of the strike notice, adding the hospital was dismayed by the union's "reckless" actions.
"As a labor and delivery nurse who helps mothers to bring babies into this world, I find it outrageous that Mount Sinai would compromise care for our NICU babies in any way. We already have NICU nurses caring for twice as many sick babies as they should," Matt Allen, the union's regional director, said.
"It's unconscionable that Mount Sinai refuses to address unsafe staffing in our NICU and other units of the hospital but is now stirring fears about our NICU babies in contract negotiations," he added.
In a statement Saturday, the NYSNA said nurses at BronxCare and The Brooklyn Hospital Center reached tentative agreements that will improve safe staffing levels and enforcement, increase wages by 7%, 6%, and 5% annually during their three-year contract, and retain their healthcare benefits.
On Saturday, nurses at NewYork-Presbyterian announced they had agreed to ratify their deal, but it was a close vote – 57% nurses voted yes and 43% were against.
"Voting on whether to ratify a contract is a key component of union democracy. Just like in any democracy, there is rarely 100 percent consensus," Hagans said in a statement.
Checkout latest world news below links :
World News
||
Latest News
||
U.S. News
Source link