U.S. News
NICU mom stays by her son's side after his nurses leave to strike | CNN Business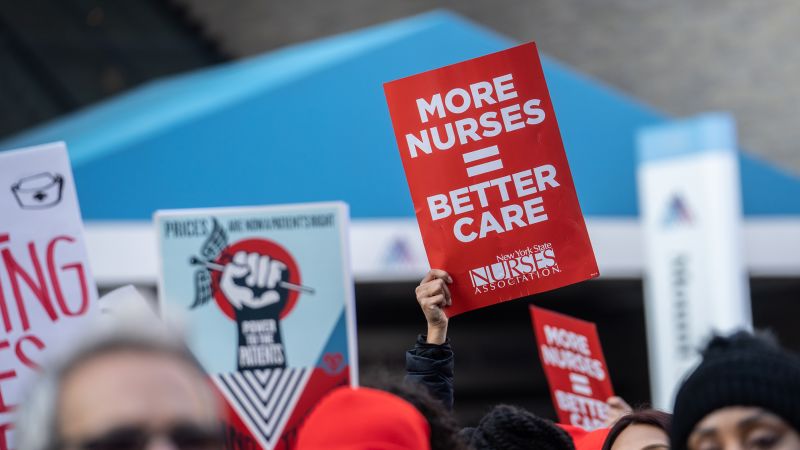 New York
CNN
 — 

Lora Ribas hasn't left her son's bedside in four days.
Her one-year-old baby, Logan, has been in the neonatal intensive care unit (NICU) since he was born. For the past three and a half months, he's been under the care of Mount Sinai Hospital where thousands of nurses are currently striking.
Logan was born prematurely at 27 weeks and is on a ventilator because his lungs were underdeveloped.
Mount Sinai's NICU has been consistently understaffed even before the strike, Ribas said. But since Mount Sinai's nurses began picketing Monday, new travel nurses have replaced Logan's primary care nurses – nurses who don't fully understand her son's needs, she said.
Ribas said she's too scared to leave her son alone under the care of the new travel nurses. She took a leave from work to stay by his side.
"It's scary to think that I can't even go to the bathroom without me being concerned," Ribas told CNN.
Although the travel nurses are trying to compensate, they "don't really know my son" and are still learning where supplies are around the unit, Ribas said.
They aren't able to give him one-on-one care because of the staffing shortages, according to the mom, and she said the staffing levels are even lower at night.
Two nurses currently working inside Mount Sinai Hospital told CNN Monday that additional traveling nurses have not shown up as expected on their floors to replace nurses that are striking, causing stress for patients and staff.
Mount Sinai Health System did not immediately respond to CNN's request for comment.
In preparation for the strike, Mount Sinai announced Friday it would transport newborns in its intensive care unit to other area hospitals. But the most critical babies – like Logan – have stayed in the hospital's NICU unit. One NICU nurse at Mount Sinai who spoke to CNN on condition of anonymity, said moving a NICU baby to another hospital can be a risky move.
"It's a big journey for a baby who's never been outside the hospital," she told CNN. "It's not anything that we want to happen. We want our babies to stay."
The more critical the baby's condition is, the more complicated a transfer to another hospital becomes, the nurse explained.
"You would need at least a doctor or nurse practitioner, a respiratory therapist if the patient is on respiratory support and a transport nurse to work the pumps and administer medicine if needed," she said.
Ribas said her son's primary nurses who are striking right now are heartbroken they had to leave him and have been calling her to check on his status.
"He has really wonderful primary nurses," she said. "They were in tears having to leave him because my baby suffered cardiac arrest two days before the strike happened, and so now I'm dealing with that plus the shortage of staff. Which is very scary."
The nurses strike at two private New York City hospitals – Montefiore and Mount Sinai – involving over 7,000 nurses entered its second day Tuesday. Montefiore said it was holding bargaining sessions Tuesday. Mount Sinai has no plans to do so, according to the nurses' union.
The sticking point continues to be enforcing safe staffing levels, New York State Nurses Association (NYSNA) union officials said.
A pediatric oncology nurse at Mount Sinai who administers chemotherapy to children with cancer said it's hard to leave her patients to strike, but she knows it's in the best interest of their care.
"We love these patients more than anything," Melissa Perleoni said, "and it breaks our heart – at least it breaks my heart – to be out here but I have to do this for the future of their care."
Ribas said she hopes hospital management reaches a contract with the nurses soon.
"The nurses are the heart of the NICU, and they do need to figure it out before it becomes a different situation – because every single minute, every hour, the babies are running a very, very high risk of even dying in here."
"There's nothing that could bring your kid back. Nothing," she said.
– CNN's Tami Luhby, Vanessa Yurkevich and Mark Morales contributed to this report
Checkout latest world news below links :
World News
||
Latest News
||
U.S. News
Source link