U.S. News
Kevin Munoz, White House aide leading Covid-19 messaging efforts, to depart | CNN Politics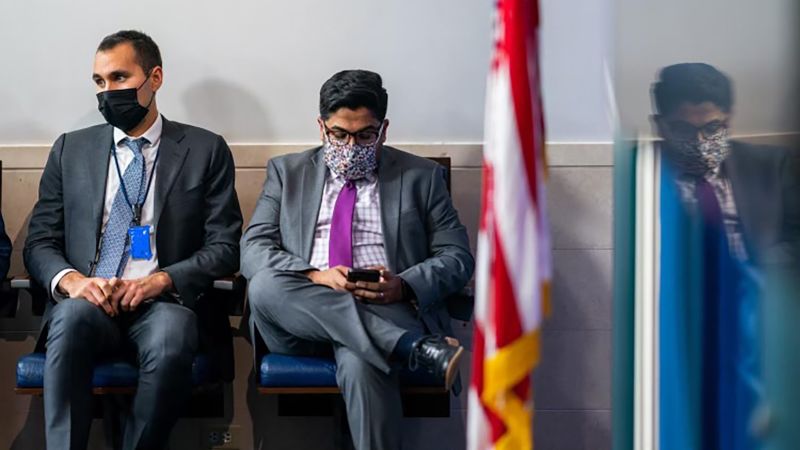 CNN
 — 

One of the key forces behind messaging the Biden White House's response to the Covid-19 pandemic is set to step down from his role.
Kevin Munoz, the assistant White House press secretary tasked with handling Covid-19 and other critical public health issues, will depart later this month, CNN has learned.
Munoz's departure comes amid a period of transition and staff turnover heading into the administration's third year and a new phase of the pandemic. Details on his next steps were not immediately available, but the exit comes as President Joe Biden is expected to make a reelection announcement in the coming months.
Munoz joined the White House after serving on the Biden transition team and on Biden's 2020 campaign, where the Jacksonville, Florida, native joined during the Democratic primary and later became the campaign's Florida press secretary.
At the White House, he emerged as a top behind-the-scenes communicator at every turn of the pandemic, messaging on vaccinations, boosters, mask mandates, travel restrictions, new variants and battles over congressional funding. His portfolio also included the mpox outbreak, widespread baby formula shortages and abortion rights in the wake of the Supreme Court ruling overturning Roe v. Wade.
"When we arrived at the White House in January 2021, we quickly embedded Kevin into our core team working on the Covid-19 response and driving the strategic decisions on Covid. Those were some very difficult days – working around the clock. Kevin was exactly the right person for the job," White House deputy chief of staff Natalie Quillian said.
Biden took office just over a month after the first Covid-19 vaccine was administered, and the administration's communications effort was a key focus amid widespread distrust.
Dr. Anthony Fauci, perhaps the most public face of the administration's pandemic response, told CNN that Munoz's "competence" and "eminently positive" personality were an asset to the team in the best and worst of situations.
"He's an extremely competent guy – he gets things done and does it in a very smooth, no-drama approach," Fauci, who departed public service at the end of last year, said in an interview Thursday.
He added, "He's just a very, very nice guy. So you have a combination of somebody who is very competent, gets the job done, reliable, consistent, but with Kevin, he makes it pleasant."
Munoz also emerged as a communicator to Latinos, doing hundreds of Spanish-speaking and regional media appearances.
"He's someone that understands the need to reach all communities," White House Office of Intergovernmental Affairs director Julie Rodriguez told CNN.
In the early days of the vaccination campaign, she said, it was critical to target Latino communities and other groups that weren't getting vaccinated at the same rate as the rest of the general population.
And Munoz, Rodriguez said, was able to "figure out how to best identify the issues and communicate those in English and in Spanish."
At 26 years old, colleagues – many of whom told CNN they had no idea how young he was – say his perspective was critical in reaching young audiences.
"He was able to view Covid from the perspective of a younger person. It was one of the harder communities to reach. Younger people did not think Covid was impacting them as much as older communities, and that was not true. He knew how to reach and strategically message to that group," former White House Covid-19 director of strategic communications Courtney Rowe said.
When the White House partnered with dating app sites like Tinder and Bumble for a vaccination awareness campaign, Munoz lent his likeness to the cause.
"As a joke, we put his face on the app and showed it at the press briefing. He was game to do that, and he also understood that it was some of those lighter moments – things we could do that could actually reach this audience that didn't feel as impacted, but it was critically important they get vaccinated," Rowe said.

Checkout latest world news below links :
World News || Latest News || U.S. News

Source link