U.S. News
Justice Department tells Jim Jordan it won't share information about ongoing investigations | CNN Politics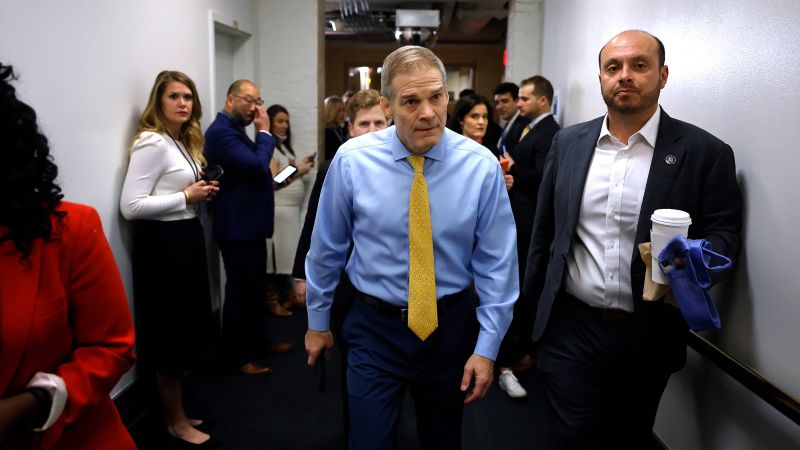 CNN
 — 

The Justice Department signaled Friday it's unlikely to share information about ongoing criminal investigations with the new GOP-controlled House, in a move that's certain to frustrate Republicans in the chamber.
In a letter to House Judiciary Chairman Jim Jordan responding to a flurry of document requests, the DOJ said that "any oversight requests must be weighed against the department's interests in protecting the integrity of its work."
The letter added: "The Department's mission to independently and impartially uphold the rule of law requires us to maintain the integrity of our investigations, prosecutions, and civil actions, and to avoid even a perception that our efforts are influenced by anything but the law and the facts."
House Republicans have made clear they plan to examine the Justice Department's handling of politically sensitive probes, including its role in the ongoing special counsel investigations related the handling of classified material by President Joe Biden and former President Donald Trump.
Republicans on the House Judiciary Committee promptly responded to the letter, tweeting Friday afternoon: "Why's DOJ scared to cooperate with our investigations?"
The letter is an early sign of the hurdles Jordan is likely to face, particularly as he tries to investigate the Justice Department and the FBI. House Republicans have been especially eager to dig into the Justice Department's ongoing probes, even authorizing a Judiciary subcommittee tasked with investigating the purported "weaponization" of the federal government, including "ongoing criminal investigations."
The letter sheds light on how the department will resist providing information related to ongoing investigations, even as the department pledged Friday to accommodate lawmakers' requests where possible, quoting former President Ronald Reagan.
"As President Reagan explained in his 1982 directive on responding to congressional requests for information, the 'tradition of accommodation' should be 'the primary means of resolving conflicts between the Branches,'" the letter said.
Jordan is asking the department to produce documents related to the appointment of Robert Hur as special counsel in the Biden documents probe as well as the selection of Trump-appointed US Attorney John Lausch to lead the initial review of the case, in addition to a broad array of internal and external communications about the matter.
Last week, Jordan sent new letters to several Biden administration officials, including Attorney General Merrick Garland, FBI Director Christopher Wray and Drug Enforcement Administration head Anne Milgram, reiterating his oversight requests and demands for documents relevant to the Judiciary Committee's investigations.
"The Administration's stonewalling must stop," Jordan wrote, underscoring his plans to aggressively press top Biden officials even as the committee's probes remain in their infancy.
"House Judiciary Republicans are committed to holding each agency accountable under the new majority and will use compulsory processes, if necessary, to get answers for the American people," he added.
This story has been updated with additional details.

Checkout latest world news below links :
World News || Latest News || U.S. News

Source link