U.S. News
It's market bulls vs. Fed hawks on Wall Street | CNN Business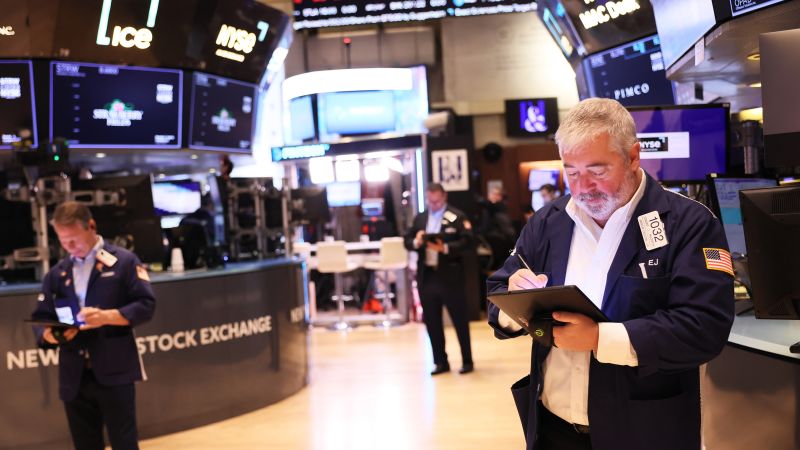 A version of this story first appeared in CNN Business' Before the Bell newsletter. Not a subscriber? You can sign up right here. You can listen to an audio version of the newsletter by clicking the same link.

New York
CNN
 — 

There's a new tussle brewing in the animal kingdom of Wall Street: Hawks vs. Bulls.
Policymakers at the Federal Reserve have repeatedly signaled that interest rates will be higher for longer and that restrictive policy will inevitably cool the economy. Yet hope springs eternal for investors who have opted to ignore such forecasts and focus on the sunny side instead.
The constant churn has led to a manic market with abrupt pivots in sentiment and data-dependent swings. The question is, will the Fed be able to break through and convince Wall Street to finally give in to market pessimism?
What's happening: Fed officials anticipate that further interest rate hikes, or increases in borrowing costs, will be required to bring inflation down to its 2% target, according to notes from their last policy meeting.
The minutes, released on Wednesday, struck a hawkish tone. While members voted unanimously in February to raise rates by a quarter percentage point, the notes show that "a few participants stated that they favored raising the target range for the federal funds rate 50 basis points [half a percentage point] at this meeting or that they could have supported raising the target by that amount."
The statement echoed recent speeches made by Fed officials. On Wednesday, St. Louis Fed President James Bullard (who does not have a vote on rates this year) told CNBC that he thinks "we have a good shot at beating inflation in 2023" without creating a recession but he argued for a faster, more aggressive pace of interest rate hikes.
Last week, Cleveland Fed President Loretta Mester said that the central bank would need to bring its fund rate above 5% and keep it there. "Setting aside what financial market participants expected us to do, I saw a compelling economic case for a 50 basis-point increase," she said at an event in Florida.
Still, markets aren't budging too much. They barely dipped after the release of the minutes and moved higher again in after-hours trading late on Wednesday. Stocks have retreated a bit this week but overall, financial markets have rebounded strongly in early 2023.
The disconnect: Interest rates are sitting at recent highs but stock valuations still remain strong. The last time S&P 500 Index valuations were at this level — April 2022 — the expectation for peak rates was just 3.3%, almost 200 basis points lower than it is today, according to Zachary Hill, head of portfolio management at Horizon Investments.
Policymakers were particularly worried about that disconnect, according to Fed minutes.
Fed officials suggested in the meeting minutes that this was a reflection of investor confidence that inflation had peaked and that the Fed would soon pivot away from rate hikes and they feared that could hurt their efforts to restore price stability.
That's because market rallies help to expand the economy, which is the opposite of what the Fed is trying to do with its tightening policy.
"A number" of policymakers even noted that easing financial conditions could require a tighter policy stance — meaning that if markets don't let up, they may have to raise rates higher than anticipated.
But is this just talk, using an excessively hawkish tone in order to bring markets down, or will they practice what they preach?
▸ JPMorgan Chase is saying no to AI — at least for now. The bank is temporarily clamping down on the use of ChatGPT among its employees, as the buzzy AI chatbot explodes in popularity.
The biggest US bank has restricted its use among global staff, according to a person familiar with the matter. The decision was taken not because of a particular issue, but to accord with limits on third-party software due to compliance concerns, the person said. JPMorgan Chase (JPM) declined to comment.
UBS estimated that ChatGPT reached 100 million monthly active users in January, two months after its launch. That would make it the fastest-growing online application in history, according to the Swiss bank's analysts.
Some businesses have encouraged workers to incorporate ChatGPT into their daily work. But others worry about the risks. The banking sector, which deals with sensitive client information and is closely watched by government regulators, has extra incentive to tread carefully.
▸ Norfolk Southern CEO Alan Shaw pledged Tuesday that the freight railroad will spend $6.5 million to help those affected by the release of toxic chemicals from its derailment nearly three weeks ago in East Palestine, Ohio. But the company said earlier this year that it's planning to spend more than a thousand times that amount — $7.5 billion — to repurchase its own shares in order to benefit its shareholders.
The company, meanwhile, has agreed to give one of its unions the paid sick days it demanded for members in negotiations last year, and is in talks to grant sick days to its other unions as well.
That announcement came hours after chief financial officer Mark George told investors that Norfolk Southern is still struggling to fill open positions at almost 95 locations. George also said the company may have cut too many staff during the early days of the pandemic, and that it has had trouble bringing back laid-off staff members.
▸ Amazon closed its acquisition of health care provider One Medical and its parent in a $3.9 billion deal on Wednesday, hours after the Federal Trade Commission said it would not challenge the purchase but that regulators were still investigating potential competitive and consumer harms of the transaction.
The landmark deal will turn the e-commerce giant into a provider of primary medical care with access to more than 200 brick-and-mortar doctors' offices, along with roughly 815,000 One Medical members, according to that company's latest financial statement.
The One Medical deal would also allow Amazon to expand its telehealth services and acquire valuable relationships with hospital systems, industry analysts have said.
On Wednesday, Amazon said One Medical will offer new customers a $55 discount on annual memberships for a limited time.
Major UK supermarkets have started rationing the sale of some staple fruits and salad vegetables, blaming poor weather that has depressed production in Spain and north Africa.
Tesco (TSCDF), the UK's biggest supermarket, confirmed to CNN Wednesday that it had temporarily capped the number of packs of tomatoes, peppers and cucumbers to three per customer.
Asda told CNN that it was temporarily limiting purchases of some items to three packs per customer. These include tomatoes, peppers, cucumbers and lettuce. Morrisons told CNN that it had imposed a cap of two packs per customer on the same products. Aldi said that it would introduce a limit of three packs per person on peppers, cucumbers and tomatoes in UK stores.
Asda, Morrisons and Aldi are Britain's third-, fourth- and fifth-biggest supermarket chains respectively, according to market share data from Kantar.
The rationing is another knock for British shoppers already grappling with record grocery price rises, which have inflamed the worst cost-of-living crisis in decades.
In the four weeks to January 22, food price inflation hit 16.7%, according to Kantar. That's its highest level since the data company started tracking the indicator in 2008.
Meanwhile, a cyberattack earlier this month forced produce giant Dole to temporarily shut down production plants in North America and halt food shipments to grocery stores, according to a company memo about the incident obtained by CNN.
The previously unreported hack — which a source familiar with the incident said involved ransomware — led some shoppers to complain on Facebook in recent days that store shelves were missing Dole-made salad kits.
"Dole Food Company is in the midst of a Cyber Attack and have subsequently shut down our systems throughout North America," Emanuel Lazopoulos, senior vice president at Dole's Fresh Vegetables division, said in a February 10 memo to retailers.
Dole has four processing plants in the United States and employs more than 3,000 people, according to a recent company press release.
Checkout latest world news below links :
World News
||
Latest News
||
U.S. News
Source link