U.S. News
House committee chairmen double down on Manhattan DA oversight efforts | CNN Politics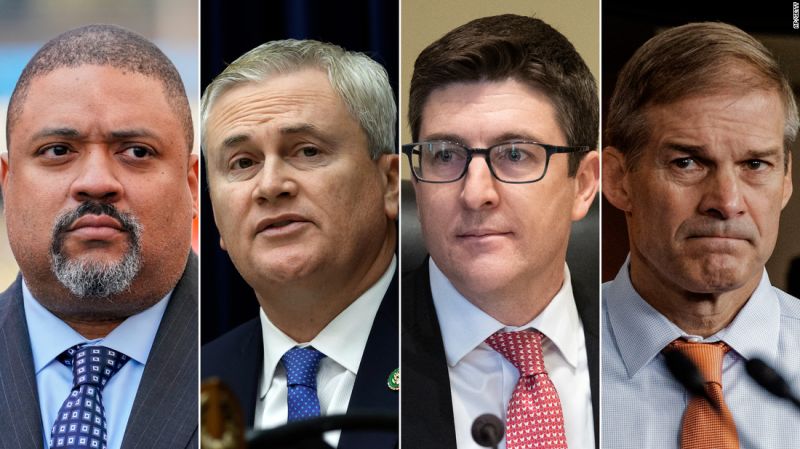 Washington
CNN
 — 

The chairmen of three House committees sent a letter Saturday to the Manhattan district attorney leading the probe into Donald Trump, doubling down on their efforts to intervene in the hush money investigation ahead of possible criminal charges against the former president.
The letter from the chairmen of the House Judiciary, Oversight and Administration committees to Manhattan District Attorney Alvin Bragg pushed back on his case against appearing for a transcribed interview with their panels and argued that they now feel compelled to consider whether Congress should take legislative action on three separate issues "to protect former and/or current Presidents from politically motivated prosecutions by state and local officials."
The letter – written by Republicans Jim Jordan, James Comer and Bryan Steil – comes after they initially called on Bragg earlier this week to testify before their committees and criticized his investigation into Trump as an "unprecedented abuse of prosecutorial authority."
Bragg is investigating Trump's alleged role in a scheme to pay adult-film star Stormy Daniels before the 2016 presidential election to keep silent about an alleged affair with Trump a decade earlier. Trump has denied having an affair with Daniels.
Bragg's general counsel had initially responded on Thursday, telling the House committee leaders that they lacked a "legitimate basis for congressional inquiry" and noting that their requests for information "only came after Donald Trump created a false expectation that he would be arrested the next day and his lawyers reportedly urged you to intervene."
The chairmen claimed in Saturday's letter that Bragg had not disputed "the central allegations at issue" — that his office is under "political pressure from left-wing activists and former prosecutors" and is "planning to use an alleged federal campaign finance violation, previously declined by federal prosecutors, as a vehicle to extend the statute of limitations on an otherwise misdemeanor offense and indict for the first time in history a former President of the United States."
They argued that the potential criminal indictment of a former president and 2024 presidential candidate "implicates substantial federal interests, particularly in a jurisdiction where trial-level judges also are popularly elected."
Bragg responded to the chairmen's letter Saturday evening on Twitter, writing, "We evaluate cases in our jurisdiction based on the facts, the law, and the evidence. It is not appropriate for Congress to interfere with pending local investigations. This unprecedented inquiry by federal elected officials into an ongoing matter serves only to hinder, disrupt and undermine the legitimate work of our dedicated prosecutors. As always, we will continue to follow the facts and be guided by the rule of law in everything we do."
Going further than they have before, Jordan, Comer and Steil wrote in the letter that they may choose to consider three areas of legislation, including broadening "the preemption provision in the Federal Election Campaign Act," adding that such a measure could "have the effect of better delineating the prosecutorial authorities of federal and local officials in this area and blocking the selective or politicized enforcement by state and local prosecutors of campaign finance restrictions pertaining to federal elections."
The second piece of legislation they may consider regards tying federal funds to improved metrics for public safety funds — a measure they say would be prompted by allegations that the Manhattan DA is using public safety funds for his investigation into Trump.
They also may consider a measure overhauling the authorities of special counsels and better delineating their relationships with other prosecuting entities, they said, arguing that the circumstances of the Trump investigation "stem, in part, from Special Counsel Mueller's investigation."
This story has been updated with a response from Manhattan District Attorney Alvin Bragg.

Checkout latest world news below links :
World News || Latest News || U.S. News

Source link