U.S. News
Giuliani subpoenaed amid special counsel investigation into Trump's fundraising | CNN Politics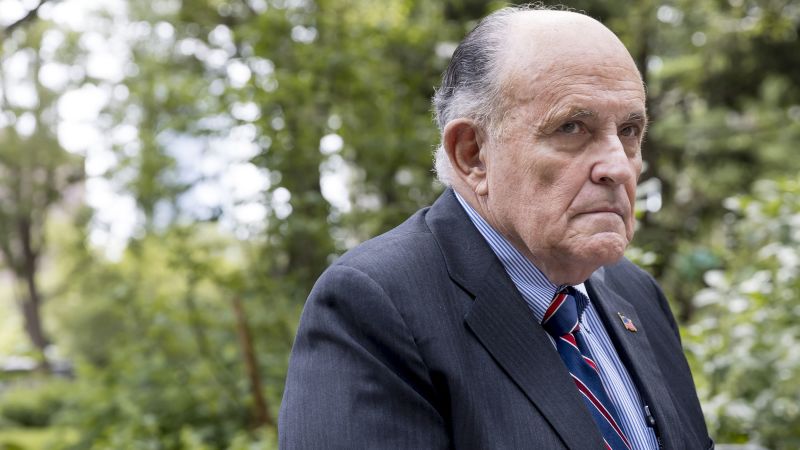 Washington
CNN
 — 

Special counsel Jack Smith's team has subpoenaed Donald Trump's former attorney Rudy Giuliani, asking him to turn over records to a federal grand jury as part of an investigation into the former president's fundraising following the 2020 election, according to a person familiar with the subpoena.
The subpoena, which was sent more than a month ago and has not been previously reported, requests documents from Giuliani about payments he received around the 2020 election, when Giuliani filed numerous lawsuits on Trump's behalf contesting the election results, the person said.
Prosecutors have also subpoenaed other witnesses who are close to Trump, asking specifically for documents related to disbursements from the Save America PAC, Trump's primary fundraising operation set up shortly after the 2020 election, according to other sources with insight into the probe.
Taken together, the subpoenas demonstrate prosecutors' growing interest in following the money after the 2020 election as part of their sweeping criminal probe around Trump's efforts to overturn his loss of the presidency.
Save America was part of broader fundraising efforts by Trump and the Republican Party that raised more than $250 million after the election. Since then, the political action committee has compensated several lawyers who now represent Trump and his allies in January 6-related investigations.
The subpoenas to other witnesses in addition to Giuliani were sent in late December, according to the other sources.
The information the prosecutors seek is still being collected, the sources said. With Giuliani, the investigators have prioritized getting financial information from him, one person said.
The inquiry to Giuliani came from David Rody, a former top prosecutor in New York who specializes in gang and conspiracy cases and is assisting Smith with examining a broader criminal conspiracy after the election, according to some of the sources.
In response to being informed of CNN's reporting on Giuliani's subpoena and asked for a statement, Ted Goodman, his adviser, said, "The mayor is unaware of the specific claims by this so-called 'anonymous source,' and therefore is not in position to respond."
A spokesman for the special counsel's office declined to comment.
A representative for Trump has not responded to a request for comment.
CNN previously reported the Justice Department in September subpoenaed witnesses for financial details about the Save America PAC, and that a portion of Smith's office would dig into possible financial and campaign contribution crimes. The Giuliani subpoena and other December subpoenas represent a new round of inquiry, now from Smith's office, which took shape over the holidays.
After the election, Trump and the Republican National Committee raked in millions of dollars as they told supporters the election was being stolen, marketing the fundraising effort as election defense. At the time, some officials working on the fundraising effort knew that Joe Biden's electoral win was legitimate, despite Trump's insistence it was fraudulent, the House Select Committee found in its own investigation.
Smith's office hasn't brought any charges. Federal prosecutors in New York previously investigated Giuliani for activities in Ukraine during the Trump presidency. While that led to prosecutors accessing his electronic devices, they declined to charge him with any crime.
Giuliani is likely to be a central figure in any probe of Trump's close political circles after the election. After serving as Trump's private attorney during the Mueller investigation into Russian interference in the 2016 election, the former chief federal prosecutor and mayor of Manhattan dove into Trump's attempts to claim electoral victory. He unsuccessfully argued a case before a federal judge in Pennsylvania – where Trump sought to throw out the popular vote – and connected with state lawmakers as he tried to convince them of election fraud.
In the weeks after the 2020 election, Giuliani also held freewheeling press conferences, repeating allegations that he never could prove.
A Trump campaign attorney told the January 6 committee that Giuliani had asked to be paid $20,000 a day for his post-election work for Trump. The campaign declined to pay him that, according to election and House select committee public records.
Subpoenas issued last year to a wide swath of Trump-connected witnesses also asked questions about the Save America PAC, including how its funds were used in 2020 and early 2021, and about Giuliani, as CNN previously reported.
Giuliani hasn't personally received distributions directly from the PAC, according to campaign finance records. Yet his company, Giuliani Partners, was paid $63,400 for travel reimbursement by Trump's campaign committee in mid-December 2020. Giuliani's New York-based security company also received a $76,500 payment from another Trump-backed entity, the Make America Great Again PAC, for travel expenses, in early February 2021, according to the records.
In addition to the financial inquiry, Smith's office is also pursuing possible criminal cases around the Trump campaign's use of fake electors in battleground states and the pressure on Congress and then-Vice President Mike Pence to overturn the election's result. In all of those schemes, Giuliani was a central player.
In his House select committee testimony, Giuliani explained that his team working with Trump pivoted to focus on state legislatures that could block the election result after his attempts failed in the courts. The New York state bar suspended him from practicing law because of his 2020 election efforts, and he's also facing an attorney discipline proceeding in Washington, DC.
He declined to answer some questions the House asked about his work for Trump after the election, citing attorney confidentiality. Giuliani could try to make similar claims in the federal investigation, though the Justice Department has legal mechanisms in which it can try to overcome witness refusals to answer questions.
Checkout latest world news below links :
World News
||
Latest News
||
U.S. News
Source link