U.S. News
Fox executives should be fired for 'proven misconduct' exposed in Dominion lawsuit, renowned Yale professor says | CNN Business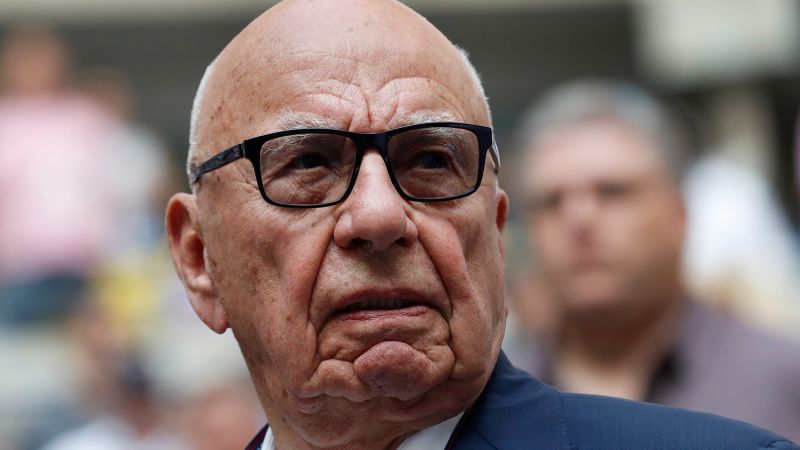 New York
CNN
 — 

The Fox Corporation board has a huge mess on its hands — and it needs to work quickly to clean it up.
That's according to Jeffrey A Sonnenfeld, the renowned professor and senior associate dean for leadership studies at the Yale School of Management. Sonnenfeld told CNN on Tuesday that the dramatic revelations brought to light by Dominion Voting Systems' $1.6 billion defamation lawsuit against Fox News — showing it knowingly peddled election lies to its audience — are cause for serious concern that could threaten the parent company.
The filings, he said, showed members of the Fox Corp board had failed to act to prevent misconduct by Fox executives, and warned the disclosures will result in "likely" shareholder lawsuits, a possible SEC investigation into "deceptive practices of the board for conspiring to conceal known misconduct with material adverse impact," and the potential loss of insurance protection for the company's directors and officers.
Sonnenfeld, who has advised hundreds of CEOs and recent US presidents, said the board should take immediate action, including the removal of high-ranking personnel, such as Fox News chief executive Suzanne Scott, from their roles.
A version of this article first appeared in the "Reliable Sources" newsletter. Sign up for the daily digest chronicling the evolving media landscape here.
"The board has a duty to remove such officials for proven misconduct," Sonnenfeld told CNN by email, explaining that peddling known election lies — as "acknowledged in the company's own sworn testimony" — damaged the outlet's corporate reputation.
"If the board does not act appropriately," Sonnenfeld added, "it shows a failure of management oversight and jeopardizes their own directors and officers insurance protection with such gross conscious failure of diligent management oversight."
A lack of action by the board could result in additional legal exposure to Fox, Sonnenfeld warned. "Murdoch 'only' controls 39% of the company so any of the 61% of the shareholders can sue for misconduct, failure of management oversight, and conscious inadequate diligence," he explained.
In the latest Dominion legal filing, it was revealed that behind the scenes, Fox Corp board member Paul Ryan pleaded with Rupert and Lachlan Murdoch to prevent Trump's bogus election claims from being broadcast to Fox News' audience of millions. The former House speaker said that Fox News should "move on from Donald Trump" and "stop spouting election lies."
But Sonnenfeld said Ryan's actions were not enough. In fact, he said Ryan's "quiet dissent" was "cowardly, ineffective, and immoral," and pointed out that board members have certain responsibilities under corporate governance law in Delaware, where Fox is incorporated.
"The duties of loyalty and diligence are NOT to the management but to the owners," Sonnenfeld said. "By silently going along with misconduct about which they are aware, all directors, including Paul Ryan, are guilty of complicity through their complacency."
Sonnenfeld said that if he were advising Fox's board members, he would recommend an immediate investigation into "how far, wide, and deep the misconduct ran – with an outside, independent law firm reviewing the sworn testimony, now public, and conducting follow-ups." Sonnenfeld said that Viet D Dinh, Fox's chief legal and policy officer, and Kevin Lord, chief human resources officer, "should share whistleblower complaints and exit interviews with the board."
"The investigation should be completed with a report to the shareholders by May 1 indicating what disciplinary actions will be taken," he said. Sonnenfeld also said the directors and officers insurers "should be contacted to see" if board members "are still protected."
Nell Minow, vice chair at ValueEdge Advisors and expert on corporate governance, told CNN she agreed with everything that Sonnenfeld said. Minow said that she would tell concerned board members to "contact their largest shareholders to hear their suggestions for new independent directors."
Minow also recommended Fox News immediately move to settle its case with Dominion, "even if it means changing the name from News to Not News and daily free ads 10 times a day in prime time for 10 years about the integrity and reliability of Dominion."
Spokespeople for Fox Corp and Fox News, which have claimed Dominion has cherrypicked quotes to use against them, did not respond to requests for comment. Fox News has previously said it was "proud" of its 2020 election coverage, which is a statement that only grows more remarkable by the day.
Checkout latest world news below links :
World News
||
Latest News
||
U.S. News
Source link