U.S. News
Fact check: The various flavors of dishonesty that GOP candidates used to promote 2020 election lies this month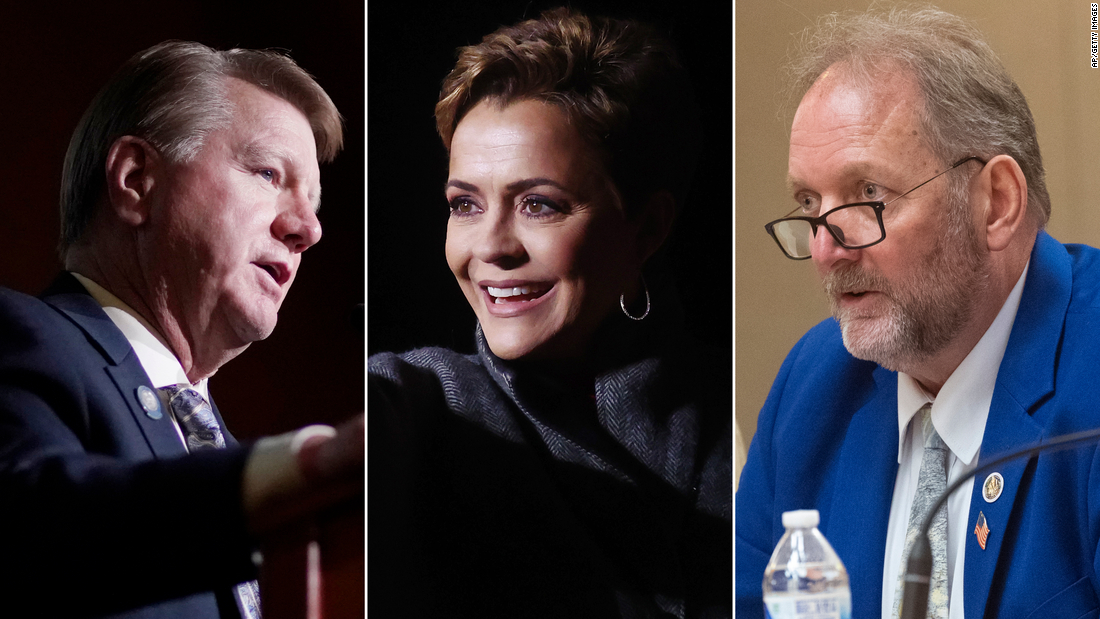 Some of these candidates are just plain lying that the 2020 election was stolen from former President Donald Trump or was rife with massive fraud. Others are professing to be merely asking questions. Still others are walking an evasive tightrope, trying to avoid angering Trump and his devotees while also not saying anything explicitly inaccurate.
All of that is dishonesty.
South Carolina: Trump-endorsed candidate launches congressional campaign with election lie
Arrington, who lost a 2018 race for this seat after ousting another Republican incumbent in the primary, even assigned partial blame to Mace and her fellow members of Congress for the January 6, 2021, riot at the US Capitol, which was perpetrated by a mob of Trump supporters.
Wisconsin: Promoter of election conspiracy theories announces run for governor
The winner of the Republican primary will face incumbent Democratic Gov. Tony Evers.
Arizona: Trump-endorsed candidate for governor continues to make dishonest claims
There wasn't. And her "7.1 million voter registrations" figure was highly misleading.
Texas: Survey finds few Republican congressional candidates willing to say Biden won legitimately
"Of the 86 with discernible stances, at least 42 have said outright that the 2020 election was stolen, called the results illegitimate or said they would have voted not to certify," the Chronicle reported. "Another 11 candidates have said there was enough fraud or irregularities to cast doubt on the results of the election."
People running in "nearly every" competitive Texas race have "raised questions about the validity of the 2020 election or said outright that it was stolen," the Chronicle reported — and of the five Republican congressional incumbents who voted to certify the election and are now seeking re-election, four are facing primary challengers who have denounced that certification vote.
Colorado: Senate candidate proclaims 'Trump won this'
Nevada: Secretary of State candidate casts doubt on 'decades' of elections
At a debate earlier this month, Marchant vaguely and falsely argued that the conspiracies started well before 2020.
Other candidates didn't sound too different.
Georgia: Another Trump-endorsed governor candidate makes false claims
At a luncheon last week, Perdue added a false claim about Georgia's 2021 Senate runoffs, in which Democrats won control of the Senate when Perdue was defeated by Democrat Jon Ossoff and fellow Republican Sen. Kelly Loeffler was defeated by Democrat Raphael Warnock.
As the Ledger-Enquirer noted, Perdue's "235,000 people" claim wasn't true.
There are various reasons why a Georgia voter could have voted in the January runoffs but not in the November general election. Some longtime Georgia residents simply turned 18 between Election Day in November 2020 and Election Day in January 2021, making them newly eligible to vote in the runoffs. And it's easy to think of various other possibilities: A reliable Georgia voter could have planned to vote on November's Election Day as usual, missed their chance because of a medical or work issue that day, and then resumed voting in the January runoffs; another resident could have been politically apathetic but persuaded to vote in the critical runoffs by a persistent friend or by one of the parties' furious turnout drives.
And there is nothing improper about a new resident of the state voting in a runoff after arriving too late to register to vote in the general election.
The office of Georgia's Republican secretary of state, Brad Raffensperger, told CNN last week that there were 103,738 voters added to the Georgia registration rolls from the day after the end of the registration period for the 2020 election, in early October, to the end of the registration period for the 2021 runoffs, in early December.
This story has been updated to add additional comments from Rebecca Kleefisch about the 2020 election in Wisconsin.

Checkout latest world news below links :
World News || Latest News || U.S. News

Source link