U.S. News
Death toll from explosion at Pennsylvania candy factory climbs to 3 as hope of finding more survivors wanes | CNN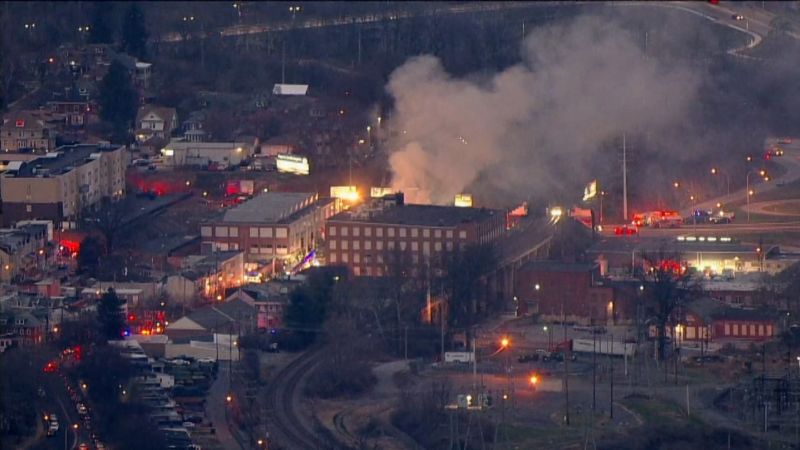 CNN
 — 

At least three people are dead and four are unaccounted for following an explosion at a candy factory in eastern Pennsylvania on Friday, and hope of finding more survivors is waning, according to local officials.
The explosion occurred at the R.M. Palmer Co. facility in West Reading just before 5 p.m., West Reading Police Chief Wayne Holben said in a news conference on Friday night. The cause for the explosion is unknown and remains under investigation, he said.
While officials believe neighboring buildings are still structurally sound, Holben said the scene is too dangerous for the public to get near as crews continue to look through the debris Saturday.
"Due to the violence of the explosion and the amount of time that has passed, the chance of finding survivors is decreasing rapidly," West Reading Fire Chief Chad Moyer said Saturday night. "However, please be assured that our primary goal is accounting for all missing individuals and reuniting them with their loved ones."
At a news conference Saturday, Holben corrected earlier information that had been released by the Pennsylvania Emergency Management Agency claiming five people had died. He also said one person had been rescued alive.
A spokesperson for the Reading Hospital told CNN Saturday that at least eight individuals were hospitalized following the explosion. Of those, one patient had been transferred, two are in fair condition, and five have been discharged.
The hospital sent six ambulances – including their mass casualty incident vehicle – to the scene following the explosion.
The factory building is leveled and there was significant damage from the explosion, according to West Reading Mayor Samantha Kaag.
"There is not too much to salvage from it," Kaag said.
R.M. Palmer said in a statement Saturday that it was "devastated by the tragic events."
"We have lost close friends and colleagues, and our thoughts and prayers are with the families and friends of all who have been impacted," the company wrote on Facebook.
R.M. Palmer said it is "anxious" to be in touch with employees and their families, but the company's email, phones, and other communication systems are down.
"Therefore we are relying currently on first responders and disaster recovery organizations to provide any available information to impacted families," according to the statement. "We will be providing additional information and making contact with employees, impacted families, and the community as soon as possible."
Kaag announced a state of emergency in response to the explosion at a Saturday news conference.
"This morning at approximately 1 a.m., I issued a declaration of emergency to gather resources for the tragedy that happened with our home," Kaag said. "This declaration is strictly to access more resources for emergency services and first responders on scene. Search and rescue efforts continue to push forward."
"We are doing our best to control the flow of information and disseminate it as quickly as possible," she added.
The mayor said in a Facebook post on Saturday that the explosion "has shaken our community."
"Our deepest sympathies are with the families and friends of those who have been affected," she said.
"I hope that the remaining victims are found safe, and that the community can continue to provide support to those affected by this tragedy in the coming days."
Kaag also asked for "continued cooperation from the public to avoid the area as emergency response workers continue to traverse the difficult task of recovery & assessing damage that will continue throughout the weekend."
"Please keep them in your prayers as they work tirelessly throughout the night," she added.
One local resident told CNN on Saturday that the deadly blast first sounded like an earthquake or someone driving into a nearby home.
Speaking to CNN's Danny Freeman, Chris Suglia said he ran to his window to see what had caused the commotion Friday evening.
"It was a huge explosion around 5 o'clock, I'm about two blocks away from this location, it almost sounded like a vehicle of some sort ran into the house," he said. "The house shook and the windows shook, and it was you know, pretty crazy."
Suglia said after hearing the explosion, he went outside, where neighbors were also trying to figure out what happened. He said he was devastated to see the flames, which he described immediately following the explosion as "nonstop." Suglia said he watched as firefighters battled to fight the blaze.
"We just all came together as a community and asked each other, 'is everyone OK?' you know, 'is everyone alright?'"
Suglia said R.M. Palmer has long been a major part of the local community.
The candy company launched in 1948 and has been at its current location since 1959, according to the company's website. The company manufactures seasonal chocolate novelties, like chocolate bunnies for Easter.
"It's sad. It's devastating. I mean nobody expects to go to work and not come home you know, especially for something like that," Suglia said.
West Reading is about 50 miles northwest of Philadelphia.
CNN has reached out to the Pennsylvania Emergency Management Agency for further details on the casualties. Officials are still investigating the cause of the explosion.
Checkout latest world news below links :
World News
||
Latest News
||
U.S. News
Source link