U.S. News
Chicago mayoral candidates Johnson and Vallas clash over policing in debate | CNN Politics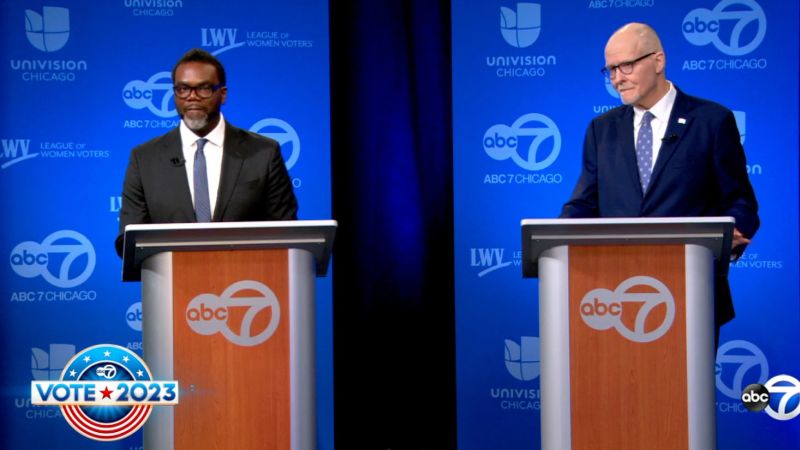 CNN
 — 

Chicago mayoral candidates sparred over public safety in a televised debate Thursday night ahead of the April 4 runoff, which has become the latest big-city mayoral race to test voters' views on crime and policing.
Paul Vallas accused progressive rival Brandon Johnson of backing the "defund the police" movement, while Johnson charged that Vallas' plans to ramp up hiring of police officers would be slow and unrealistic.
Vallas and Johnson, both of whom say they are Democrats and are competing in a nonpartisan contest, advanced to the runoff after the February 28 primary, when incumbent Lori Lightfoot finished third, dashing her reelection hopes.
Chicago is an overwhelmingly Democratic city: 83% of its voters backed President Joe Biden in the 2020 election. But Vallas and Johnson are on opposite sides of the party's divide over police policies.
Vallas, a more conservative former public schools chief backed by the Chicago Fraternal Order of Police, has focused his campaign on a pro-police, tough-on-crime message. He has vowed to stem an exodus of city police officers and put more cops on Chicago Transit Authority buses and trains.
Johnson, a progressive Cook County commissioner who is endorsed by the Chicago Teachers Union, has at times backed the "defund the police" movement. He now says he would not cut police spending but would seek to invest more in impoverished areas.
In Thursday night's debate, broadcast on ABC 7, Vallas repeatedly highlighted Johnson's previous comments in which he had broadly backed shifting public dollars away from policing and toward community-based programs.
"I'm not going to defund the police, and you know that. You know that. I have passed multi-billion dollar budgets, over and over again," Johnson said.
Johnson has said he would promote 200 new detectives to solve more violent crimes. He also said he would seek to crack down on gun violence by more vigorously enforcing "red flag" laws, which allow courts to temporarily seize firearms from anyone believed to be a danger to themselves or others.
"The best way to engender confidence in public safety, you've got to catch people," Johnson said.
Vallas said he would rapidly fill thousands of police vacancies, and put those officers on public transit and in communities.
"There is no substitute for returning to community-based policing," Vallas said. "You can't have confidence in the safety of public transportation when there are not police officers at the platforms and police officers at the stations."
The race has focused largely on crime. Violence in the city spiked in 2020 and 2021. And though shootings and murders have decreased since then, other crimes – including theft, car-jacking, robberies and burglaries – increased last year, according to the Chicago Police Department's 2022 year-end report.
In their previous debate, Vallas had largely sought to remain above the fray while Johnson went on the attack. But on Thursday night – in a move that portended a more contentious turn in a race with at least three more debates and three candidate forums remaining – Vallas went on the attack in the debate's opening minutes.
Vallas criticized Johnson's proposals to increase several taxes, including hotel and jet fuel taxes, a $4-per-head business tax and a higher sales tax on high-end properties.
Johnson responded that Vallas is proposing spending increases on public safety without detailing how he would pay for them.
"You can't run a multi-billion dollar budget off of bake sales," Johnson said.
The two also butted heads over school closures during the Covid-19 pandemic and the role schools play in combating crime.
Vallas said he would seek to open public schools to students during periods they would typically be closed – including weekends, summers and holidays – to "give kids a safe place to go."
He also lambasted Johnson, who is a teacher and is backed by a union that publicly fought with Lightfoot over when to return to in-person learning, for school shutdowns.
Fifteen months of closures, Vallas said, is "not investing in people."
Johnson said that Vallas was using a "Republican talking point" in criticizing school closures during the pandemic.
"That's a part of your party," Johnson said, showing how he has tried to cast Vallas as too conservative for the overwhelmingly blue city.
Biden and other top Democratic officials, including Illinois Sens. Dick Durbin and Tammy Duckworth and Gov. J.B. Pritzker, have stayed out of the runoff.
Vermont Independent Sen. Bernie Sanders, Massachusetts Sen. Elizabeth Warren and South Carolina Rep. Jim Clyburn are among the rare national voices to wade into the mayoral race, all endorsing Johnson. In a statement this week, Sanders said Johnson "has been a champion for working families in Chicago."
Vallas has influential local endorsements, including several city aldermen and former Illinois Secretary of State Jesse White, who four times was the top Democratic statewide vote-getter. Meanwhile, Toni Preckwinkle, the Cook County board president, endorsed Johnson.
Checkout latest world news below links :
World News
||
Latest News
||
U.S. News
Source link