U.S. News
As a storm system barrels across Central US with tornadoes, flooding and snow, another threatens West Coast with more floods | CNN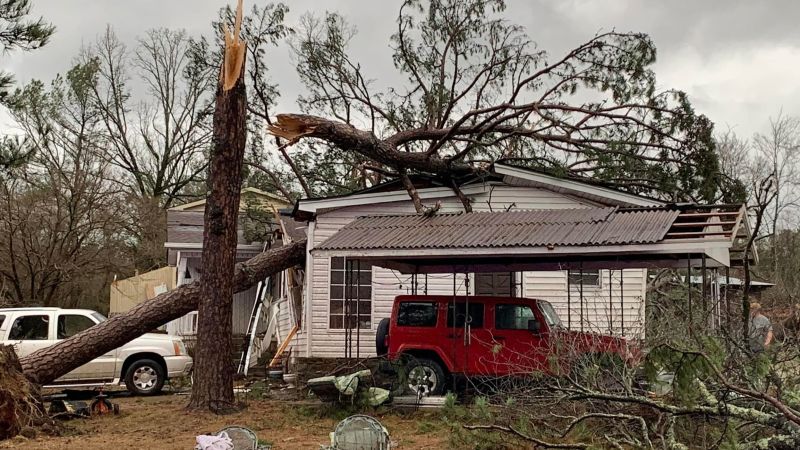 CNN
 — 

Two major storm systems are threatening the US this week.
A massive, multi-hazard storm was barreling east across the country Tuesday, impacting much of the central and eastern US and threatening the South with strong tornadoes and flooding and parts of the Plains and Upper Midwest with ice and snow.
And as California recovers from the weekend's deadly floods, a second storm system is coming onshore that's threatening the state with powerful winds and more flooding, triggered by both the expected rainfall and the state's already wet soil.
"Major wind and rain impacts are EXPECTED tomorrow into Thursday. Prepare now for flooding, downed trees and power outages," the National Weather Service in San Francisco warned.
Meanwhile, the storm system that's tracking east is pulling moisture from the Gulf of Mexico into the South, where above-normal temperatures have set the stage for severe thunderstorms.
By Tuesday evening, several areas were reporting record-high temperatures. Mobile, Alabama, tied its daily high temperature for January 3 with a high of 79 degrees Fahrenheit, a record set in 1989. And Pensacola, Florida, broke its daily high record for January 3 with 81 degrees Fahrenheit, beating the prior record of 79 set three years ago.
Nearly 30 million people are under some sort of severe weather threat in the South, with the highest risk near the Gulf Coast. Southern Mississippi and Alabama were under a level 3 out of 5 "enhanced" risk for severe weather. Places like Montgomery, Mobile and Tuscaloosa could all see strong storms. A level 2 out of 5 "slight" risk of severe weather covered New Orleans, Atlanta, Birmingham and Baton Rouge.
On Tuesday evening, the weather service said it was monitoring two areas of thunderstorms that posed threats of wind and hail to the New Orleans area.
Tornado watches covered much of southern Alabama and Georgia Tuesday evening with additional storms developing in Louisiana and Mississippi.
Multiple waves of severe weather are possible in this region through the day, the Storm Prediction Center warned, "with the risk expected to persist well into the night across much of the area."
Track the storm: Radar, weather alerts, travel delays and more
Strong tornadoes, large hail and wind gusts topping 70 mph are possible in the most extreme thunderstorms.
"Severe convection with all three modes (tornadoes, hail and damaging winds) is likely," the National Weather Service office in Mobile warned.
Heavy rainfall associated with these thunderstorms could also trigger significant flash flooding across the South. Southern Alabama and western Georgia are under a level 3 out of 4 "moderate" risk of excessive rainfall. Portions of Southeast Louisiana, Mississippi, Alabama, Tennessee and Georgia are also under a level 2 out of 4 "slight" risk of excessive rainfall.
Rainfall totals could reach 2 to 4 inches across the South through Wednesday, while some areas could see up to 6 inches.
Since Monday night there have already been several tornado reports. One of the tornadoes that was reported was in Jonesboro, Louisiana, where large trees were knocked downed and damaged. The other was reported in Haywood, Tennessee.
Damage was also reported after a tornado in Jessieville, Arkansas. The National Weather Service confirmed there was an EF-1 tornado in the area that caused damage to several homes in town and the buildings of a local school.
"Damage was sustained to areas of (a) school due to trees, and power lines. The school was currently in session at the time, however all students have been accounted for and reports of no injury," the Garland County Sheriff's Office said in a release.
In Jackson Parish, Louisiana, residents were told to stay off the roads as the severe weather toppled trees and covered roadways with water. Jackson Parish Sheriff's Department said tarps will be given out to those whose homes are damaged.
"We are trying to work to get to houses that are damaged and clear roads," the Sheriff's Department said.
As the risk persists, forecasters have been concerned about tornadoes forming at night, according to Brad Bryant of the National Weather Service office in Shreveport, Louisiana.
"You can't see them coming. A lot of the time, people are asleep and not paying attention to the weather," Bryant said. "Many areas around here don't have good cell phone coverage and storm alerts are not as effective in those areas, especially once people are asleep."
Anyone in areas at risk of tornadoes should seek safe shelter immediately, Bryant said.
"If you wait around for a warning to be issued, it is too late," Bryant said Monday. "You need to have a safe shelter plan in place in advance of these storms."
Damage reports were also coming from across northern Louisiana, including several transmission highline towers being damaged in the Haile community in Marion. One of the towers was knocked over and several others are damaged, according to the National Weather Service in Shreveport.
A wind gust of 81 mph was reported in Adair, Oklahoma – a gust equivalent to a Category 1 hurricane.
As the South braced for floods and tornadoes, the storm brought snow, sleet and freezing rain across the Plains and Upper Midwest on Tuesday, significantly impacting travel.
Over 15 million people were under winter weather alerts from the Plains to the Great Lakes.
Parts of Minnesota saw at least 10 inches of snow while portions of Nebraska and South Dakota recorded more than a foot of snow by Tuesday evening. Lake Andes, South Dakota, recorded 27 inches of snow by the evening, according to the weather service.
National Weather Service Sioux Falls SD/Twitter
Roads were partially covered with ice and snow north of the Interstate 80 in Omaha, Nebraska, the weather service said, adding conditions "grow worse as you approach South Dakota."
The weather service in Sioux Falls wrote on Tuesday evening that while the rate of snowfall had slowed, an additional two inches of snow were possible for parts of southeastern South Dakota and northwestern Iowa, while parts of Minnesota could see up to four additional inches of snow.
"Winds speeds have decreased from previous forecasts, however blowing and drifting snow continue to be a problem, especially in rural areas," the weather service said. "Many roads are drifted over with multiple vehicles stranded."
In Wyoming, where some highways closed due to weather, transportation officials warned that as roads began to reopen, residents should be cautious for black ice and blowing or drifting snow.
Weather forecasters recommended that anyone needing to go out in the storm take caution. A vehicle winter emergency kit includes snacks and water, a battery-powered weather radio, flashlights and batteries, a first aid kit, a shovel and ice scraper, a jumper cable and other items.

Checkout latest world news below links :
World News || Latest News || U.S. News

Source link