U.S. News
23 face domestic terrorism charges after arrests in 'Cop City' protests at planned police training site in Atlanta | CNN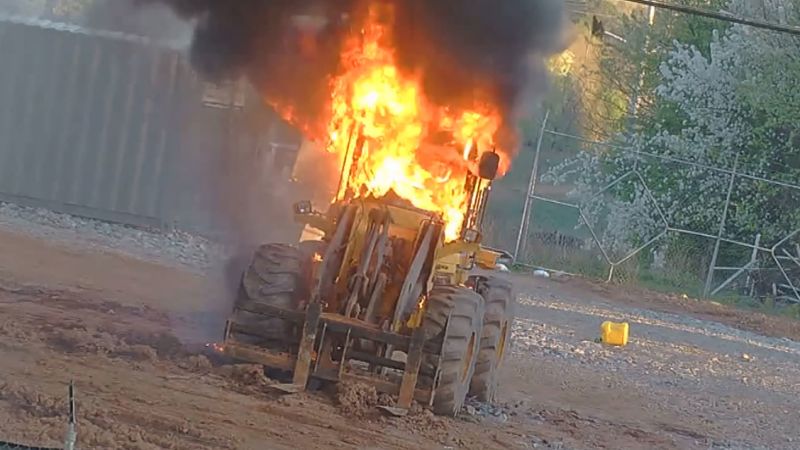 Atlanta
CNN
 — 

Police say at least 23 people will face domestic terrorism charges after they were arrested Sunday amid violent protests at the site of a planned law enforcement training facility in Atlanta dubbed "Cop City" by opponents who claim it would propagate militarized policing and harm the environment.
Authorities said "violent agitators" attacked Atlanta police officers and construction equipment with Molotov cocktails, commercial-grade fireworks, bricks and large rocks.
Footage from the area shows a construction tractor was set ablaze and smoke billowing into the air. At least four other fires burned in and around the fenced site as people dressed in black swarmed both sides of a police barricade before additional officers arrived, surveillance videos released by the Atlanta Police Department show.
Some 35 people were detained. Only two of those arrested were from Georgia, while police say the rest hail from places as far as Maine and Arizona. One person was from Canada and another from France, according to a list provided Monday by the Atlanta Police Department, which said the Georgia Bureau of Investigation would be prosecuting the charges.
The incident came at the start of what protesters are calling a weeklong "mass mobilization" – with Thursday labeled a "National Day of Action Against Police Terror" – at the forested site slated to host the $90 million, 85-acre law enforcement facility. The mobilization comes after officers in January fatally shot a protester at the construction zone during an encounter where a state trooper was wounded. The events are part of a steady stream of protests where activists, some of whom have camped in the forest surrounding the planned facility, have been arrested and charged with domestic terrorism.
"This is not a protest, this criminal activity and the charges that will be brought forth will show that," Atlanta Police Chief Darin Schierbaum said at a Sunday news conference. "When you throw commercial-grade fireworks, when you throw Molotov cocktails, large rocks, a number of items at officers – your only intent is to harm."
"Appropriate charges" are being coordinated with DeKalb County prosecutors and the Georgia Attorney General's office, Schierbaum said at the news conference, adding no officers were hurt.
Police, in a statement, said officers "exercised restraint and used non-lethal" force to make the arrests.
Activist Kamau Franklin, however, called the arrests "indiscriminate" and said the law enforcement response "further demonstrates policies of police aggression and the tactical response of over-policing." Opponents of the training site have said they fear police will be taught there how to quash social justice movements.
"The language being used by police, calling those arrested 'outside agitators,' is meant to separate protesters and meant to criminalize and detach a movement from its homegrown origins," said Franklin, director of Community Movement Builders, part of a coalition of activists protesting at the site.
Most who attended were from in and around Atlanta, he told CNN.
Police this year have launched at least two "clearing operations" at the police facility site, including one in which officers killed 26-year-old protester Manuel Esteban Paez Terán, exacerbating tensions with opponents like the "Stop Cop City" group. Some arrested last year at the site were charged with domestic terrorism.
Plans to build the facility have met with fierce resistance following monthslong demonstrations against police brutality and racial injustice after the 2020 police killing of George Floyd in Minneapolis. Some in Atlanta say the announcement blindsided neighbors and the development process has been largely secretive, with limited input from those most directly impacted.
Others see the project as an environmental threat in a world facing the climate crisis, with Atlanta leaders having appeared previously to agree to preserve the swath of forest now set to be cleared for it. The city is committed to replacing trees cleared during construction, officials have said, and more than 200 acres around the facility will be protected green space, Democratic Mayor Andre Dickens has said.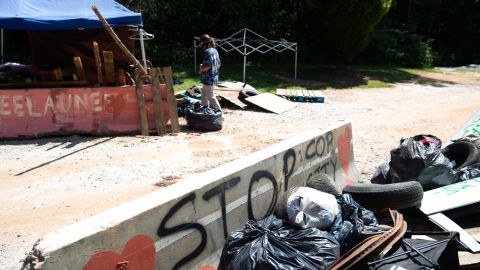 Dickens, who is Black, also backs the project's public safety priorities.
"The city of Atlanta has the most extensive training requirements in the Southeast," he said this year. "Our training includes vital areas like de-escalation training techniques, mental health, community-oriented policing, crisis intervention training, as well as civil rights history education.
"This training needs space, and that's exactly what this training center is going to offer."
After Sunday's clashes, Atlanta police will implement a "multi-layered strategy," including "reaction and arrest" as more protests are planned in coming days, it said in its statement late Sunday, adding it "asks for this week's protests to remain peaceful."
"When you throw commercial-grade fireworks, when you throw Molotov cocktails, large rocks, a number of items at officers, your only intent is to harm, and the charges are going to show that," Schierbaum said.
Republican Georgia Gov. Brian Kemp condemned "violent activists" in a statement Monday morning, saying they "chose destruction and vandalism over legitimate protest, yet again demonstrating the radical intent behind their actions."
"As we continue to respect peaceful protest, we will also continue to ensure safety in our communities," Kemp said. "We will not rest until those who use violence and intimidation for an extremist end are brought to full justice."
Activists, though, won't be deterred, Franklin told CNN on Monday.
"There will continue to be protests meant to express the outrage of the community," he said. "These are big-tent protests. We don't expect incidents beyond standard civil disobedience."
"We hope the police will act accordingly and not in violent ways that exacerbate the situation," he added.
Among those returning to the site this week is Belkis Terán, the mother of the protester killed earlier this year, who was known to fellow activists as "Tortuguita," or "Little Turtle."
She plans to visit Atlanta from her home in Panama to spread her child's ashes in the forest at the scene of the fatal shooting, she told CNN, adding, "Every day I pray to God for justice."

Checkout latest world news below links :
World News || Latest News || U.S. News

Source link