United Kingdom
Temperature related deaths on hot days have more than doubled in 32 years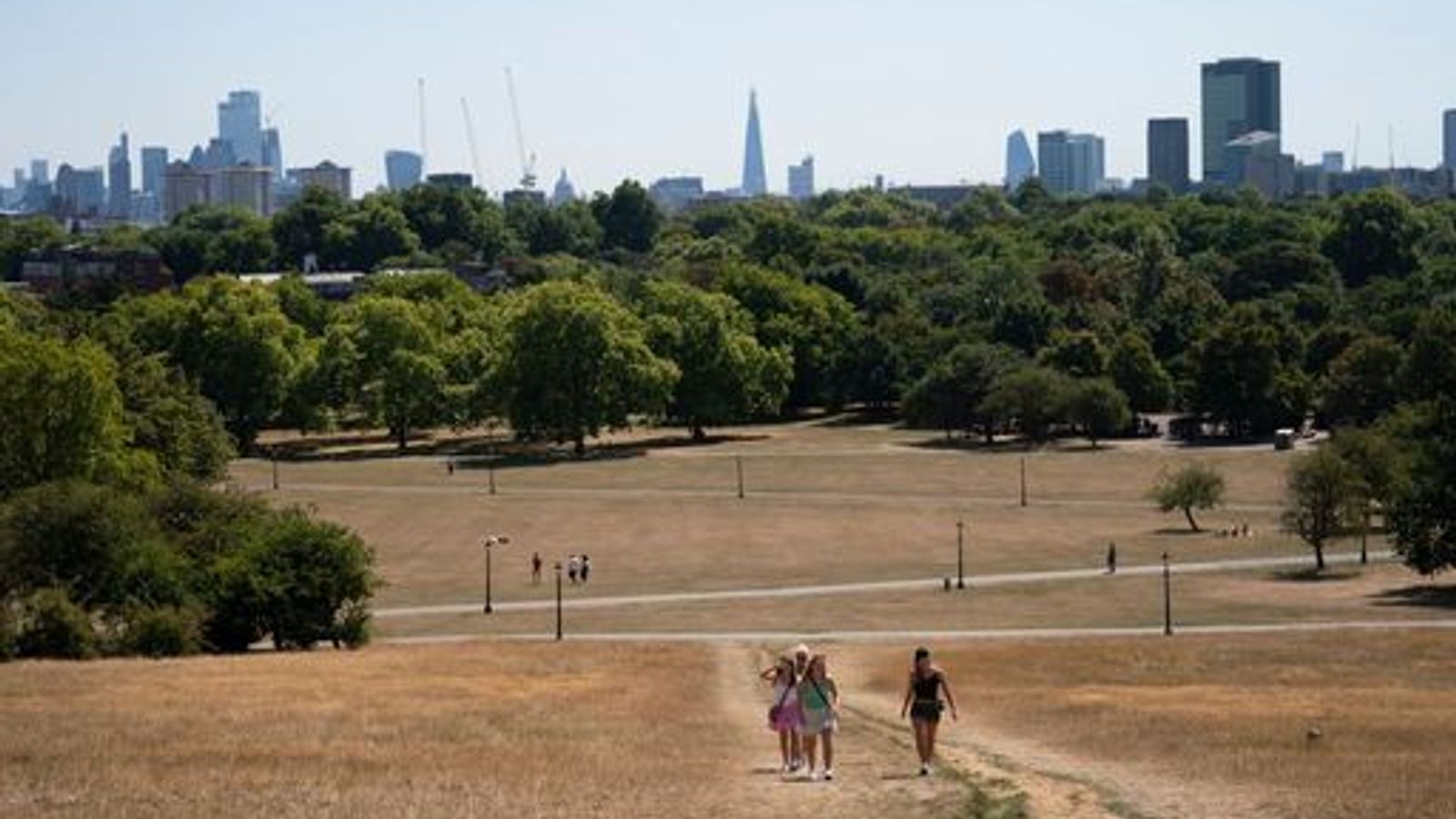 The number of temperature related deaths on hot days has more than doubled from 1990 to 2022, new figures reveal.
On a three-year average in 2022, there were 2,866 deaths on the hottest days – compared to 1,417 in 1990 – a 102% increase, according to the Office for National Statistics.
There were 4,507 temperature related deaths on the hottest days of 2022 specifically, which is the highest on record.
This was a dramatic increase on the previous year – with 79.7 heat related deaths per one million people compared to just 24.9 in 2021.
Last summer saw a prolonged heatwave, when parts of England endured a record-breaking 40°C.
A study found that 61,000 people died as a result of extreme heat in Europe between 20 May and 4 September 2022.
Italy had the highest number of heat related deaths, with 18,010, followed by Spain, with 11,324, and Germany, with 8,173.
The research by Spanish and French scientists put the UK figure at 3,469.
By contrast, the number of deaths from the cold in 2022 was the second lowest on record at 1,214 – compared to 20,163 in 2010.
Although deaths linked to cold weather outnumbered those associated with extreme heat, the ONS analysis shows an increase in heat related deaths in recent years.
But with rising temperatures resulting in fewer cold related deaths, there has been an overall fall in temperature related deaths in general, the figures show.
Between 2018 and 2022, London had the highest mortality risk from hot weather of 29C (84F) or more.
But being in the North East and North West of England carried the lowest risk of dying from hot weather.
The South East had the highest risk of death from cold temperatures – below 8C (46F) – over the same period, but all regions in England saw an increase in deaths from cold temperatures.
Both very hot and very cold conditions carried a high mortality risk in England and Wales, with conditions either below -5C (23F) or above 25C (77F) the most likely to result in deaths.
In England, people were least likely to die as a result of the temperature when it was between 9C (48F) and 22C (72F). In Wales the optimal range for low mortality risk was between 8C (46F) and 20C (68F).
Increase in temperatures means more deaths
This data from the ONS is looking at trends and patterns of extreme temperature on mortality.
The average UK temperature is rising and with that we can see the number of heat related deaths going up too.
This data does not give the cause of death. But we know that extremely high temperatures drive respiratory illnesses.
Heat waves often lead to poor air quality because of the amount of ozone and particulate pollution. That is particularly true of large cities like London.
Extreme heat waves are in the UK are still rare.
Extreme cold weather still accounts for more deaths, although the trend is downwards.
We saw last winter the devastating impact a bad flu season can have on an ageing population. That same population will be vulnerable to rising, extreme temperatures too.
Checkout latest world news below links :
World News
||
Latest News
||
U.S. News
Source link