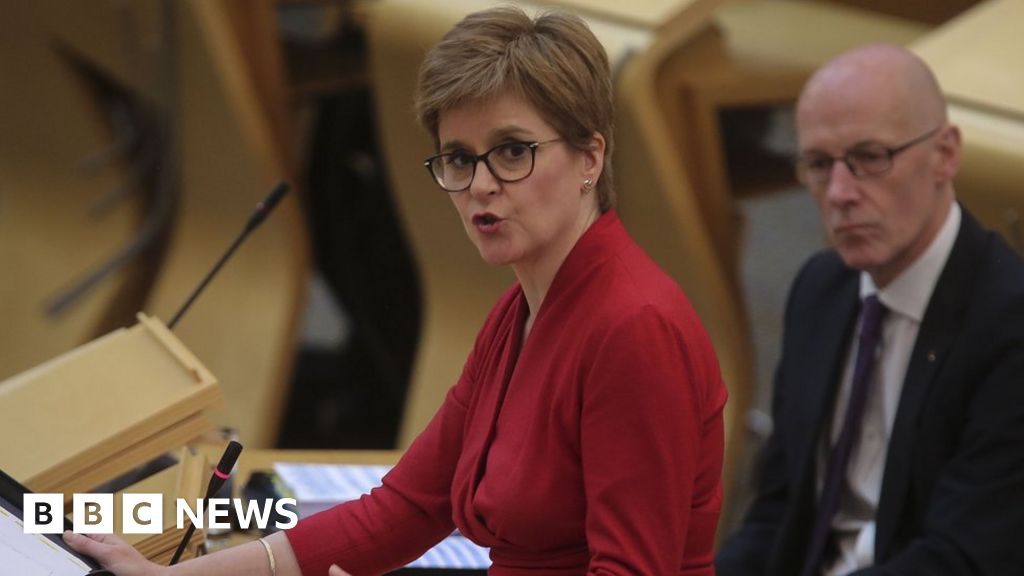 Young people will be guaranteed a job, education or formal training under a new Scottish government scheme.
First Minister Nicola Sturgeon said the "youth guarantee" was aimed at ensuring young people do not carry the "economic scars" of coronavirus into adulthood.
The £60m initiative will be backed by additional money for apprenticeships.
It was announced as Ms Sturgeon set out her government's plans for the next year.
Under the proposals, everyone aged between 16 and 24 in Scotland will be guaranteed "an opportunity at university or college, an apprenticeship programme, employment including work experience, or participating in a formal volunteering programme".
Ms Sturgeon said further details of the scheme would be outlined on Wednesday.
And she said the guarantee "signals our absolute determination that youth unemployment will not be a legacy of this pandemic."
The number of people in work in Scotland has been hit hard by the coronavirus lockdown, with a sharp rise in those claiming benefits and more than 700,000 staff placed on furlough.
Other measures outlined in the programme for government included:
A new "proximity tracing app" to help combat the spread of Covid-19
"Examining and setting out options" for the creation of a National Care Service
A £25m fund to provide retraining opportunities for 10,000 people who have lost their jobs or are at risk of doing so
Details of how £1.6bn of the £2bn Green New Deal that was unveiled last year will be spent, including measures aimed at decarbonising the way homes are heated, reducing emissions, tackling fuel poverty and a £100m Green Jobs fund
Providing an "electronic device, unlimited data and two years of digital support and training" to 50,000 people who "would otherwise be without digital access"
Introducing legislation on domestic abuse protection orders and progressing legislation to improve forensic medical examinations for victims of sexual assault
The first minister also announced that there would be a draft bill on a second independence referendum – as she did in her programme for government in 2016.
This will include the government's preferred question that would be asked, and "the timescale in which we consider the referendum should be held".
It says that this timescale would "take account of the current state of the Covid-19 pandemic at the time of publication of the draft bill."
However, there is no prospect of the bill being passed before the next Scottish Parliament election in May.
The government has already shelved a series of bills which will not be taken forward because of the pandemic, including proposals for a tourist tax and reforms to the Gender Recognition Act.
Ms Sturgeon stressed that suppressing the virus was her "most immediate priority" – and would continue to be so "for some time".
She added: "Put simply, if Covid runs rampant again, our economy will sustain even deeper, longer lasting damage.
"However, we will not simply hunker down and wait for the storm to pass.
"Even amidst the uncertainties of a global pandemic, this is a time to be ambitious and to use the disruption of Covid to rethink how we do things."
The first minister said the NHS Louisa Jordan hospital at the SEC in Glasgow will open through the winter.
And eligibility for the flu vaccine will be extended to "everyone over the age of 55, social care workers and those who live with shielded people.
What has the reaction been?
The Scottish Conservatives said the programme for government fails to meet the challenges facing people in the "real world", and said Ms Sturgeon should be doing more to protect small businesses from "the damage of local lockdown and business rates revaluations",.
Party leader Douglas Ross said: "This was the moment where the first minister could have put selfish, narrow interests to one side and united the country.
"Instead, we're told the solution is another Referendum Bill, only this time in the middle of a pandemic.
"The fundamental difference between our outlook is this: I know Scotland can succeed today, the first minister thinks we can't until the SNP get their way with separation."
Scottish Labour leader Richard Leonard welcomed Ms Sturgeon's commitment to "take the first step on the road to a National Care Service", but warned that "time is running out" to support care homes.
He also welcomed employment support plans, but said promises about new green jobs had been made before without resulting in any progress, saying: "How do we know that this time we won't simply go back to how things were?"
Green MSP Alison Johnstone welcomed Ms Sturgeon's pledge to build a "fairer and greener Scotland", but said work must begin immediately. government should "step up the urgency", adding: "Work to build a fairer and greener Scotland is welcome, but the work to do that must begin now."
And Scottish Liberal Democrat leader Willie Rennie said the government had failed to deliver on past promises, calling for a faster rollout of free childcare hours and a "recovery plan" for child mental health services.
This programme is first of all a response to the health and economic crises caused by Covid-19.
A youth guarantee of education, training or employment for young people is the centre piece of action on jobs.
A review of adult social care with the promise to create a National Care Service is an eye-catching commitment for older people, worst-hit by the pandemic.
That reform would probably take years to fulfil – which highlights another key thing about today's programme.
It is a pre-election package.
With a Holyrood vote due in May 2021, the first minister is also indicating what she would do if returned to office.
That includes pushing for another independence referendum, with a draft bill setting out the proposed timetable and question to be published soon.
Checkout latest world news below links :
World News
||
Latest News
||
U.S. News
Source link