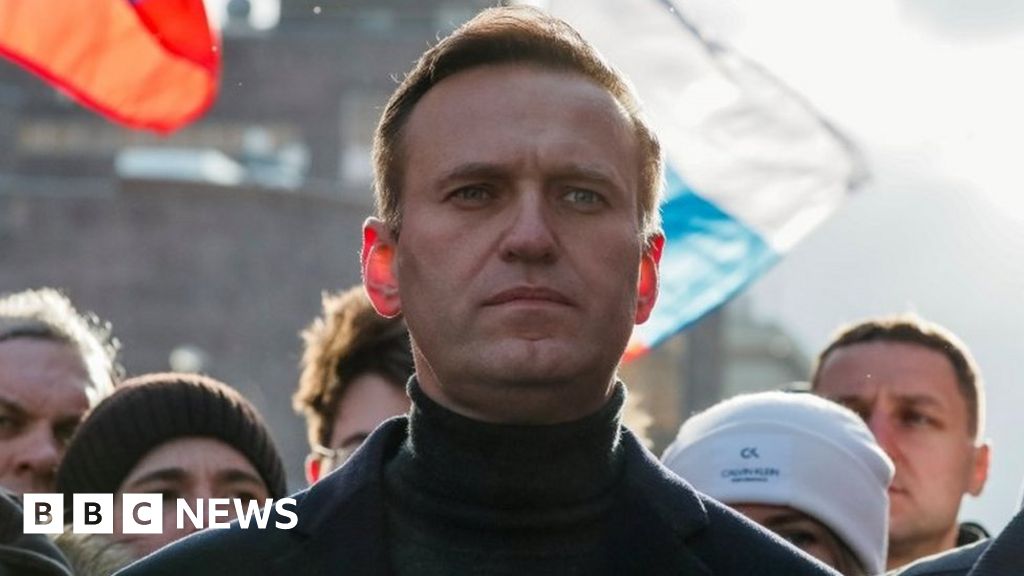 Doctors treating Russian opposition figure Alexei Navalny say he is out of an induced coma and his condition, since being poisoned, has improved.
He is responding to verbal stimuli, they said. Mr Navalny, 44, was flown to Germany after falling ill on a flight in Siberia in August.
His team says he was poisoned on the orders of Russian President Vladimir Putin, who denies involvement.
German doctors say he was poisoned with a Novichok nerve agent.
On Monday, the Charité hospital in Berlin said in a statement
"He is responding to verbal stimuli. It remains too early to gauge the potential long-term effects of his severe poisoning," it said.
It also said doctors were in close contact with Mr Navalny's wife.
There is growing pressure in Germany for Chancellor Angela Markel to take a tougher stance over the incident. Last week, she said Mr Navalny was the victim of attempted murder and that the world would look to Russia for answers.
A senior German MP on Monday demanded a halt to the Nord Stream natural gas pipeline beneath the Baltic Sea, a huge energy project that would double the flow of Russian gas to Europe.
A spokesman for the German government said on Monday that it was too early to make a decision about Nord Stream. He said that Russia had "serious questions" to answer but that a response could not be expected in "three to four days".
The project must be completed despite current "difficulties", said Russian Energy Minister Alexander Novak according to Interfax news agency.
On Monday, the Kremlin said it was "absurd" to blame Russia for Mr Navalny's poisoning.
"Attempts to somehow associate Russia with what happened are unacceptable to us, they are absurd," Mr Putin's spokesman, Dmitry Peskov, said.
Russian foreign ministry spokeswoman Maria Zakharova has previously said the allegation that Novichok was used to poison the leader was not backed up by evidence.
A Novichok nerve agent was used to poison former Russian spy Sergei Skripal and his daughter in the UK in 2018.
Mr Navalny fell ill on 20 August on a flight from Tomsk to Moscow. His supporters suspect poison was placed in a cup of tea at Tomsk airport.
The plane was diverted to Omsk where he was treated for three days before was transferred to the Charité hospital in Berlin.
Mr Navalny is an anti-corruption campaigner who has led nationwide protests against the Russian authorities. He has called Mr Putin's party a place of "crooks and thieves" that is "sucking the blood out of Russia".
However, he has been banned from standing against Mr Putin in elections because of a conviction for embezzlement. He denies the crime, saying his legal troubles are Kremlin reprisals for his fierce criticism.
There have been a number of previous attacks on high-profile critics or opponents of President Putin, including politicians, intelligence officers and journalists. The Kremlin has always denied involvement.

Checkout latest world news below links :
World News || Latest News || U.S. News

Source link