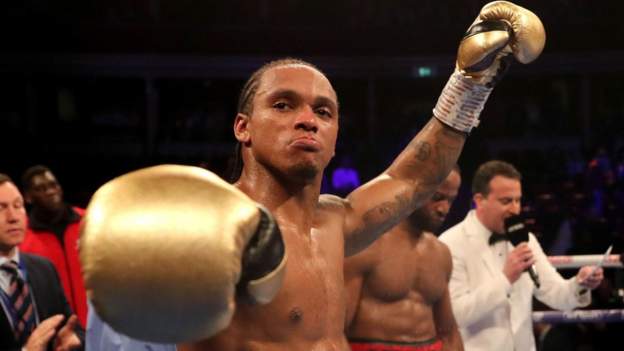 Venue:
OVO Arena, Wembley
Date:
Saturday, 28 January
Coverage:
Follow live text coverage and reaction on BBC Sport website & app from 21:00 GMT.
When Anthony Yarde was 19, he told everyone he was going to fight for a world title.
Even his closest friends were baffled; at that point he'd never fought – as either an amateur or professional.
'All right, watch'," he remembers replying.
Yarde had learned to back himself from a young age. His mother was his greatest ally, his "teacher and provider" and let him experience everything east London had to offer. Good or bad, mistakes were his to make.
"Belief is one of the key things in any form of success," he says. "You have to believe you can do something and if you don't, you have to search for it."
Yarde's search led him to the boxing ring.
He sits a few feet away from one as we speak. His gym in Ilford is plastered with some of the most famous faces in boxing – including Muhammad Ali and Floyd Mayweather. It is not far from where he grew up, on the Carpenters Estate in Stratford.
'Lions in the camp' – Yarde's mantra – is displayed in gold above the ring.
Yarde is 31 now, and preparing for the biggest fight of his life. Unified light-heavyweight champion Artur Beterbiev travels to London on Saturday to defend his three world titles, unbeaten record and formidable reputation.
The home fighter is a massive underdog but has spent his life upsetting the odds. He left fear behind decades ago.
"If fear is stopping me from following something, who am I?" he asks.
"I've been faced with certain situations, had knives pulled out on me, had guns pulled out on me. That's fear. That's something to be scared about."
From Stratford streets to the ring
Yarde grew up with his two sisters and mother; his father was mostly out of the picture by the time Yarde was seven. They lived in one of the estate's main blocks – Dennison Point.
He was friends with everyone – "kind like his mum", as he puts it. But his community – while tight-knit and caring – was chaos. His friends were being stabbed, sent to prison and even killed.
"Somewhere within me was a bad temper; my environment brought that out," he says.
"You start to rely on that because that is your defence mechanism."
Yarde first went to the boxing gym at 14. His mum was against it. But Yarde wanted to learn to protect himself.
His temper was getting him in and out of trouble.
He was never in a gang or a "troublemaker" but his life unravelled when his promising football career derailed after he missed out on a place at Queens Park Rangers because of injury.
Yarde went down the "wrong path" – and his mum told him the life he was leading would end in one of two outcomes – prison or death. Aged 19, he listened.
"Good people know when they're doing something wrong," he says. "It's an intuition.
"I was trying. I wasn't a person who didn't try.
"When things started going wrong, I had to recall when things were going good. I wasn't even giving 100% to football and things blossomed.
"So I said I'd do boxing, but this time I'd give it 100%."
'Regrets hurt more'
Yarde turned pro after 12 amateur and three unlicensed fights. His coach, Tunde Ajayi, convinced veteran promoter Frank Warren to take a chance on a 23-year-old making a name for himself.
He had just won the Haringey Box Cup – a prestigious amateur tournament – by knocking everyone out.
"When there's a knockout artist, everyone runs back to their seats," he says.
"So I said: 'I'm going to be a knockout artist.'"
Yarde was an instant hit – surging to 18-0 with 17 knockouts. Then, in 2019, he got the chance to fight WBO light-heavyweight champion Sergey Kovalev – his first world title bout – in Chelyabinsk, Russia.
The dream became a nightmare. His bags were lost, he was advised not to drink the water provided for fear of sabotage, and he had an armed escort everywhere he went.
He lost the fight – his fitness levels found wanting as he tried to keep pace with the champion. But he has "zero regrets" about taking the fight.
"They say you don't know what you're made of until you experience loss," he says.
"I would rather have these opportunities than not. That's my personality.
"There's nothing worse than regret. That hurts more."
'I didn't like the feeling of being present'
Yarde returned home nursing the wounds of his first defeat.
But his rebuild was halted by the Coronavirus pandemic in early 2020. Then, in the space of seven months, he lost his father, grandparents and aunt.
He chose to fight twice at the end of 2020, losing the second – a big domestic encounter with Lyndon Arthur.
"You can prepare for a fight but you can't prepare for emotion or for grief," he says.
Yarde remembers before the fight he spent all his energy putting on a brave face. He would hide his tears when he looked at his mum and baby niece.
One day he took the bus to visit a friend.
"I had all my jewellery on and I knew all the dangers but I didn't care," he says.
"Some boys approached me and in my mind it was a relief. 'Come on then!' You know what these boys are like, they'll stab you, but I wanted that.
"I know it sounds crazy but I just charged towards them. Luckily they ran away.
"When I looked back, that could have easily gone another way. I was inviting danger. I wasn't accepting the reality of what had happened.
"I didn't like the feeling of being present."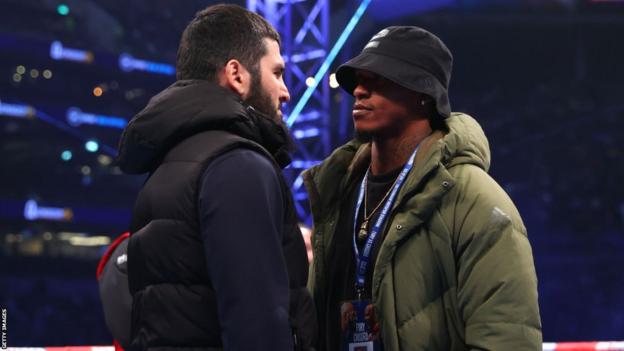 Like so often in his life, his mum intervened.
"Let's go through this together," she told him.
He went to Mexico with his family and close friends and stayed away from boxing while he grieved properly for the first time.
"Slowly but surely I started to go back to being myself," he says. Twelve months after he was beaten by Arthur on points, he dismantled the same opponent in four rounds.
Soon after, Beterbiev came calling.
The 38-year-old is the only reigning boxing world champion with a 100% knockout ratio.
He stopped fellow champion Joe Smith in two rounds to add the WBO title to his IBF and WBC belts last June.
No-one has figured out the blueprint to beat Beterbiev as a professional – and the Russian only lost five times in 300 amateur fights.
Yarde, though, isn't concerned. His confidence in himself remains as strong as when he was teenager, telling his friends he would be world champion one day.
"I know I'm going to surprise Beterbiev," he says. "There's a difference between thinking and knowing.
"Fireworks, explosion and pure entertainment, for however long it lasts."



Checkout latest world news below links :
World News
||
Latest News
||
U.S. News
Source link