News
Russia-Ukraine war latest: Zelenskiy accuses west of lacking unity; Russia scraps upper age limit for soldiers – live
Zelenskiy says west lacks unity over Ukraine
Ukraine's President Volodymyr Zelenskiy has been speaking via video link at a panel discussion at the World Economic Forum:
Unity is about weapons. My question is, is there this unity in practice? I can't see it. Our huge advantage over Russia would be when we are truly united.
In particular, he criticised Europe:
We are on the European continent and we need the support of a united Europe.
He added:
Is there this unity regarding the accession of Finland and Sweden to Nato? No, no. So, is there a strong joint west? No.
Slovakia's prime minster, Eduard Heger, has warned that "if Ukraine fails, Slovakia is next" during a panel at the World Economic Forum in Davos.
From Sky News' Paul Kelso:
Heger went on to criticise EU countries for relying too heavily on Russian energy and urged leaders to "stop compromising" their principles when dealing with Russia.
Heger said:
We basically traded our values for cheap gas and oil for too long.

Compromising with Putin caused a war in Ukraine. An aggressive war, people are dying.
Ukraine's Kalush Orchestra, which won this year's Eurovision song contest, is auctioning off its trophy to raise funds for the Ukrainian army, the group said.
The group's frontman, Oleh Psiuk, has also offered to sell his signature pink bucket hat, the group announced on Instagram.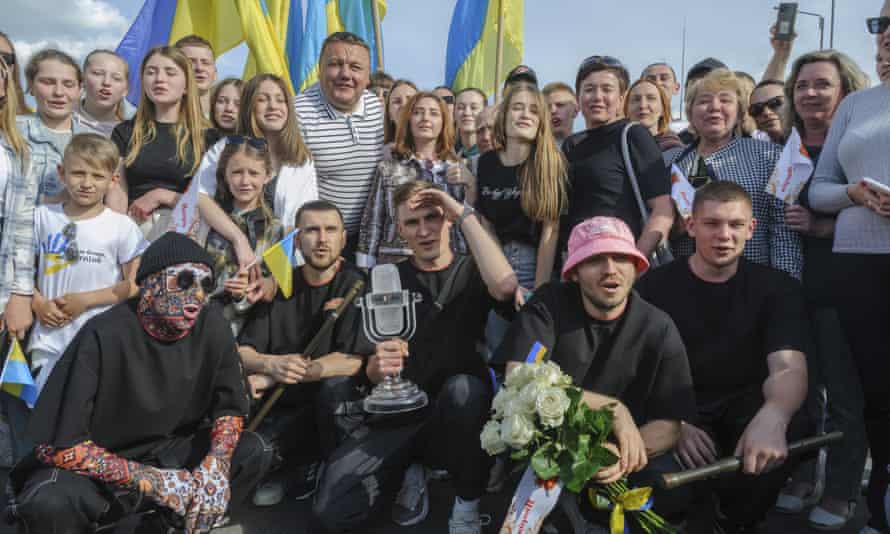 Last week, Kalush Orchestra said they intended to auction off the Eurovision trophy and donate the money raised through auction to a charity for the support of Ukraine and its armed forces.
In a previous announcement, the group said:
We plan to put our statuette up for auction and donate all the money to a charity fund that helps the Armed Forces and Ukraine. We are still to select one. See, many people are already donating from abroad, and perhaps many more would like to donate. And this, in our opinion, will be the thing that motivates them. We think it will be beneficial for Ukraine.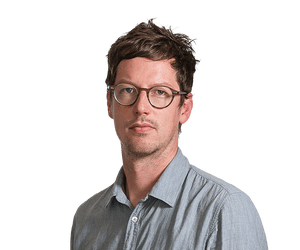 Philip Oltermann
Former German chancellor Gerhard Schröder has said on his LinkedIn profile that he declined Gazprom's offer to join its supervisory board, seemingly contradicting the Russian gas company's announcement that he had been officially nominated for the post.
"I passed on the nomination for Gazprom's supervisory board some time ago," the post said.
I also communicated this to the company. I am therefore surprised by today's report making claims to the contrary.
On Tuesday, Gazprom had announced Schröder had been officially nominated for a post on the committee, following up an earlier report from February, before Russia's invasion of Ukraine.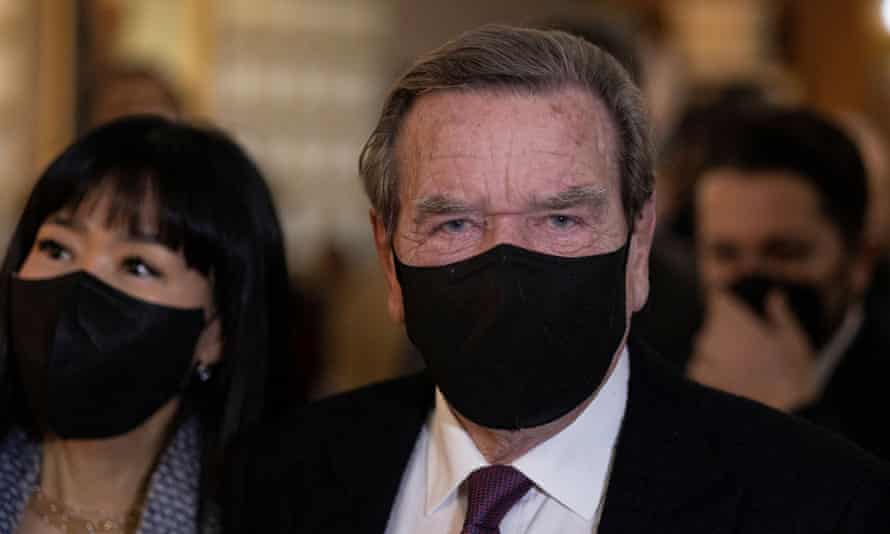 In an interview with the New York Times last month, Schröder had failed to give a clear answer on whether he was planning to take the job.
Since then, the Social Democrat politician has faced growing pressure in Germany, where the coalition government voted to strip him of some post-office benefits including his office.
Last Friday, Russian oil company Rosneft announced Schröder was to quit its supervisory board.
Russian parliament votes to scrap upper age limit for soldiers to bolster Ukraine invasion force
Russian lawmakers have voted to approve a new law that would eliminate age limits for military contract soldiers.

The Russian state Duma approved a law today removing the upper age limit for contractual service in the country's military, in another sign the country is facing a shortage of infantry to continue its offensive in Ukraine.
Currently, only Russians aged 18-40 and foreigners aged 18-30 can enter into a first contract with the army.
The law was introduced last week by members of the ruling United Russia party, who said the move would enable the military to utilise the skills of older professionals.
A note accompanying the proposed law read:
For the use of high-precision weapons, the operation of weapons and military equipment, highly professional specialists are needed. Experience shows that they become such by the age of 40-45.
The lawmakers added that the proposed legislation would also make it easier to recruit civilian medics, engineers and operations and communications specialists.
Military experts say Russia is facing unsustainable troop and equipment losses in Ukraine after a series of military setbacks that have forced Moscow to reduce its war aims.
Hello everyone. It's Léonie Chao-Fong here again here to bring you all the latest developments on the war in Ukraine. Feel free to drop me a message if you have anything to flag – you can reach me on Twitter or via email.
Lithuania will transfer 20 M113 armoured personnel carriers as well as military trucks and de-mining vehicles to Ukraine, its defence ministry said.
The vehicles are worth a total of €15.5m (£13.2m), the ministry said, Reuters reports.
Lithuanian defence minister, Arvydas Anusauskas, said in a statement:
The coordinated help from us and the allies is the deciding factor for the Ukrainian victory.
Lithuania, which borders the Russian enclave of Kaliningrad as well as a huge stretch of Belarus, is among the European countries most vulnerable to Russian aggression.
Previously, Lithuania has provided military support to Ukraine worth €100m, the statement added.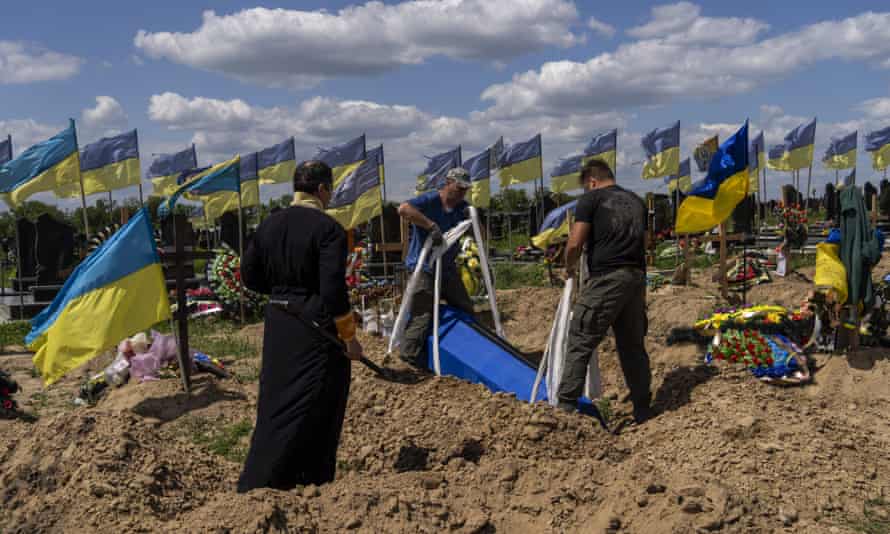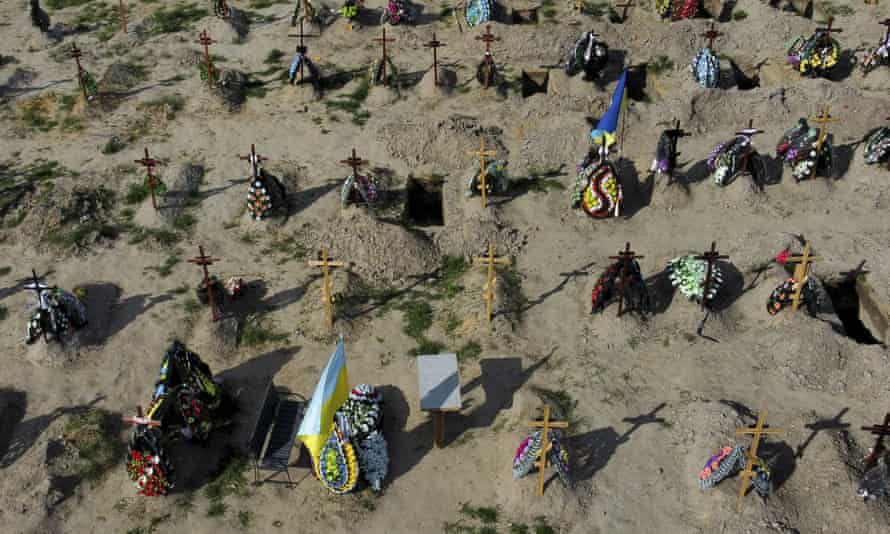 Russia says will allow food shipments to leave Ukraine, if sanctions dropped
Russia is ready to provide a humanitarian corridor for vessels carrying food to leave Ukraine, in return for the lifting of some sanctions, the Interfax news agency cited Russian Deputy Foreign Minister Andrei Rudenko.
Ukraine's Black Sea ports have been blocked since Russia invaded, with more than 20 million tonnes of grain stuck in silos in the country.
"We have repeatedly stated on this point that a solution to the food problem requires a comprehensive approach, including the lifting of sanctions that have been imposed on Russian exports and financial transactions," Rudenko was quoted as saying, according to Reuters.
"And it also requires the demining by the Ukrainian side of all ports where ships are anchored. Russia is ready to provide the necessary humanitarian passage, which it does every day."
The Kyiv Independent reports Russian bombing in Kramatorsk, Donetsk (eastern Ukraine):
Zelenskiy says west lacks unity over Ukraine
Ukraine's President Volodymyr Zelenskiy has been speaking via video link at a panel discussion at the World Economic Forum:
Unity is about weapons. My question is, is there this unity in practice? I can't see it. Our huge advantage over Russia would be when we are truly united.
In particular, he criticised Europe:
We are on the European continent and we need the support of a united Europe.
He added:
Is there this unity regarding the accession of Finland and Sweden to Nato? No, no. So, is there a strong joint west? No.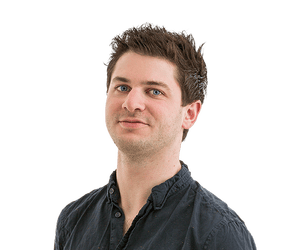 Jacob Steinberg
The £4.25bn takeover of Chelsea football club has been completed after Roman Abramovich agreed to the UK government's terms for the sale, ending a tumultuous period that raised fears over the club's existence in the wake of the Ukraine war.
A new era at Stamford Bridge can officially begin after a bid led by Todd Boehly, a part-owner of baseball's LA Dodgers, was given permission to go through. The government issued the licence after it said it was "now satisfied that the full proceeds of the sale will not benefit Roman Abramovich or any other sanctioned individual". Abramovich was hit with sanctions after the Russian invasion.
The sale will follow a two-step process under which £2.5bn will go into an escrow account until the government is satisfied the funds will go to a charity for victims of the war in Ukraine. Boehly's group has committed to invest a further £1.75bn in the club. Crucially, Abramovich has agreed to legally binding guarantees allowing his £1.6bn loan to Chelsea to go into a frozen account under government control.
The government has sought assurances that the charity will be independent of Abramovich. Mike Penrose, a former Unicef UK executive director, has been asked to run the foundation.
"Late last night the UK government reached a position where we could issue a licence that permits the sale of Chelsea football club," a government statement said. "Following the sanctioning of Roman Abramovich, the government has worked hard to ensure Chelsea football club has been able to continue to play football. But we have always been clear that the long-term future of the club could only be secured under a new owner."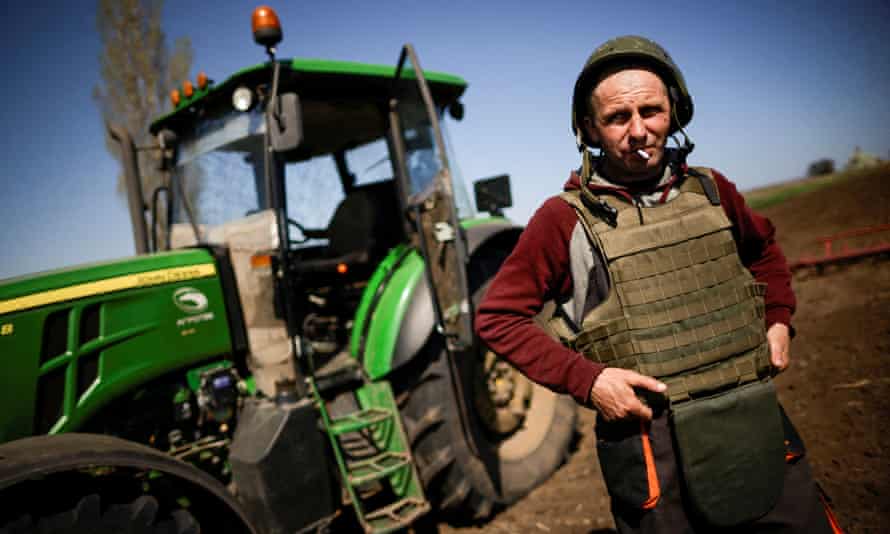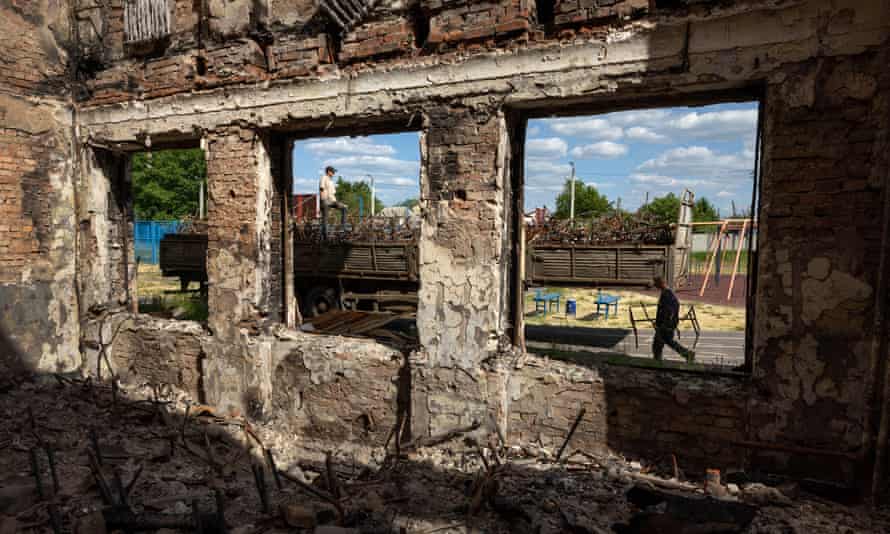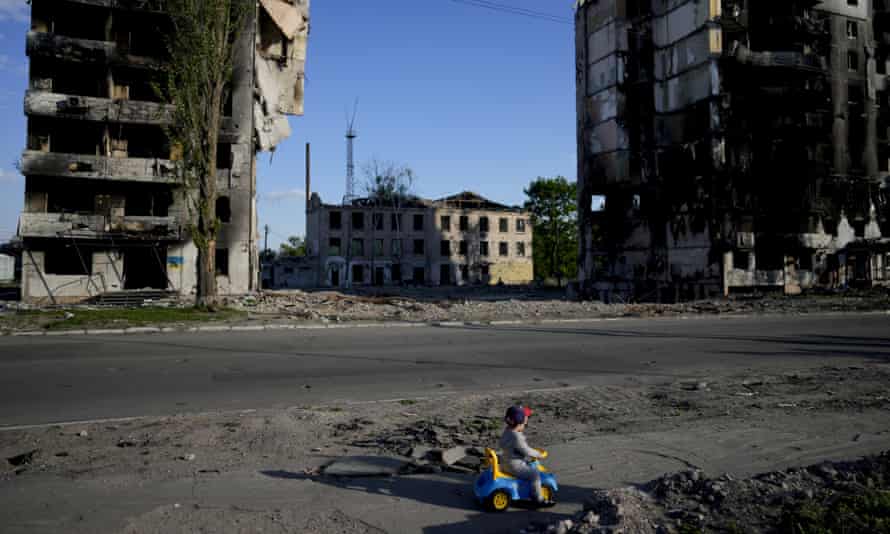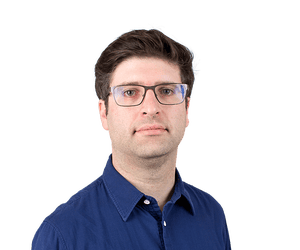 Shaun Walker
Igor Volobuyev spent two decades working in the heart of the Russian business establishment, first for Gazprom and then for its affiliate Gazprombank, where until February this year he was vice-president.
Then Vladimir Putin launched his war on Ukraine in late February, and Volobuyev decided he could no longer stand living in Russia. He packed a small rucksack of possessions and a stack of cash, and flew out of the country on 2 March, pretending he was going on holiday.
A few days later, he crossed from Poland into Ukraine, where he spent his childhood years. Now, he spends his days trying to convince officials to provide him with Ukrainian documents and allow him to sign up for military service.
"I want to go to the place where I can defend my homeland with a weapon, I'm trying every day," he said, in an interview in the suburbs of the capital, Kyiv. "I am never going back to Russia."
Hundreds of thousands of Russians are believed to have fled the country since Putin launched the war, and many intellectuals, journalists and activists have voiced their opposition to the conflict. However, among the political and business elites, defections have been extremely rare. Despite reports of widespread dismay over the invasion of Ukraine, only a tiny handful of people have spoken publicly to condemn the war.
Maksym Kozytskyi, governor of Lviv in western Ukraine, has posted his latest update for the region. He reports that overnight there were two air raid warnings, including one sparked "as the enemy launched missiles from the Black Sea", but he says "the threats did not materialise. Everything is calm in Lviv region."
Ukraine's President Volodymyr Zelenskiy has spoken again at the World Economic Forum in Davos this morning. Reuters reports he told an audience that he was only willing to talk directly to Vladimir Putin and not via intermediators.
He added that if the Russian president "understands reality" there was the possibility of finding a diplomatic way out of the conflict.
The Ukrainian president said Moscow should withdraw its troops back to the lines in place before Russia began its invasion on 24 February.
"That might be a first step towards talks," he said, adding that Russia has been playing for time in its talks with Ukraine.
Yesterday a close ally of Putin, Dmitry Medvedev, said any peace would have to recognise that "final" decisions had already been made about the future of the breakaway regions of Donetsk and Luhansk, and that any peace deal that suggested Russia should pull out of Crimea would be treated as a threat of war.
Russia's RIA Novosti is carrying some quotes from Rodion Miroshnik, the self-proclaimed Luhansk People's Republic's ambassador to Russia. He said their forces, alongside the Russian army and fighters from the self-proclaimed Donetsk People's Republic, have broken through Ukrainian defences in the Luhansk region. He posted on Telegram:
Ukrainian defence is crumbling. An active assault on Zolote is underway. The peacekeeping forces are advancing towards Maloryazantsevo, Volcheyarovka. What part of the Ukrainian military formations left these settlements, and what part remained, is not yet known exactly, but the trend is clearly visible.
I'll hand over now to my colleague Martin Belam in London.
Nike has reportedly decided not to renew a franchising agreement with Inventive Retail Group, a company that operates 37 Nike-branded retail stores in Russia.
The company temporarily closed all of its own stores in Russia in March, and has halted web sales in the country.

Checkout latest world news below links :
World News || Latest News || U.S. News

Source link