Politics
Who is Alvin Bragg? What to know about the Manhattan D.A. weighing charges against Trump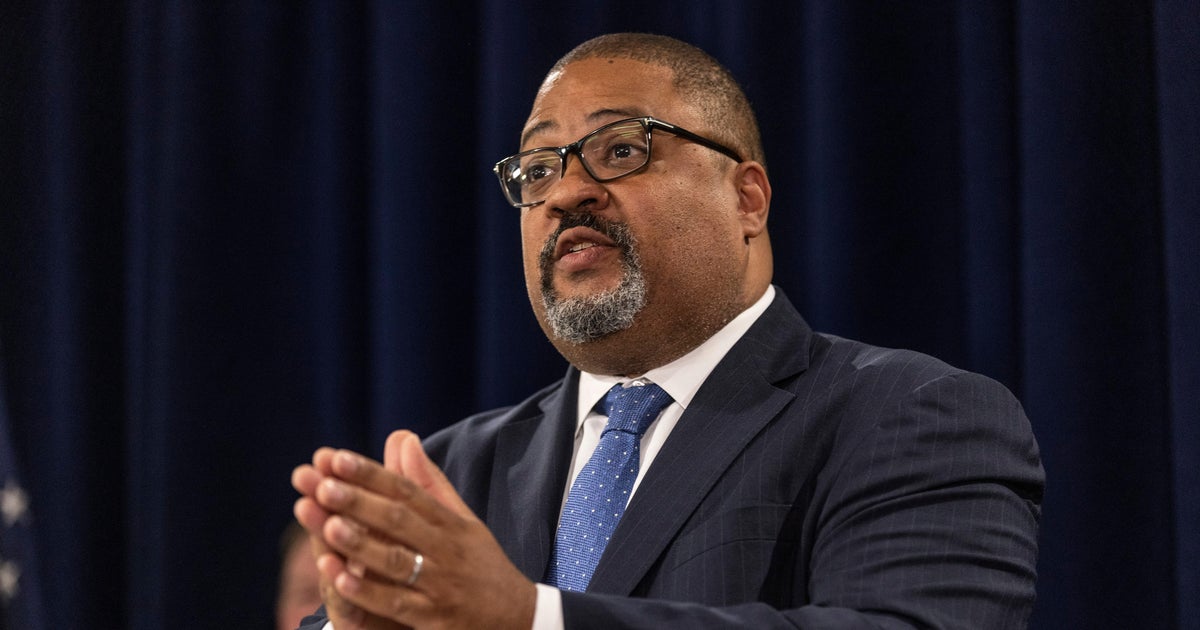 The district attorney who could criminally charge former President Donald Trump is in the spotlight as a New York grand jury appears to be wrapping up its investigation into "hush money" payments and alleged falsification of business records dating back to the 2016 presidential election. 
Manhattan District Attorney Alvin Bragg inherited the investigation into Trump from his predecessor in the office. Here's what you need to know about him:
Who is Alvin Bragg?
Bragg, a Democrat and Manhattan's first Black D.A., was sworn in at the start of 2022. Now 49 years old, he grew up in Manhattan's Harlem neighborhood in the 1980s, during a time when the city was grappling with higher crime rates and a crack cocaine epidemic. Bragg said that, as a child, he was held at gunpoint by police. He's said that experience shaped his thoughts on crime. 
Bragg earned a bachelor's degree from Harvard and later a law degree from Harvard Law School. 
He previously served as an assistant attorney general at the New York State Attorney General's Office and as an assistant U.S. attorney for the Southern District of New York. He's spent more than 20 years working within the criminal justice system, according to his official bio.
What's his history with Trump?
Bragg has faced off with Trump a number of times. During his time with the New York Attorney General's Office, Bragg was involved with civil lawsuits against the Trump Foundation. A 2018 lawsuit accused the foundation of misusing funds for Trump's personal or political benefit. The foundation agreed to close under court supervision, and in 2019, a New York court ordered Trump to personally pay $2 million to settle the suit. 
During his campaign for Manhattan D.A., Bragg repeatedly touted his experience taking on Trump. 
"I would emphasize that I have the know-how to do it. I've handled tax fraud cases. I've had mortgage fraud cases. I handled public corruption cases, spanning from bribery to government procurement fraud," Bragg told CBS News in 2020. "I want to emphasize and underscore the significance of the conduct, and my professional ability and experience doing that type of investigation."
During that interview, he brought up the federal case that led to a guilty plea and prison sentence for Trump's former lawyer, Michael Cohen, which identified the then-president as an alleged "co-conspirator" in the "hush money" scheme. 
"I presume it could be, you know, accurate and charge ready," Bragg said. He noted that federal prosecutors had chosen not to charge Trump and stressed he could not "prejudge" any case. Trump has denied any wrongdoing.
Bragg was repeatedly asked in other interviews if investigations into Trump, begun under his predecessor, Cyrus Vance Jr., would continue after he took office as Manhattan D.A. He said they were ongoing, but that they would take time. Bragg noted it was both a high-profile and complex case, but emphasized that he had experience with those types of investigations.  
"These experiences shape my approach and the investigative steps that the team is hard at work on. Prosecutors fulfilling their duties cannot and do not bring only cases that are 'slam dunks,'" he said in April 2022, several months after he'd been sworn in to the job. "To the contrary, every case must be brought for the right reason — namely that justice demands it. That's what I've done throughout my career, regardless of how easy or tough a case might be."
Bragg handled another significant case involving Trump's business that year. 
Two entities of the Trump Organization — the Trump Corporation and the Trump Payroll Corp. — and the company's chief financial officer, Allen Weisselberg, had been charged in a tax fraud case under Bragg's predecessor. They were accused of reducing payroll liability from executive salaries through untaxed bonuses and luxury perks worth millions.
Weisselberg, who pleaded guilty, was sentenced to five months in jail and agreed to testify against the Trump companies. Bragg oversaw the prosecution that resulted in the companies being found guilty on all counts in December. The Trump Corporation was fined $810,000 and the Trump Payroll Corp. was fined $800,000. (Trump was not personally charged in the case and denied any wrongdoing.)
"These all-count convictions mark the first-ever criminal convictions of former President Trump's companies," Bragg said at the time.
What are some of the other cases Bragg has worked on?
Bragg represented family members of Eric Garner, who died in 2014 after he was placed in chokehold by a then-police officer.
He also worked on a New York lawsuit against disgraced movie producer Harvey Weinstein and the Weinstein Corporation in 2018. 
As D.A., he announced an indictment against Steve Bannon, the former Trump adviser and right-wing operative who is charged with defrauding donors to a fundraising campaign promising to build a wall along the southern border. Prosecutors allege Bannon pocketed some of the money. He has pleaded not guilty.
What challenges has he faced as D.A.?
Some, especially in New York City police unions, have slammed Bragg as being soft on crime. 
Just days after he was sworn in, Bragg sent out a memo to staff saying his office would not prosecute certain offenses, including marijuana misdemeanors, prostitution and fare evasion.
He also said prosecutors wouldn't seek prison time in certain types of criminal cases. Bragg said he wanted alternatives to incarceration for first-time offenders and people charged with certain robberies and assaults.
"Criminals know that @ManhattanDA will bend over backwards to protect them, not law-abiding New Yorkers," the Police Benevolent Association tweeted in June of 2022. Detectives' Endowment Association president Paul DiGiacomo described Bragg as "a pro-criminal politician." 
Bragg also faced backlash from Republican leaders in New York, including the 2022 GOP candidate for governor, former Rep. Lee Zeldin, who called for him to be removed from office. 
Bragg has pushed back on those calling him soft on crime, telling CBS New York such accusations are "not accurate."
"Now that we've been in office for a year … gun prosecution is up 20%. Shootings and homicides are down," he said in January. "Hate crime prosecutions up. We're doing the work. We're doing it thoughtfully, focusing on those who are doing the most harm in Manhattan."
-Graham Kates contributed reporting.

Checkout latest world news below links :
World News || Latest News || U.S. News

Source link