Politics
TikTok CEO faces intense questioning from House committee amid growing calls for ban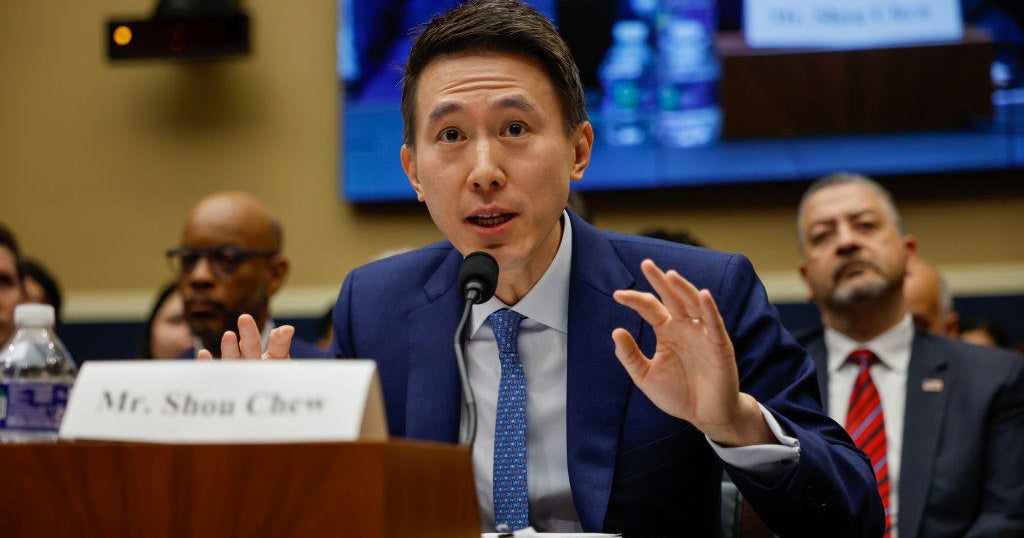 Washington — TikTok's chief executive faced hours of intense questioning from House lawmakers on Thursday in a rare bipartisan rebuke that reflected growing momentum on Capitol Hill to ban the app from the U.S. over its ties to China and handling of user data.
In testimony before the House Committee on Energy and Commerce, CEO Shou Zi Chew struggled to reassure lawmakers that the massively popular social video app doesn't pose a risk to its 150 million users nor share user data with the Chinese Communist Party (CCP). But he admitted that TikTok had collected location data on U.S. users in the past, and said some historical data is still stored in servers that could be accessed by engineers from ByteDance, its parent company based in China.
Members of both parties spent hours denouncing TikTok's data collection practices and painting it as a tool used by the Chinese government to track and spy on Americans. Before lawmakers even began their questioning, GOP Rep. Cathy McMorris Rodgers of Washington, the committee's chair, said they "do not trust that TikTok will ever embrace American values."
"TikTok has repeatedly chosen a path for more control, more surveillance and more manipulation. Your platform should be banned," she said. "That is 150 million Americans that CCP can collect sensitive information on, and control what we ultimately see, hear and believe."
GOP Rep. Kat Cammack of Florida played a video that threatened violence against the committee and had remained on the platform for more than a month, despite community guidelines barring violence or threats. "You damn well know that you cannot protect the data and security of this committee or the 150 million users of your app because it is an extension of the CCP," Cammack told Chew. The video was soon taken down.
TikTok, like many other social media companies, collects users' personal information, including phone numbers, email addresses, contacts and WiFi networks. ByteDance has said the company does not share information with the Chinese government, but U.S. officials counter that Chinese law requires the company, which is based in Beijing, to make the app's data available to the CCP. The Justice Department is said to be investigating ByteDance for possible spying on U.S. citizens, including journalists.
Chew acknowledged that it collects precise location information on "a small percentage" of U.S. users who have not updated the app since 2020, but current versions do not collect precise location information. 
"Has TikTok at anytime provided the Chinese government with either precise GPS information collected from U.S. users or inferences made from that data?" Democratic Rep. Debbie Dingell of Michigan asked. 
"That I can give you a straight up no," Chew responded.
Chew said that some historical U.S. user data remains outside the control of the new corporate entity that is now operating the app in the U.S. Some of that old data is still held in servers in Virginia and Singapore that could be accessed by engineers in China, according to Chew.
"We're deleting those and we expect that to be complete this year," he said. "When that is done, all protected U.S. data will be under the protection of U.S. law and under the control of the U.S.-led security team. This eliminates the concern that some of you have shared with me that TikTok user data can be subject to Chinese law." 
When asked whether ByteDance has spied on American citizens, Chew said, "I don't think that spying is the right way to describe it." 
Chew told the panel that TikTok is building "what amounts to a firewall that seals off protected U.S. user data from unauthorized foreign access," including the establishment of a new corporate entity to oversee U.S. operations.
"Today, U.S. TikTok data is stored by default in Oracle's servers. Only vetted personnel operating in a new company, called TikTok U.S. Data Security, can control access to this data," Chew said.
He tried to downplay ByteDance's ties to the Chinese government, stressing that the parent company has three Americans on its five-member board of directors and is majority-owned by institutional investors from around the world. He noted that TikTok U.S. Data Security is incorporated in the U.S.
While much of the questioning focused on national security concerns, lawmakers also spent time on the platform's effects on mental health and how the platform can fail to prevent children from seeing harmful content.
"Your technology is literally leading to death," said GOP Rep. Gus Bilirakis of Florida, who was joined by an emotional father and mother whose teen son had died by suicide after watching TikTok videos. "Your company destroyed their lives." Chew responded that it was "devastating to hear about the news, as a father myself."
TikTok is already banned on federal government devices, including military devices, and a growing number of states have implemented it on state government devices. Federal lawmakers have introduced several bills that would empower the administration to ban TikTok nationwide. The Biden administration wants ByteDance to divest itself from the short-form video platform to continue operating in the country.
Ahead of the hearing, Sen. Mark Warner of Virginia said Congress needs to pass a bill that would give the executive branch tools to take action against tech companies with ties to U.S. adversaries. Warner is leading a group of nearly two dozen senators who have introduced legislation targeting TikTok.
"While I appreciate Mr. Chew's willingness to answer questions before Congress, TikTok's lack of transparency, repeated obfuscations, and misstatements of fact have severely undermined the credibility of any statements by TikTok employees, including Mr. Chew," Warner said in a statement Wednesday. 
A new CBS News poll found that most Americans say that TikTok's ties to China pose a security risk, and those who do would like to see the video-sharing app banned in the U.S. But younger people — who are the most likely age group to use it — are also the most opposed to a ban, or to the idea that it is a threat.
Not all lawmakers are supportive of a TikTok ban. Democratic Rep. Jamaal Bowman of New York organized a press conference Wednesday with dozens of TikTok creators, including small business owners, educators and artists who say the app is vital to their livelihoods. He said TikTok poses the same concerns as platforms like Facebook, Instagram, YouTube and Twitter. 
"Let's not marginalize and target TikTok," he said. "Let's have a comprehensive conversation about legislation that we need — federal legislation — to make sure that people who use social media platforms are safe and their information is secure and their information is not being shared or sold to third parties."

Checkout latest world news below links :
World News || Latest News || U.S. News

Source link