Politics
Texas Gov. Greg Abbott expands migrant bus operation, sending first group to Denver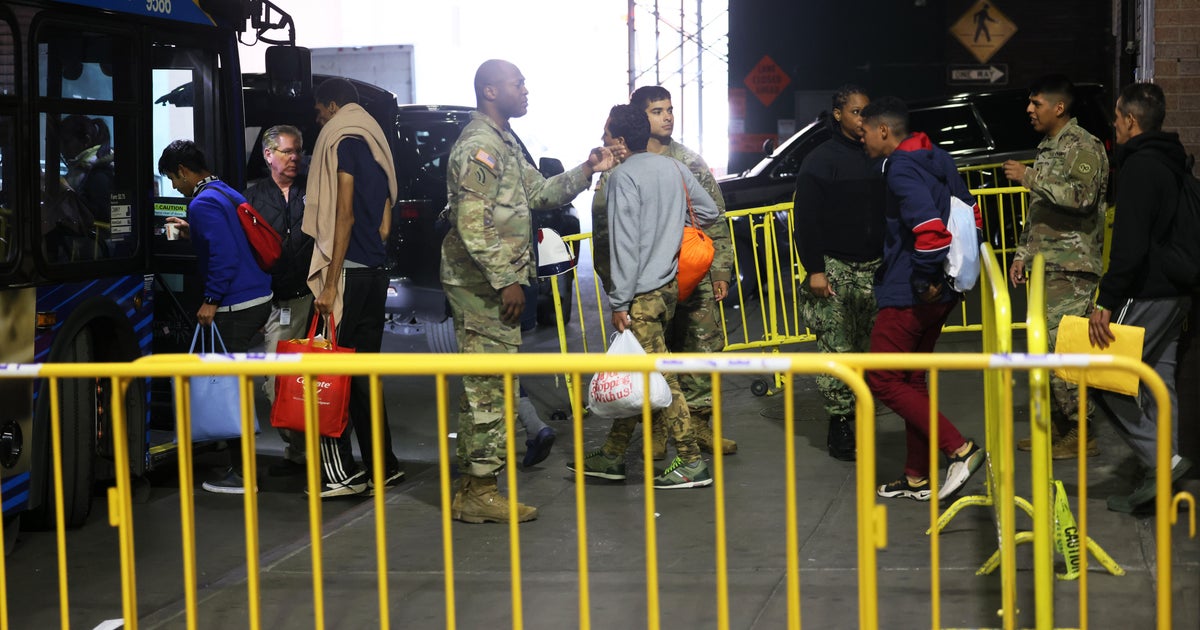 Washington — Texas' Republican Gov. Greg Abbott on Thursday announced his state had started busing migrants from the U.S.-Mexico border to Denver, Colorado, an expansion of a controversial operation to transport migrant adults and families released from federal custody to Democratic-led cities.
Abbott said the first group of migrants sent to Denver were dropped off near the Civic Center park in the city's downtown on Thursday. Before Thursday's announcement, Texas' migrant busing operation was limited to Washington, D.C., New York City, Chicago and Philadelphia. The state has said the migrants travel on the buses voluntarily.
Since launching it in April 2022, Abbott has said the effort to bus migrants to major cities led by Democrats is designed to reduce the burden of receiving migrants on smaller communities along the southern border. He has also used the operation to repudiate President Biden for how his administration has handled the historically high levels of migrant crossings along the U.S.-Mexico border in the past two years.
"Until the President and his Administration step up and fulfill their constitutional duty to secure the border, the State of Texas will continue busing migrants to self-declared sanctuary cities like Denver to provide much-needed relief to our small border towns," Abbott said in a statement Thursday.
Denver Mayor Michael Hancock, a Democrat, called Texas' move a "stunt."
"What is happening at the border, and what is showing up at the doorsteps of cities across the country, is a humanitarian crisis," Hancock said. "What none of us need is more political theater and partisan gamesmanship pitting jurisdictions against each other and exacerbating this situation instead of advocating for real solutions to this challenge."
In over a year, Texas has transported more than 19,000 migrants to Washington, New York, Chicago and Philadelphia on more than 400 buses, according to state figures. The number is a small fraction of the hundreds of thousands of migrants and asylum-seekers released from federal border custody during that period.
Those cities and other major metropolitan areas have also received tens of thousands of migrants who have found their way there on their own or through assistance from local border cities and humanitarian groups. 
While Democratic leaders in these cities have accused Abbott of using migrants as political pawns and denounced him for not coordinating the bus arrivals, some of them, particularly New York City Mayor Eric Adams, have also criticized the Biden administration and demanded increased federal support.
The cities have expressed concern about their ability to house increased numbers of migrants who lack financial and family ties to the U.S. They also cannot legally work until months after they file an asylum claim in the backlogged immigration court system, which is overseeing over 2 million pending cases.
Adams, a centrist Democrat, has been unusually critical of the Biden administration over the migrant crisis, accusing the federal government of "failing" the city. Adams himself has faced local criticism over plans to house migrants in public school gyms, though he has said the city is running out of space in existing shelters.
U.S. border agents have recorded unprecedented levels of migrant apprehensions since Mr. Biden took office. In fiscal year 2022, Border Patrol made over 2 million migrant apprehensions, an all-time high.
While daily migrant crossings spiked last week to 10,000 before the expiration of the Title 42 pandemic-era restrictions on migration on May 11, they have since plummeted to fewer than 5,000. Officials have attributed the sharp drop in illegal crossings to efforts by Mexico and Guatemala to slow U.S.-bound migration, increased deportations and a new Biden administration rule that disqualifies many migrants from asylum.  
Unlawful entries along the southern border decreased further on Wednesday, falling to roughly 2,500, an administration official told CBS News.
"While Governors Abbott and DeSantis remain stuck on political stunts, unlawful border crossings have dropped sharply since President Biden's plan to humanely manage the border went into full effect," White House spokesperson Abdullah Hasan said in a statement Thursday.
In a statement Thursday, Conor Cahill, press secretary for Colorado's Democratic Gov. Jared Polis, urged the federal government to "secure the border" and "provide financial resources" to states receiving migrants. "This challenge requires problem-solving and collaboration between cities, states, and the federal government, not politics as usual," Cahill said.
Checkout latest world news below links :
World News
||
Latest News
||
U.S. News
Source link