Politics
South Carolina abortion ban violates state's constitution, state Supreme Court rules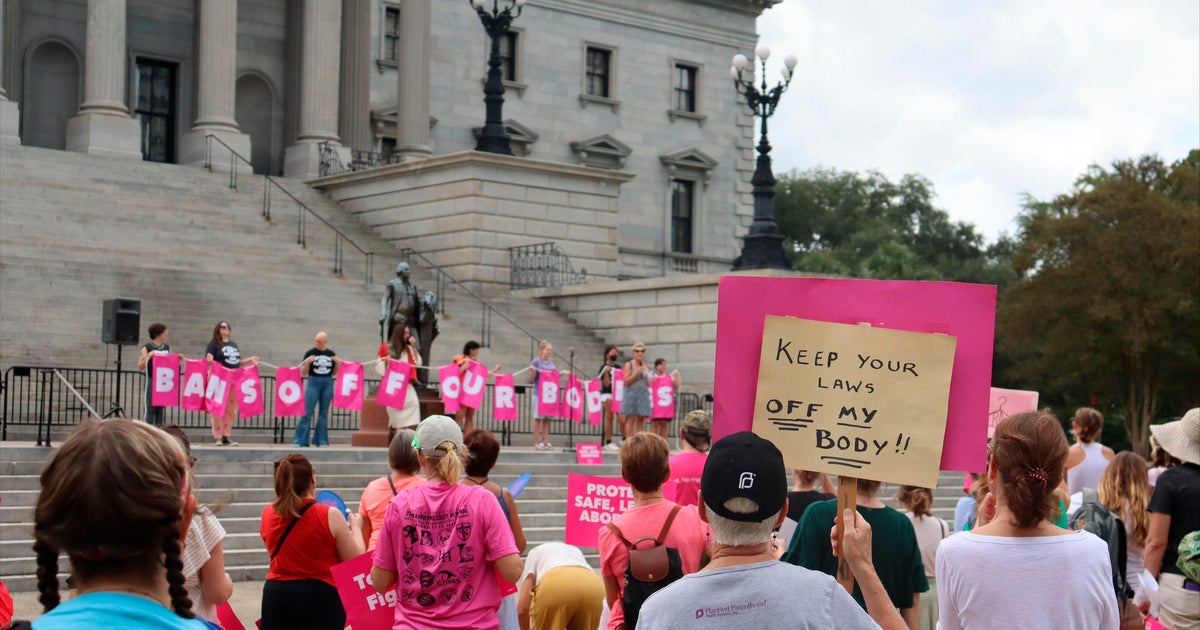 The South Carolina Supreme Court struck down Thursday a ban on abortion after cardiac activity is detected — typically around six weeks — ruling the restriction violates the state constitution's right to privacy.
The decision comes nearly two years after Republican Gov. Henry McMaster signed the measure into law. The ban, which included exceptions for pregnancies caused by rape or incest or pregnancies that endangered the patient's life, drew lawsuits almost immediately. Since then, legal challenges have made their way through both state and federal courts.
"The State unquestionably has the authority to limit the right of privacy that protects women from state interference with her decision, but any such limitation must be reasonable and it must be meaningful in that the time frames imposed must afford a woman sufficient time to determine she is pregnant and to take reasonable steps to terminate that pregnancy. Six weeks is, quite simply, not a reasonable period of time for these two things to occur, and therefore the Act violates our state Constitution's prohibition against unreasonable invasions of privacy," Justice Kaye Hearn wrote in the majority opinion.
Currently, South Carolina bars most abortions at 20 weeks.
Varying orders have given the law's supporters and opponents both cause for celebration and dismay. Those seeking abortions in the state have seen the legal window expand to the previous limit of 20 weeks before returning to latest restrictions and back again.
Federal courts had previously suspended the law. But the U.S. Supreme Court's overturning of Roe v. Wade allowed the restrictions to take place — for just a brief period. The state Supreme Court temporarily blocked it this past August as the justices considered a new challenge.
The high court's momentous decision in Dobbs v. Jackson Women's Health Organization set off a flurry of activity at the state level. Republican-dominated states moved forward with new restrictions while abortion rights' advocates sought additional safeguards. With federal abortion protections gone, Planned Parenthood South Atlantic sued in July under the South Carolina constitution's right to privacy. Meanwhile, other states have seen challenges to restrictions as a matter of religious freedom.
"We are encouraged by South Carolina's Supreme Court ruling today on the state's extreme and dangerous abortion ban," tweeted White House press secretary Karine Jean-Pierre. "Women should be able to make their own decisions about their bodies."
In South Carolina, lawyers representing the state legislature have argued that the right to privacy should be interpreted narrowly. During oral arguments this past October, they argued historical context suggests lawmakers intended to protect against searches and seizures when they ratified the right in 1971. Planned Parenthood attorneys representing the challengers have said the right to privacy encompasses abortion. They argued previous state Supreme Court decisions already extended the right to bodily autonomy.
The justices' limited ruling left the door open for future changes. The state House and Senate failed to agree on additional restrictions during this past summer's special session on abortion. Still, a small but growing group of conservative lawmakers have vowed to push that envelope once more this legislative session — despite some Republican leaders' insistence no agreement is possible.
In a statement to The Associated Press, South Carolina Democratic Party Chairman Trav Robertson applauded the ruling Thursday, which he said amounted to "a voice of reason and sanity to temper the Republicans' legislative actions to strip rights away from women and doctors."
Republican South Carolina House Speaker G. Murrell Smith, Jr., wrote in a series of tweets that the state justices "followed the path of the U.S. Supreme Court in Roe v. Wade by creating a constitutional right to an abortion where none exists." Smith added the decision failed to respect the separation of powers.

Checkout latest world news below links :
World News || Latest News || U.S. News

Source link