Politics
Republicans meet to choose new RNC chair after lackluster midterm election results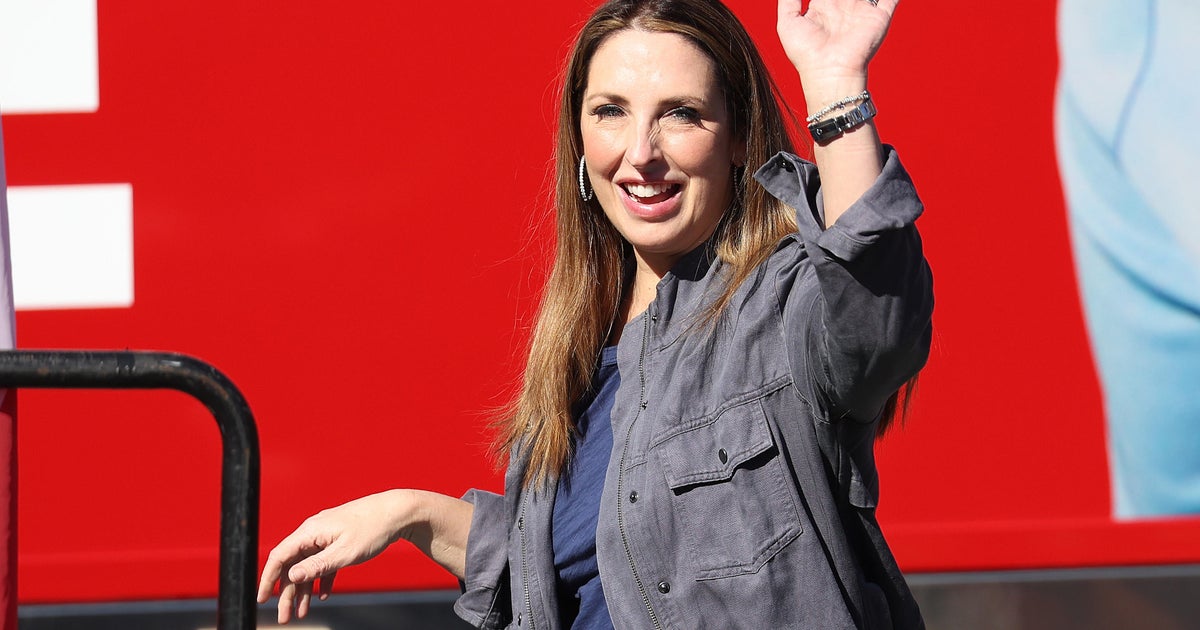 The Republican National Committee is meeting in Dana Point, Calif. this week to select a new chair to lead the party's infrastructure going into the 2024 election cycle after the party's disappointing showing in the midterm elections. 
Ronna McDaniel is running for her fourth term as RNC chair, and for the first time since former President Donald Trump appointed her to succeed Reince Priebus in the job, she's facing a serious challenge. The race, which may be competitive, illustrates how the different wings of the Republican party believe the party should move forward after the midterms, when Republicans won a slim majority in the House but failed to flip the Senate.
Trump-attorney Harmeet Dhillon and Trump ally and MyPillow CEO Mike Lindell are competing to unseat McDaniel. On Wednesday, the first day of the meeting, a debate for the chair race was scheduled, but McDaniel and Dhillon didn't show up. Lindell instead debated Caroline Wren, a GOP fundraiser who is supporting Dhillon's candidacy. 
While Trump has said he would "let them fight it out," a battery of Trump-era officials and allies — Preibus, Family Research Council President Tony Perkins and conservative commentator Hugh Hewitt — are part of McDaniel's "unofficial "whip" team, according to a source familiar with the chair race.
Maryland committeeman David Bossie, who was Trump's deputy campaign manager in 2016 and is the head of the RNC's debate committee in 2024, is also part of McDaniel's "whip" team. Trump's former counselor Kellyanne Conway will also be attending the meeting.    
McDaniel heads into Friday's vote as the favorite. 
In November, 101 RNC members signed a letter saying they endorsed McDaniel. And she needs just 85 votes to win. 
Members praised McDaniel's work to open up community centers, "tirelessly working for the necessary fundraising," and the RNC's engagement in "election integrity" issues, supporting Trump's unfounded claims the 2020 election had been stolen.
In addition to the 101 initial endorsements, McDaniel won the support of former House Speaker Newt Gingrich and on Monday, picked up at least two other committee member votes in Wisconsin GOP Chair Brian Schimming and Vermont GOP Chair Paul Dame. 
But Dhillon has won over some members, too, from GOP activist Charlie Kirk, state GOP party chairs in Arizona, Massachusetts and Washington, and two notable GOP mega-donors: Home Depot co-founder Bernie Marcus and Uline founder Richard Uihlein.
Uihlein's wife, Elizabeth, has backed McDaniel.
The race has had its hostile moments. Supporters for Dhillon claimed there was a "whisper campaign" to attack her over her Sikh religion — McDaniel has denied any involvement. Dhillon suggested to the Associated Press that members who vote out of "self-interest" or for McDaniel could have an "issue" the next time they're up for re-election, something one RNC member characterized to CBS News as Dhillon's "pressure tactics."
State parties in Alabama, Arizona, Arkansas, Louisiana and Texas have issued votes of "no confidence" against McDaniel, but they have no say in the RNC vote on Friday. Still, they're indicative of some of the grassroots' aggravation with McDaniel.
The Nebraska Republican Party's steering committee voted last Saturday to support Dhillon over McDaniel.
In Florida, where Republicans saw electoral wins during the 2022 midterms, a resolution of "no confidence" failed when not enough members showed up for a quorum. 
McDaniel is pitching herself as a leader who has a record of uniting the different wings of the GOP and has built the party's outreach to minority communities. She's also argued she has the experience with the party's infrastructure that will be needed in 2024.
"My opponent has never run a state party. She has never run a campaign. It's easy to say all these things from the outside, but when you've never done that, it's really hard to run a national party in a year like this. This is not the time to be changing and putting it in the hands of somebody who's never done those things ever before," McDaniel said on the "Ruthless" podcast earlier this month. 
McDaniel has reportedly also told party members she can stop Trump from creating a third party if he loses the 2024 nomination, according to the Washington Post. But McDaniel has denied those claims.
Lindell, an ardent supporter of Trump who qualified to appear on the chair ballot, has run a quixotic campaign so far and isn't expected to gain much traction, according to Vice News. 
Dhillon has pitched herself as the change in leadership needed for the GOP heading into the 2024 presidential cycle. "This is not about personal feelings, our personal preferences, our comfort zone, it is about doing what is right for the people who elected us to these positions," she said on Fox News last Sunday.
In a letter sent to RNC members on Monday, first reported by Politico, Dhillon proposed the changes she would make, like auditing vendor and consultant relationships, revamping fundraising tactics to end the use of "excessive hype and pressure tactics on our donors," and exploring the creation of "regional offices" in battleground states, while keeping the RNC headquarters in Washington, D.C.
Bill Palatucci, an RNC committeeman from New Jersey who is supporting Dhillon, said the RNC under McDaniel "owns lots of blame for failing to win back the Senate." 
He cited GOP candidate quality as a top issue for the party in the midterms, and said Dhillon agreed with him that the RNC has to be more "involved in putting forward good candidates so we avoid poorly prepared people like Herschel Walker and Doug Mastriano."
But the RNC does not handle recruiting candidates – that's a task left up to other party committees, such as the Republican Governors Association or National Republican Senatorial Committee. 
"A strong leader would speak up, and Ronna just sat idly by as Trump endorsed loser after loser," he texted CBS News during his flight to California for the RNC meeting. 
Palatucci added that the secret-ballot nature of the vote will help Dhillon pull off the upset and that "RNC members are political pros who will smile at you and then vote against you in private."
Mike Kuckelman, chair of the Kansas Republican party, said he's planning to vote for McDaniel and expects her to win reelection. He disagreed with criticism leveled at McDaniel after the midterms, and said "all levels" of the Republican Party share the responsibility.
"Part of my support of Rhonda McDaniel is a push back against this mob mentality, that one person is responsible in some way for the losses in the election, I just don't buy into that theory," he said. 
Kuckelman said the midterm losses have to be looked at "individually" and that the RNC has to help grassroots level voters understand that "how electable" a candidate will be in the general election should be a factor in their primary vote. 
One RNC member from the Midwest who is supporting McDaniel compared the challenge against her to the 15 rounds of voting House Speaker Kevin McCarthy endured before he secured the position. 
"This idea that we need a scalp, we need to fire a leader… it's a little bit like, 'I had a bad day at work so I'm going to come home and kick the dog. It's like, what does one have to do with the other?" they said. 
"Our job is to help win presidential elections, and then it is to do things that help state parties. Neither the state party nor the RNC picks candidates, runs campaigns or does any of those things. The idea that somehow Kari Lake's loss is because Ronna was asleep at the switch, is just not true," the member added. 
When it comes to 2024, both McDaniel and Dhillon have pledged they would stay neutral in the presidential primary. McDaniel pushed for the party's breakup with the Commission on Presidential Debates, due to claims of bias with the moderators and disagreements on dates.
At least one potential 2024 candidate, South Dakota Governor Kristi Noem, has called for a new RNC Chair. 
Dame, a McDaniel supporter, said the looming 2024 election was a factor in him choosing between her and Dhillon. 
"I just don't know if we have the time to wait for Harmeet to learn the ropes, meet new people and ramp up to what could be some great ideas when she just doesn't have the record Ronna has," he wrote in his endorsement of McDaniel.

Checkout latest world news below links :
World News || Latest News || U.S. News

Source link