Politics
Pence visits Iowa amid looming decision about 2024 bid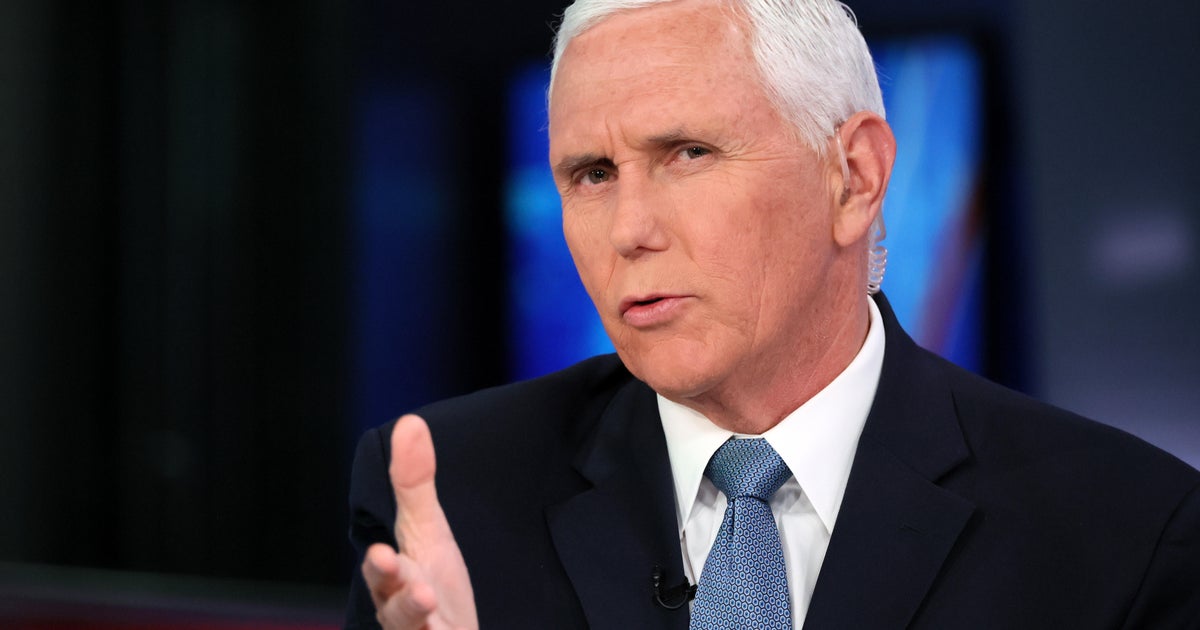 Cedar Rapids, Iowa — Former Vice President Mike Pence is visiting Iowa on Wednesday as he grows closer to a decision about a 2024 presidential run. 
Pence, who has visited the early primary states of Iowa, New Hampshire and South Carolina several times this month as part of a book tour, recently said he's received "a lot of encouragement" to join the Republican primary field and indicated he will make a decision in the coming weeks. 
"We're getting closer to a decision," Pence said in a recent Fox News interview. "To win back America in the months and years ahead, we've got to focus on what the American people are focused on and that is securing this country at home and abroad and bringing back this economy for working class families. 
While Pence tests the waters in Iowa, overshadowing his visit is a federal judge's order calling for his testimony in special counsel Jack Smith's investigation into former President Donald Trump's effort to reverse the outcome of the 2020 presidential election.
On Tuesday, a federal judge in Washington ruled that Pence must testify before a grand jury. Pence has resisted the demand and vowed to continue fighting, arguing that the Constitution's "speech or debate" clause offers him protection. 
Pence said Wednesday that he is evaluating the judge's order. 
"We're currently talking to our counsel about the balance of that decision and determining the way forward, but I have nothing to hide," Pence said. "I've written and spoken extensively about that day and the days leading up to it. 
Pence made similar remarks in an interview with Newsmax ahead of the visit, saying they will have a decision "in the coming days." 
The former vice president's visit to the first-in-the-nation caucus state comes on the heels of campaign stops from declared candidates Trump and Nikki Haley. Florida Gov. Ron DeSantis also visited the state amid mounting speculation that he will soon announce his candidacy.
Pence, who was in Iowa earlier this month for a foreign policy centered event, has three stops on Wednesday. He'll meet with the West Side Conservative Club near Des Moines then make his way east to Cedar Rapids for events in Linn County and Johnson County. 
In recent speeches while promoting his new book, Pence has discussed his faith and how he is leaning on prayer as he decides his political future. At Liberty University on Tuesday, Pence said faith is the foundation of freedom and "renewing" that understanding "will preserve our freedom and lead America to a boundless future."
The Iowa Republican Caucuses are a year away, but with several major GOP names having visited the state this month, voters and longtime activists are starting to consider their choices. 
Trump came in second, behind Texas Sen. Ted Cruz, in the 2016 Iowa Republican Caucuses. He won the state in the 2016 and 2020 general election. But a recent Des Moines Register poll showed Trump's favorability numbers dipping in the state. 
According to the poll, Trump has a 44% very favorable rating in the state, followed by DeSantis at 42%, Pence had  17% favorability and Haley 16%. But only 47% of Iowa Republicans said they would definitely vote for Trump if he is the GOP nominee in 2024.
While Trump's popularity in Iowa remains high, there are indications that his support in the Hawkeye State could be cracking, opening an opportunity for someone like DeSantis, Haley — or Pence — to make a strong impression. 
"I was a Trump supporter in the past two elections, but I am curious," Teresa Egli told CBS News in Story County, Iowa, earlier this month. "I am kind of looking for a bit of freshness, I like his (Trump's) policies but I'm ready for a fresh perspective."
Trump's policies remain popular among Iowa Republican voters but his demeanor, which has earned him attention and support in the past, is now being questioned by some voters in the Hawkeye State.  
"I'm not sure he's electable. I like a lot of his policies but his presentation leaves a lot to be desired," Herb Beam told CBS News in Council Bluffs, a part of Iowa where Trump performed well in the 2016 caucuses. 
That willingness from voters to look beyond Trump is partly why longtime Iowa Republican activists say any candidate can catch fire in this state.
"It is an open field," Bob Vander Plaats, CEO of the Family Leader, a social conservative organization in Iowa, told CBS News earlier this month. "Iowans are looking forward to seeing who all wants to run for president."
Vander Plaats, an influential figure in Iowa GOP circles, said the reason the field is open in Iowa is because voters are wondering if Trump is "the right one to carry the baton in 2024."
"So many people, even those who are wearing the MAGA hats, attended MAGA rallies, they still have this question, can he win in 2024?" Vander Plaats said. 
Checkout latest world news below links :
World News
||
Latest News
||
U.S. News
Source link