Politics
House Republicans demand testimony, docs about Trump probe from Manhattan district attorney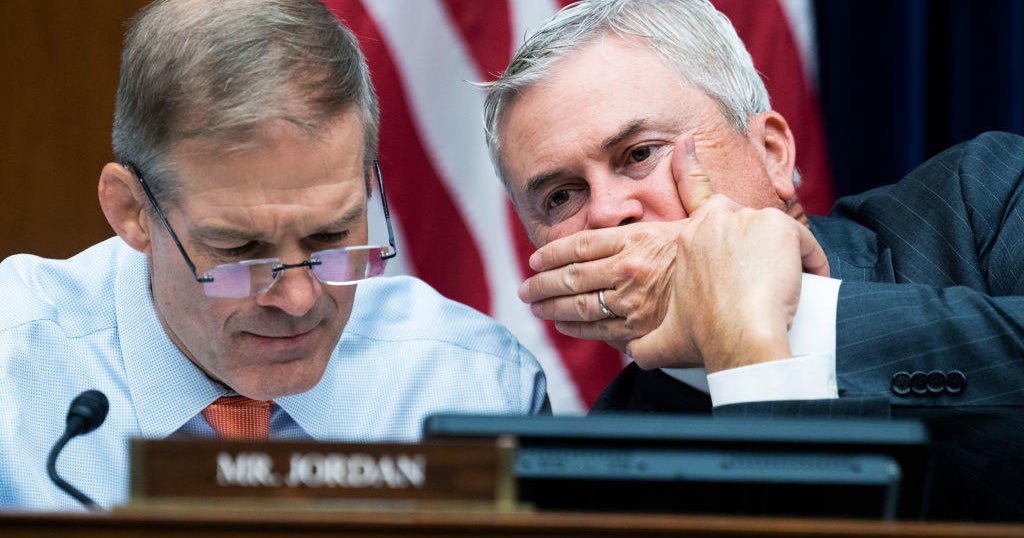 Washington — House Republicans are calling for Manhattan District Attorney Alvin Bragg to answer questions before Congress and turn over documents related to a potential indictment of former President Donald Trump stemming from payments made to an adult film star before the 2016 presidential election.
In a letter to Bragg on Monday, the GOP chairs of three House committees accused him of preparing to "engage in an unprecedented abuse of prosecutorial authority," namely the indictment of a former president and declared presidential candidate for the 2024 election. They said they expect him to testify to lawmakers about charging Trump, if and when he does.
"This indictment comes after years of your office searching for a basis — any basis — on which to bring charges, ultimately settling on a novel legal theory untested anywhere in the country and one that federal authorities declined to pursue," wrote Reps. Jim Jordan of Ohio, James Comer of Kentucky and Bryan Steil of Wisconsin. "If these reports are accurate, your actions will erode confidence in the evenhanded application of justice and unalterably interfere in the course of the 2024 presidential election."
The trio of Republicans accused Bragg of pursuing a "politically motivated prosecution," and said such a decision would require "congressional scrutiny about how public safety funds appropriated by Congress are implemented by local law-enforcement agencies." Jordan is the chairman of the House Judiciary Committee, Comer leads the House Oversight Committee and Steil chairs the Committee on House Administration.
The lawmakers are seeking records of communications between the New York County District Attorney's Office and the Justice Department or other federal law enforcement agencies related to the investigation of Trump. They also want documents and communications regarding Trump exchanged by Carey Dunne and Mark Pomerantz, who worked in the district attorney's office, and materials regarding the use of federal funds by the district attorney's office.
Dunne and Pomerantz worked on the sweeping criminal fraud investigation into the Trump Organization and resigned from the district attorney's office in January 2022. In his resignation letter, Pomerantz said Trump committed "numerous felony violations" and should be prosecuted, according to the Washington Post. 
"The facts of this matter have not changed since 2018 and no new witnesses have emerged," Jordan, Comer and Steil wrote, noting that while the Justice Department closed the case in 2019, the investigation from the Manhattan district attorney's probe gained momentum this year and a grand jury was convened in January. "The only intervening factor, it appears, was President Trump's announcement that he would be a candidate for president in 2024."
Jordan chairs the House Judiciary Committee, Comer leads the Oversight and Accountability Committee, and Steil is the chairman of the Administration Committee. Bragg's office did not immediately return a request for comment.
Trump claimed in a post on his social media platform Truth Social over the weekend that he is expecting to be arrested Tuesday on charges stemming from a $130,000 payment made to adult film star Stormy Daniels before the 2016 presidential election and the alleged falsification of related business records to hide campaign finance violations. The former president also called for his supporters to protest his arrest. He has denied all wrongdoing and claims the investigation targeting him is politically motivated.
In response to news of a potential indictment, many Republicans have jumped to Trump's defense and accused Bragg of pursuing a political agenda. House Speaker Kevin McCarthy also indicated the GOP-led House would investigate Bragg, tweeting that Republicans would probe "any use of federal funds that are used to facilitate the perversion of justice by Soros-backed DA's across the country."
"The legal theory underlying your reported prosecution appears to be tenuous and untested. Bringing charges for falsifying business records is ordinarily a misdemeanor subject to a two-year statute of limitations, which would have expired long ago," Jordan, Comer and Steil wrote Monday.
The three also criticized Bragg for relying on Michael Cohen, Trump's former personal lawyer and "fixer," as a key witness in the case and said he cannot be considered "unbiased and credible."
Cohen is a central figure in Bragg's investigation and has recently testified twice before the grand jury impaneled to examine the payment to Daniels for her silence about an alleged affair with Trump in 2006, which he has denied. Cohen pleaded guilty to federal charges, including campaign finance violations related to the payment to Daniels, and went to prison. He has said he was acting on behalf of Trump.

Checkout latest world news below links :
World News || Latest News || U.S. News

Source link