Politics
Five mayoral races to watch on Tuesday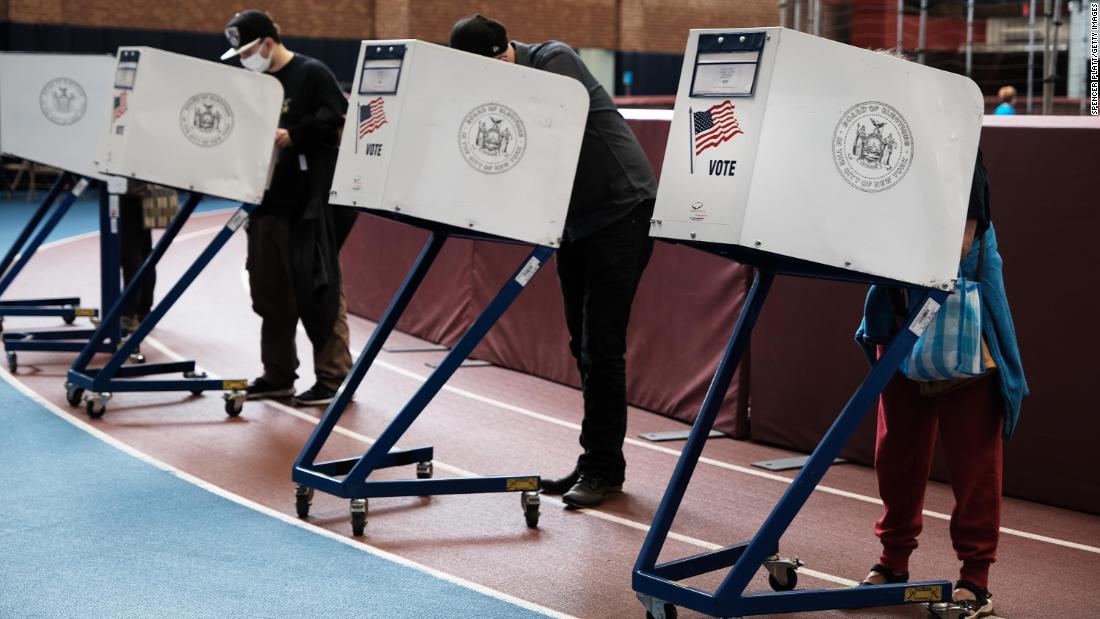 Divisions that have played out in Washington between moderate and progressive Democrats are also very much alive in these races in predominantly Democratic cities as the party tries to chart its future.
Mayoral races are typically non-partisan contests, but some of these Democrat-on-Democrat races may offer a preview of the ideological battles in next year's primary races.
Here are five mayor's races to watch on Tuesday night.
Minneapolis battles over the police
Perhaps no city has experienced more upheaval over the relationship between the police and its citizens than Minneapolis after Floyd was killed by a police officer, which inspired Black Lives Matter protests across the country and around the world. The mayoral race here has touched on issues like affordable housing, the climate crisis and rent control, but the debate has centered on the historic problems faced by the city's police department and how to make city government more accountable to residents.
Democratic-Farmer-Labor Party Mayor Jacob Frey, first elected in 2017, is fending off challenges from 16 candidates. The most progressive candidates and allied groups have increasingly framed the race as a referendum on Frey's handling of the city's police department and whether he did enough to rein in what critics perceive as over-policing by the department before Floyd's death.
Nezhad and Knuth both favor the measure. Nezhad argues that it would allow the city to move away from spending as much as a third of the city budget on the police department, while fully funding 911 and 311 dispatch systems, violence prevention services, as well as conflict resolution and diversion programs. She has also called for decriminalizing homelessness, drugs, drug use and sex work in Minneapolis.
Knuth told CNN the constant refrain she has heard from voters is, "I just want to be able to call for help and not fear who shows up." She added that Minneapolis does not need "to choose between justice and safety," but views the proposed transition to a Department of Public Safety as a "common sense solution to change a system that has been failing many of our neighbors by over-policing and under-protecting."
Another progressive candidate, attorney AJ Awed, who immigrated to the US at age 5 as the son of Somali war refugees, has outraised Knuth and Nezhad. But he differs with them on the two key measures on Tuesday's ballot: one giving greater power to the mayor, which he favors, and the second removing the police department from the city charter, which he opposes. Awed underscored that he believes there is "no plan" for the new system described in Question 2 and noted in an email to CNN that "many people still feel comforted by the presence of police." He said he believes funding policy alternatives within the department "can provide for a policing system that is better prepared to face the public safety challenges of our city."
Boston prepares for a historic night
Boston will make history regardless of who wins on Tuesday, with the city's voters set to elect a Democratic woman of color after a long history of leadership by White men. Polls have shown Boston City Councilor Michelle Wu, a champion of progressive policies, opening a commanding lead over her more moderate rival Annissa Essaibi George, who also serves as a Boston city councilor-at-large.
Both women have highlighted their family roots as the daughters of immigrants. Wu's parents came from Taiwan. Essaibi George is the daughter of a Tunisian father and a Polish mother, who was born in a displaced persons' camp in Germany.
Essaibi George, who has joked about her thick Boston accent, has tried to make her experience as a lifelong Bostonian a key credential, pitching herself as a small business owner who attended and later taught in Boston schools, coaching softball on the side.
Essaibi George's decision to stake out a position in the center of the electorate helped her stay in the game in the first round by winning over more conservative and moderate White voters, said Tufts University political science professor Jeffrey Berry. But that positioning has presented challenges in her one-on-one race with Wu in a city where most of the electorate is to the left of center.
"It's not a city divided between the haves and have-nots, but it is a city where there's a lot of people who have a whole lot, along with a lot of people who are working class and are really just making it because of the high cost of living in Boston," Berry said. "So, it's not about poverty, but it is about working-class people and whether or not they can be taken up a level on the economic ladder."
A former Atlanta Mayor vies for a comeback
Fourteen candidates are vying to replace Democratic Mayor Keisha Lance Bottoms, who's not running for reelection. The contest is happening amid alarm about the spike in violent crime, as well as controversy over an effort by the residents of the wealthy community of Buckhead to break off from the capital and create their own city.
Polls suggest that a large swath of the electorate is still undecided, but the leading candidates — including former Mayor Kasim Reed, City Council President Felicia Moore and Councilman Andre Dickens — have put Atlanta's crime rate at the forefront of their campaigns. Shooting incidents have increased dramatically from 406 at this point in 2019 to 629 this year, according to Atlanta Police Department's October 23 report.
Crime is motivating some of the Buckhead leaders who are championing the split from Atlanta. Foes say the proposal to break off the wealthy, 25-square-mile area in northern Atlanta would be a devastating blow to the city's revenues, while proponents say crime has simply become unmanageable and that they are not seeing a high enough return for their tax dollars.
Dickens' public safety plan calls for increasing the police force by 250 officers during his first year in office while requiring new training for every police department employee on de-escalation techniques and racial sensitivity. Moore has proposed police reform measures like requiring the release of body camera footage within 72 hours of every police shooting and requiring officers to intervene when they see excessive force. But she has also spoken at length about the need to address low morale in the department — by promising incentives for retired police officers if they return to their jobs for one to two years, for example.
Reed, who served two terms as mayor from 2010 to 2018, has pointed to the lower crime rates during his tenure. His public safety plan includes hiring and training 750 new police officers, ramping up implicit bias and de-escalation training and tripling the city's network of traffic cameras and license plate readers.
Newcomer challenges Buffalo's four-term mayor (again)
But on Tuesday night, the first-time candidate, who is a nurse and activist, will have to defeat Brown again after he mounted an aggressive write-in campaign to keep his job.
Brown has acknowledged that he miscalculated in the primary by largely refusing to engage with Walton or debate her in what was ultimately a low-turnout election. But the mayor, who was first elected in 2005, has attacked what he views as Walton's radical agenda, warning that it will slow the city's recovery from the pandemic. He has maintained that he'll perform better on Tuesday when a broader cross-section of voters, including Republicans, will weigh in.
A retired police captain glides toward victory in New York

Checkout latest world news below links :
World News || Latest News || U.S. News

Source link