Politics
Feds target international fentanyl supply chain with ties to China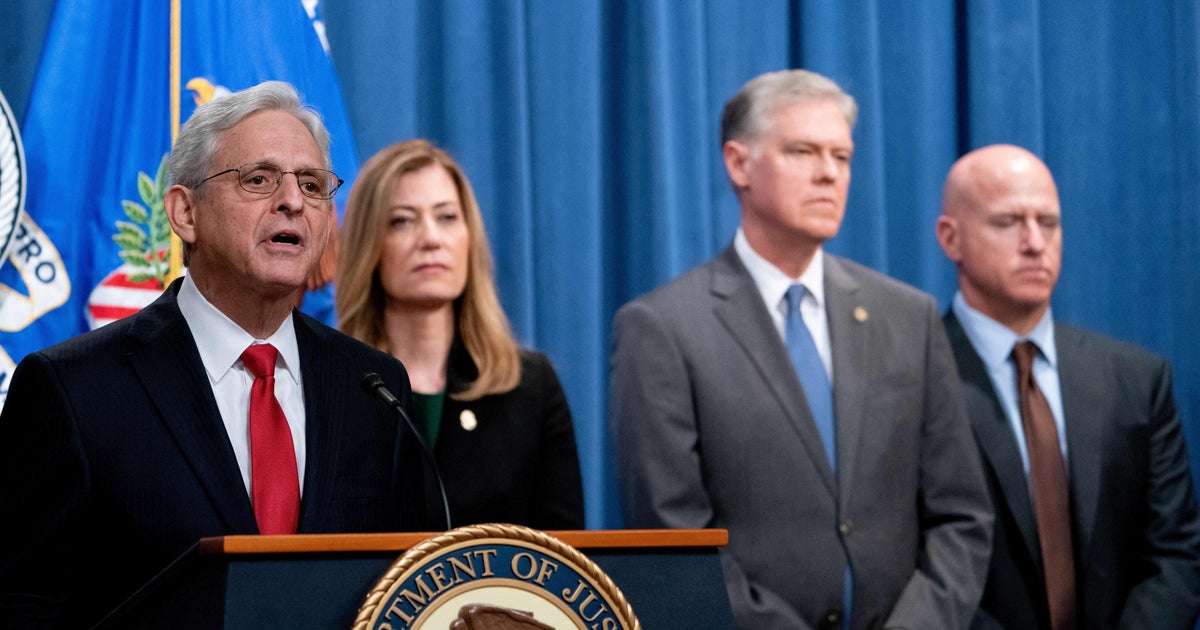 Washington — Federal prosecutors charged 12 individuals and eight companies in China with engaging in international schemes to sell and ship chemicals used to produce fentanyl and other deadly drugs across the world and into the U.S., the Justice Department announced Tuesday. 
Eight separate indictments unsealed in the Middle and Southern Districts of Florida described an increasingly common and dangerous global fentanyl supply chain, whereby chemical companies and executives mainly based in China allegedly manufacture and distribute the chemical building blocks of fentanyl and other drugs and sell them to crime syndicates, including Mexican drug cartels that produce the deadly drugs. 
"Fentanyl is the deadliest drug threat the United States has ever faced," Attorney General Merrick Garland said, announcing the charges. "We know who is responsible for poisoning the American people with fentanyl … we know that behind the deaths of hundreds of thousands of Americans is a cartel-driven fentanyl trafficking network that spans countries and continents."
According to the indictments, some of the defendants — none of whom have been taken into custody, according to Garland — used deceptive practices like fake shipping labels, false postage stamps and fraudulent invoices to bypass customs agents and import the chemicals directly into the U.S. and Mexico. They are accused of openly selling the chemicals online and flaunting their ability to safely ship the precursor chemicals without alerting law enforcement. 
The charges announced Tuesday also focused on individuals and businesses allegedly involved in the trafficking of xylazine and "nitazenes" into the U.S., which are potent chemicals sometimes used as veterinary sedatives that can be mixed with fentanyl. Unlike fentanyl, the dangerous effects of these synthetic substances cannot be reversed or remedied by administering Narcan, according to law enforcement officials. 
Agents across the federal government infiltrated the Chinese chemical companies selling the precursors on the internet and the drug traffickers in the U.S. to both track and interdict the illicit substances as they tried to cross into the U.S., Homeland Security Secretary Alejandro Mayorkas and Deputy Attorney General Lisa Monaco said Tuesday, describing a yearlong, cross-agency effort to neutralize the threat. 
"The scourge of fentanyl is not abating," Mayorkas said.
The charges and seizures coincided with new sanctions from the Treasury Department against 13 individuals and 12 entities based in China alleged to be involved with similar instances of trafficking of precursors for fentanyl, methamphetamine and MDMA. Another person and two more entities based in Canada were also targeted in the financial strikes.
"Effective immediately, these individuals and entities, located in the People's Republic of China and in Canada, are cut off from using the U.S. financial system and all U.S. persons are barred from transacting with them," Deputy Treasury Secretary Wally Adeyemo said Tuesday. "Additionally, we have identified and blocked over a dozen virtual currency wallets associated with these actors."
All of the entities indicted Tuesday are subject to the new sanctions. 
Changeen Du, one of the defendants charged and sanctioned, is accused of leading a Chinese criminal organization that traffics illegal drugs, according to law enforcement. The chemical syndicate is centered around Hanhong Medicine Technology Company, a pharmaceutical company in Wuhan, China, that allegedly manufactures and distributes large quantities of fentanyl and other drug precursors worldwide. 
Law enforcement officials continue to track and schedule many of the illicit substances these entities are trying to export, Drug Enforcement Administrator Chief Ann Milgra said, but the alleged criminal enterprises sometimes evade detection by changing the chemical composition of precursors. 
"Every time we make one substance illegal … they switch chemicals," Milgram warned. 
Tuesday's announcements come just a day before Garland and Mayorkas are set to travel to Mexico to discuss the fentanyl crisis with law enforcement officials there. Garland said they will work to "advance the mission" of combating the deadly substance's hold in the U.S. 
More than 82,000 Americans died in 2022 due to fentanyl, a number that has increased every year for the last five years, according to the DEA. Law enforcement agencies have so far seized over 55 million pills of fentanyl this year and more than 9,000 pounds of powder containing the deadly drug, Garland said last week. 
Last month, the U.S. secured the extradition from Mexico of Ovidio Guzmán López, son of notorious drug trafficker and former Sinaloa cartel leader, Joaquin "El Chapo" Guzmán. 
López and other sons of El Chapo were charged in April, along with nearly two dozen members and associates of the Sinaloa Cartel for allegedly orchestrating a transnational fentanyl trafficking operation into the U.S. 
The manufacturers of the fentanyl precursors charged in Tuesday's indictments are accused of working closely with the Sinaloa and Jalisco cartels in Mexico in the fentanyl supply chain. 
Richard Escobedo contributed reporting.
Checkout latest world news below links :
World News
||
Latest News
||
U.S. News
Source link