Politics
Democrat Colin Allred jumps into 2024 Texas Senate race against Ted Cruz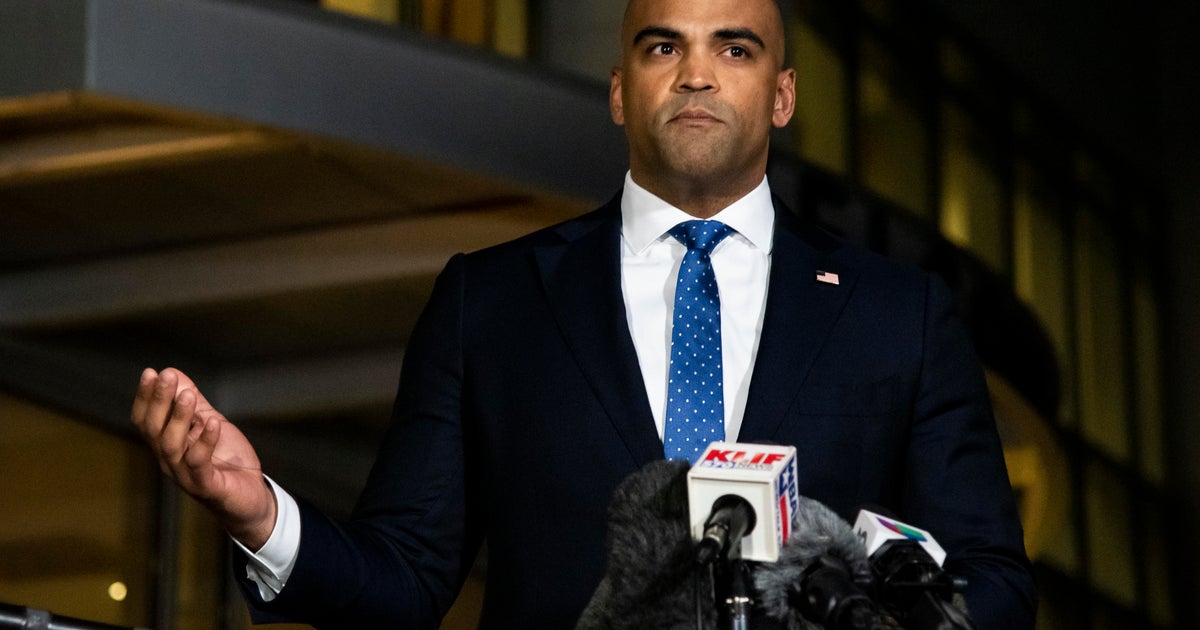 U.S. Rep. Colin Allred announced Wednesday that he will be vying for the Senate seat held by Sen. Ted Cruz of Texas, becoming the first Democrat to jump into what could be one of the most expensive and closely watched races of 2024. 
In a campaign video posted to Twitter, Allred said Cruz would "do anything to get on Fox News," and criticized him for leaving the state during the historic ice storm in 2021, as well as his comments about the Jan. 6, 2021, attack on the U.S. Capitol. Allred showed footage from the Jan. 6 attack, and said he texted his wife "whatever happens, I love you."
"Then I took off my jacket, and got ready to take on anyone who came through that door," Allred said. "And Ted Cruz? He cheered on the mob and then hid in a supply closet while they stormed the Capitol. But that's Ted for you — all hat, no cattle." 
Cruz's spokesman Nick Maddux responded Wednesday to Allred's announcement, saying his "voting record is completely out-of-touch with Texas" and that the "Lone Star State has a tireless champion in Sen. Ted Cruz." 
Allred, a former NFL player and a civil rights attorney who served under HUD Secretary Julian Castro during the Obama administration, touted some of the bipartisan bills he supported in Congress. He was first elected to the House in 2018, unseating Republican Rep. Pete Sessions. The seat turned even more Democratic during the 2021 redistricting process.
Democrats currently hold a slim 51-49 majority in the Senate, and they face an uphill climb to maintaining control in the 2024 election. Democrats are defending 23 seats, including three in states won by former President Donald Trump in 2020 (West Virginia, Ohio and Montana) and five in swing states (Arizona, Michigan, Wisconsin, Pennsylvania and Virginia). Republicans, meanwhile, are only defending 10 seats, all in states Trump won.
Texas' Senate race in 2018 was one of the closest wins for a Republican that year. Democrat Beto O'Rourke came within three points of defeating Cruz, and Democrats flipped two U.S. House seats (including Allred's) and several Texas House seats. O'Rourke raised almost $80 million in that race, which at the time was a record amount for a Senate race. 
But Democrats haven't been able to produce another close statewide race since then. O'Rourke lost the 2022 governor's race to Gov. Greg Abbott by 10 points. Democrats haven't won a statewide race in Texas since 1994.
Allred is likely to have primary competition as well. The San Antonio Express-News reported last week that Texas state Sen. Roland Gutierrez, whose district includes Uvalde, plans to get into the race after the state legislative session ends on May 29. Gutierrez told CBS News on Wednesday that he is currently focused on the legislative session. 
Checkout latest world news below links :
World News
||
Latest News
||
U.S. News
Source link