Politics
Bolton says Trump's 2024 campaign is "poison" for GOP and will "continue to go downhill"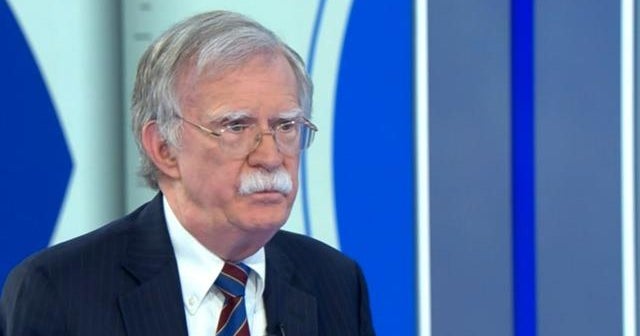 Washington — Former national security adviser John Bolton on Thursday called former President Donald Trump's 2024 bid "poison" to the Republican Party, and insisted the former president's reelection campaign is "going downhill." 
And in a wide-ranging interview, Bolton told CBS News' chief election and campaign correspondent Robert Costa that he is considering his own 2024 presidential bid, prompted in part by Trump's claiming grounds last year for "termination" of parts of the U.S. Constitution. 
Bolton, who has served in a variety of national security roles in Republican administrations for decades, also said Trump "behaved in a very erratic fashion" as commander in chief and failed to grasp "the gravity and the importance of the national security decisions he had to make."
Trump's 2024 campaign, which he launched last November, is going to continue to struggle to gain traction, Bolton argued. 
"I think it's going downhill and I think it'll continue to go downhill," Bolton said when asked about the trajectory of Trump's latest presidential run. "I think Republicans, especially after the Nov. 8 elections last year, see that he's poison to the ticket. He cannot be elected president. If he were the Republican nominee, he would doom our chances to get a majority in the Senate and the House. I don't think he's going to be the Republican nominee."
When asked if he is seriously considering a 2024 run, Bolton told Costa that characterization is "exactly right."
Bolton's sharp criticism of Trump has been a constant since he left the Trump White House. Bolton later triggered Trump's ire by writing a lengthy and detailed book about his time working for Trump, and the Justice Department sued Bolton in an effort to halt its publishing, alleging Bolton disclosed classified information. The Justice Department eventually dropped both the suit and its criminal probe. Bolton's book, "The Room Where it Happened," was published by Simon & Schuster, a division of Paramount Global, in June 2020.
As national security adviser, Bolton had a front-row seat to the former president's handling of classified information and other sensitive material. When asked if Trump is a threat to national security, he replied, "I think he is."
"I believe that the damage he did during his term was significant but repairable," Bolton told Costa. "I strongly opposed him getting a second term because I worried that what he would do in a second term might be irreparable."
Bolton also offered a blistering critique of former Secretary of State Mike Pompeo, saying he is "unfit" to serve as president. Bolton claimed Pompeo, who is considering his own presidential bid, "let his ambition overcome his principles."
"I think Pompeo is bright enough to be president, but I would very much worry that his ambition once again would overtake his principles," he said. "And I think the way he approached not just me, but apparently other former colleagues in the book, shows the lack of character that probably renders him unfit to be president."
CBS News has reached out to Pompeo for comment. Pompeo wrote in his latest book, which he discussed on "CBS Mornings" this week, that he believes Bolton should be prosecuted for alleged treasonous acts. 
Costa noted that Pompeo is casting himself as a conservative and Trump ally. He also asked Bolton what Pompeo said about Trump behind the former president's back.
"Well, at one point, I'm not sure I can say this on television, but in the meeting, first meeting with Kim Jong Un, he passed me a note after a comment by Trump that said, 'He's so full of sh**.' And we talked about our dissatisfaction with Trump's decisions in connection with Iran and a number of other issues. And I recount those in my book," Bolton said. "I think it's fair to say that our views were essentially the same. I don't think we ever made a pact to resign together, but we both talked about it."
Fernando Suarez contributed to this report.
Checkout latest world news below links :
World News
||
Latest News
||
U.S. News
Source link