Politics
Biden promises federal support in visit to Mississippi town hit by deadly tornado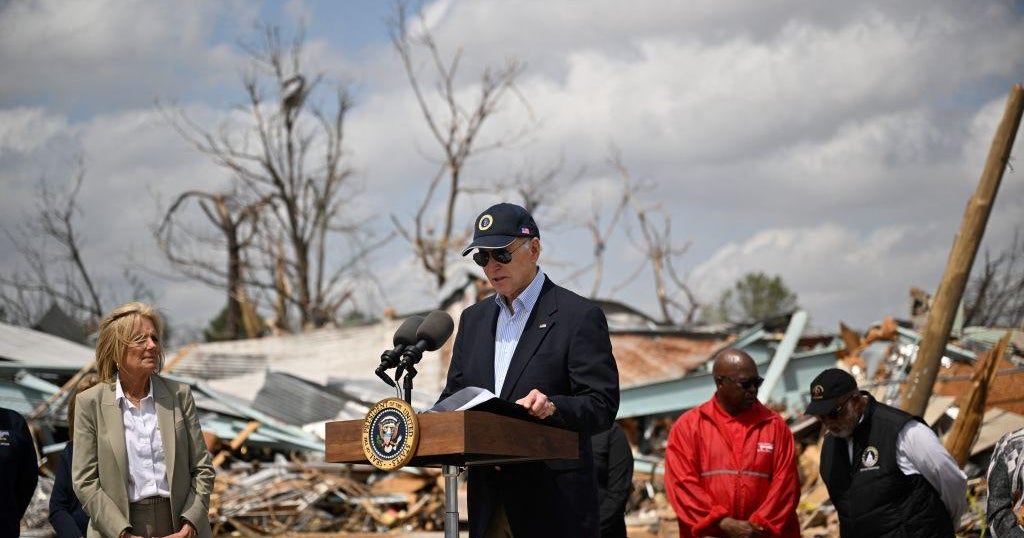 Rolling Fork, Mississippi —  President Biden saw for himself the flattened homes, broken furniture and upended lives left behind by last week's deadly tornado in Mississippi and pledged Friday that the federal government is not leaving until the area is back on its feet.
In the close-knit community of Rolling Fork, Mr. Biden read aloud the names of each of the 13 residents of the small town killed in the storm after touring the wreckage. He acknowledged to residents that the road to recovery will be long and hard, but said he was committed to helping them through it.
"We're not just here for today," said Mr. Biden, standing near an animal shelter and a hardware store reduced to rubble by the powerful storm as he addressed members of the devastated community. "We're going to get it done for you. We're going to make sure you can stay right here."
Mr. Biden lost Mississippi by more than 16 percentage points in 2020, but people were grateful that he came — and hopeful they won't be forgotten. Resident Paul Rice said he welcomed the continued attention Friday's visit brought to the town's plight.
"Right now, everybody's here, but I imagine it'll start drying up," said Rice, who was driving around town on an ATV to survey the damage and check on friends whose homes had been destroyed. "We're Americans first and foremost. And that means we all have to work together."
The president heaped praise on Republican Gov. Tate Reeves and the area's longtime Democratic congressman, Rep. Bennie Thompson, for moving quickly to help Rolling Fork and surrounding communities following last week's storm.
Under a canopy set up blocks away from Rolling Fork's obliterated city hall building, church volunteers doled out packages of breakfast sausages and pancakes with syrup Friday morning. Joseph Thomas, a 77-year-old Vietnam veteran and lifelong Rolling Fork resident, arrived to claim his meal wearing a bandana emblazoned with an American flag.
Thomas said he never imagined any president would come to his rural Delta hometown.
"I'm proud that he is coming to this little small town. That means a lot to me," Thomas said. "Because we need a lot of help to come through here, federal help, boots on the ground to put all this back together."
Last week's twister destroyed roughly 300 homes and businesses in Rolling Fork, and the nearby town of Silver City, leaving mounds of lumber, bricks and twisted metal. Hundreds of additional structures were badly damaged. Overall, the death toll in Mississippi stands at 21, based on those confirmed by coroners. One person died in Alabama, as well.
From Marine One, as they flew from Jackson to the area hardest hit by last week's storm, the president and first lady Jill Biden got a view of the devastation across acres of farmland — destroyed homes, toppled trees and piles of debris.
"This is tough stuff," Mr. Biden said as he was greeted by state, local and federal officials after arriving in Rolling Fork. "The most important thing is we got to let people know the reason for them to have hope, especially those who have lost somebody."
Mr. Biden announced that the federal government will cover the total cost of the state's emergency measures for the next 30 days, including overtime for first responders and debris cleanup. In addition, the Federal Emergency Management Agency (FEMA) will open disaster recovery centers in storm-ravaged counties to help residents access resources.
The Bidens also met with residents impacted by the storms and first responders, and received an operational briefing from federal and state officials.
The devastation from the storm is immense.
Residents watched as Mr. Biden walked through a leveled section of Rolling Fork, just blocks from the town's downtown. A father held his toddler sleeping on his shoulder. Kids who aren't in school because of the tornado crouched and watched. Just before the president arrived, a man picked through the wreckage, bent over to comb through the debris.
"I know there's a lot of pain and it's hard to believe in a moment like this: This community is going to be rebuilt, and rebuilt and built back better than it was before," Mr. Biden assured residents.
Last week's severe weather makes life even more difficult in an area already struggling economically. Mississippi is one of the poorest states, and the majority-Black Delta has long been one of the poorest parts of the state — a place where many people live paycheck to paycheck, often in jobs connected to agriculture.
Two of the counties walloped by the tornado, Sharkey and Humphreys, are among the most sparsely populated in the state, with only a few thousand residents in communities scattered across wide expanses of cotton, corn and soybean fields. Sharkey's poverty rate is 35%, and Humphreys' is 33%, compared with about 19% for Mississippi overall and less than 12% for the entire United States.
FEMA administrator Deanne Criswell said some of the damage to the area's infrastructure will take much time to repair and that the administration will help in rebuilding key facilities to be "more resilient" to withstand future natural disasters.
"We know that these communities could be cash strapped and we want to get that funding flowing," Criswell added.
Mr. Biden approved a disaster declaration for the state, which frees up federal funds for temporary housing, home repairs and loans to cover uninsured property losses. But there's concern that inflation and economic troubles may blunt the impact of federal assistance.
The president arrived in the Delta community as a new series of severe storms threatens to rip across the Midwest and the South.
According to a new study, the U.S. will see more of these massive storms as the world warms. The storms are likely to strike more frequently in more populous Southern states including Alabama, Mississippi and Tennessee.
The study in the Bulletin of the American Meteorological Society predicts a nationwide 6.6% increase in tornado- and hail-spawning supercell storms and a 25.8% jump in the area and time the strongest storms will strike, under a scenario of moderate levels of future warming by the end of the century.
But in certain areas in the South the increase is much higher. That includes Rolling Fork, where study authors project an increase of one supercell a year by 2100.
Checkout latest world news below links :
World News
||
Latest News
||
U.S. News
Source link